Jared Hasty and Sean Sanders understand the importance of timing. 
The two met as charter pilots at Epps Aviation in Atlanta and discovered they had a lot more in common than just their love of flying. They both graduated from the Georgia Tech Scheller College of Business — Sanders earned his undergraduate degree in 2006 and Hasty completed his Executive MBA in 2016. They're both entrepreneurial family men of a similar age with shared values and beliefs. It's as if fate brought them together and kept them in contact as they advanced in their careers.
It makes sense that the idea for Piedmont Jets came from serendipitous dinner meetings they had with their customers on the same day.
"We always talked about having our own company. One day, we each talked with one of our customers who encouraged us to do our own thing. A few days later, Jared and I talked and realized we had the same conversation on the same day but with our own respective clients. That re-sparked our interest to make the company a real thing versus a theoretical concept," said Sanders.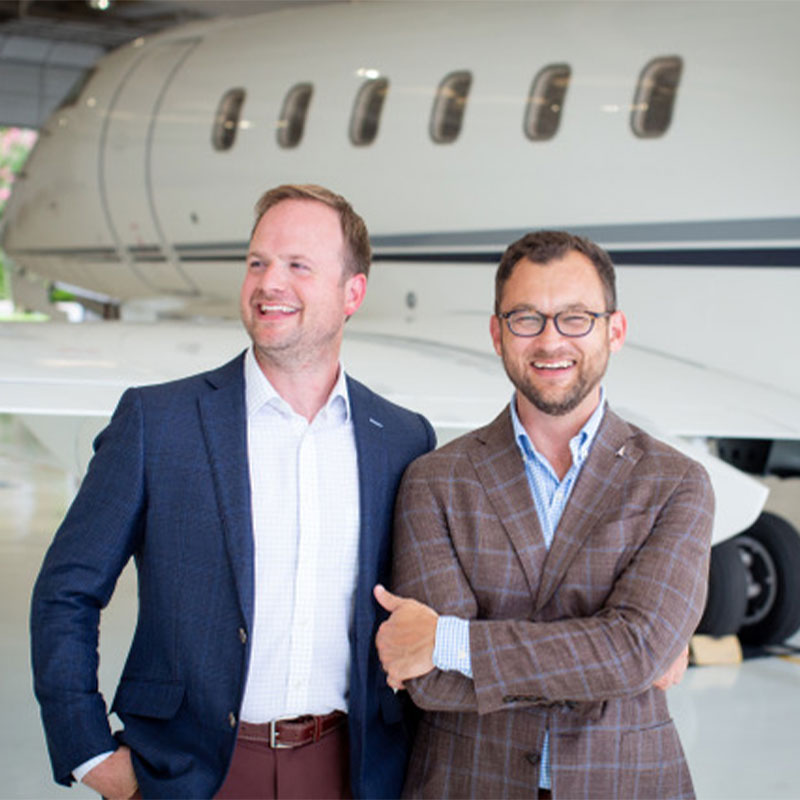 Even though Hasty said it was a tough decision for them to make because they left jobs and companies they loved, the stars aligned, and fate couldn't be ignored.

"Life is all about timing, which lined up in a way that couldn't be denied. We had to do it," said Hasty.

Born in Atlanta in June 2022, Piedmont Jets is a firm specializing in the brokerage and acquisition of private aircraft. As airline transports pilots (ATPs) with over 10,000 hours of combined professional flying experience and more than $600 million in transactions, Hasty and Sanders use the leadership skills and business fundamentals they learned at Scheller to get their clients the best deal and optimize their most precious resource: time.
We caught up with the Scheller alumni after their return from the Corporate Jet Investor Conference in Europe to learn more about Piedmont Jets, their experience being new entrepreneurs, and their love of flying.
1. How did you become interested in flying?
Sean: I was three years old, and instead of having Matchbox Cars, I had Diecast Airplanes. Nobody in my family flew, but I always had the flying bug. In high school, I received my private pilot's license, and my friend, whose dad was a Delta captain and flight instructor, taught me how to fly at Peachtree Dekalb Airport. While at Georgia Tech, I flew a bit in the Georgia Tech Flying Club to build flight time. Aircraft sales and consulting were not in my worldview until I stumbled upon it and my eyes opened to the different parts of the industry.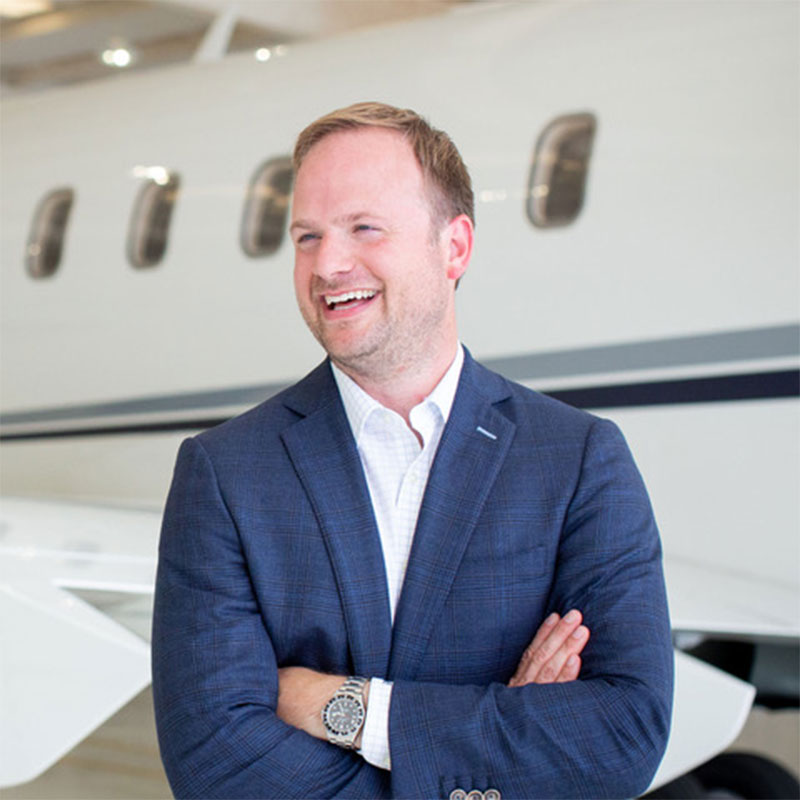 Jared: I fell in love with aviation after watching the movie "Top Gun." I was always drawing and painting as a kid. After watching that movie, every picture was of an airplane. I became obsessed. I originally pursued premed in undergrad. Halfway through college, I decided to chase my passion for flying. I loved airplanes and traveling, so why not try to get paid to do both? I completed a business degree in aviation management and immediately went to work in general aviation.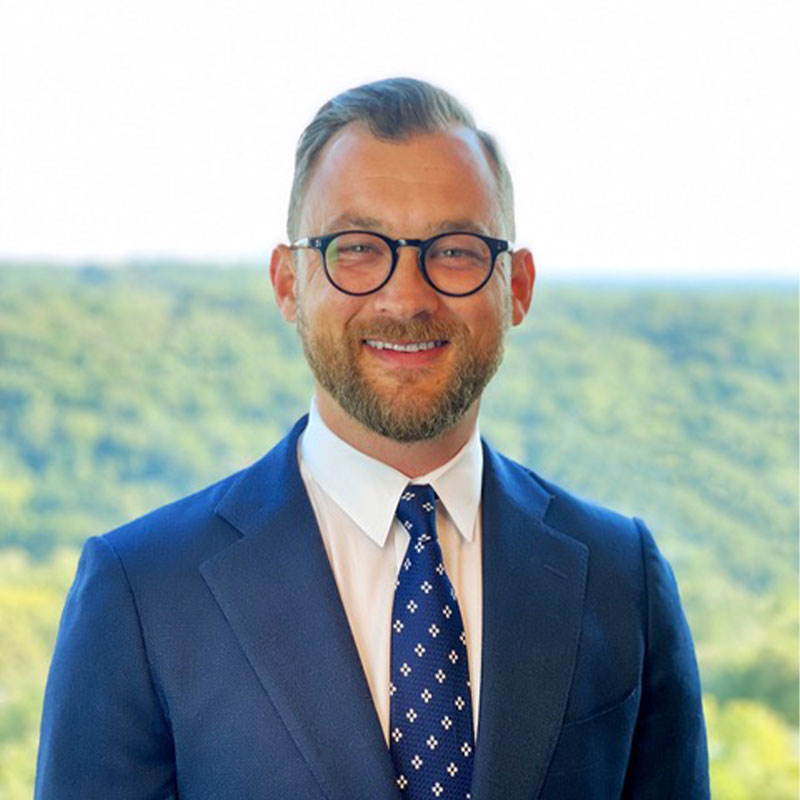 2. Were there any nerves or apprehensions about opening an aviation business as travel continues to recover from the pandemic?
Jared: Sean and I weren't nervous and have each other's backs. We are confident in our quality of service, processes, and networks. We know how much value we bring to the process, and it has produced great results for our clients and Piedmont Jets. At the same time when we launched Piedmont Jets, things had picked up in the private aviation industry, giving us a nice tailwind.
Sean: We're highly specialized and knew there was a big market and massive demand for expertise, but that was not a big concern. Thank goodness. We were blessed in that sense.
3. Did you have to overcome any challenges when opening Piedmont Jets?
Jared: I think the biggest challenge is not becoming reactive. We strived to remain disciplined while working on the foundation of the company in the startup phase. We focused on building a solid base of processes and tenets to build upon in the future. Being reactive and panicking about cash flow can knock even the best of plans off balance. We gave ourselves a grace period where we didn't focus on bringing in revenue.
Sean: With any company or anytime you do something for the first time, there are nuances that you learn along the way, whether it's on the marketing side or the accounting side. It's part of the reason why we founded Piedmont Jets. We wanted a different set of challenges to grow individually and together.
4. What role did Scheller play in helping you become an entrepreneur and innovator?
Jared: I learned how to be a better leader. I was surrounded by other leaders and learned as much from my classmates as I did from my professors. The level of expectations, not just from the College but also from my peers, was unlike anything I'd ever experienced. Scheller brought me to another level and improved my business acumen, confidence, and network.
Sean: I was an undergraduate, so I was younger and had no work experience. Now that I have real-world experience and worked in different industries, it's nice to see some of the things I learned make sense to me now that I'm older. I see the value in education more now than when I was in school.
5. Sean, you mentioned concepts you learned as an undergraduate. Is there an example that sticks out that you learned while in school that you see in your current career?
Sean: I am the chief financial officer of Piedmont Jets, and there are some basic lessons from my accounting and finances classes that I didn't use in my previous role as a salesperson that I use now. I now have a working knowledge and see the value of all those classes, from marketing to operations, and even some of the teambuilding exercises we did. I have a lot of lightbulb moments and rely on the concepts I learned to help me make business decisions.
6. What have you'll learned from each other by working together?
Sean: Jared is a good visionary and concept guy, and I am more comfortable on the operations and finance side. Jared has brought an awesome structure to our company. I carry a lot of these concepts and experiences in my head, and there's a certain art to it. Jared is good at helping us balance art with science and setting us up for consistency and scalability.
Jared: Sean is a top performer. His deal IQ is the highest I've ever seen. Sean has the impressive ability to visualize all the complexities of a deal and work through any issue fairly and efficiently while keeping everyone involved smiling.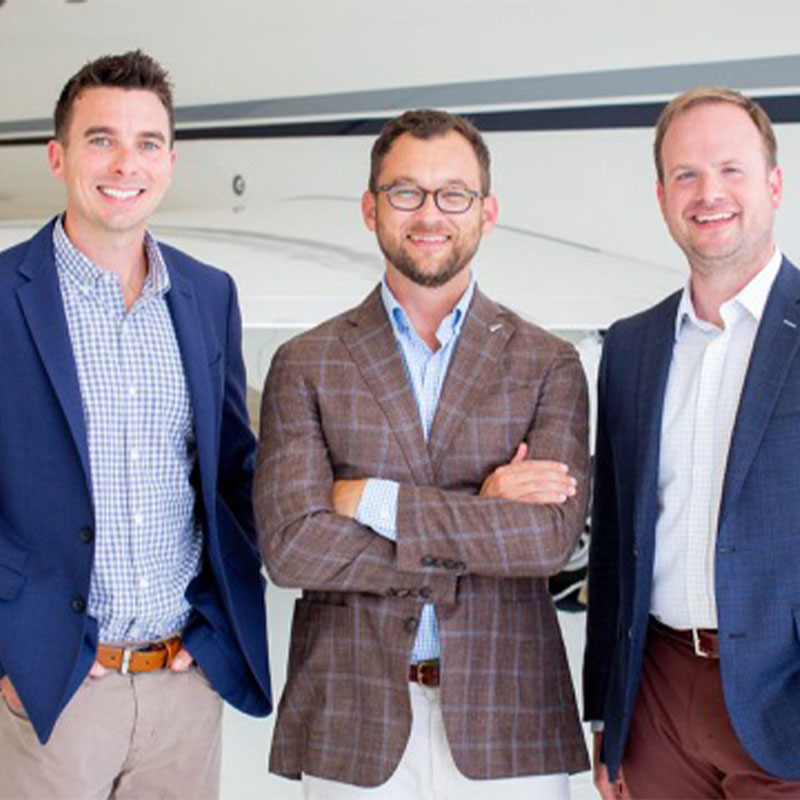 7. What is your favorite place you have flown to?
Sean:  I recently flew a citation CJ2+ back from Europe, where I stopped in Iceland and Greenland on the way back.
Jared: Flying is fun, but it's the experiences that are memorable like crossing the Atlantic Ocean for the first time, making it to a meeting or life event that would have been missed if driving or air lining, bringing aid in after a natural disaster, or flying a mission trip with medicine. Those are the memories that pop up when you think about the fun part of flying. Sean and I will never stop flying. It's who we are. As little boys, we were drawn to this path. The dream of flying has been modified over the years to what we are doing now.