For the first time ever, entrepreneurs, mentors, industry and academic experts, MBAs and Ph.D. students working with the Creative Destruction Lab (CDL-Atlanta) gathered at Georgia Tech Scheller College of Business for a special meeting. The CDL-Atlanta "Session" takes place four times during the nine-month program and is designed to help founders grow their start-ups. Sessions have been held virtually for the past two years. This time, the excitement was evident in the hallways as registrants filed in for the full-day event.
CDL-Atlanta is part of 11 sites worldwide that support massively scalable, seed-stage companies focused on science and technology. The Atlanta location at Scheller offers a Commerce and Space stream, with the Commerce stream providing founders operating in the retail and consumer packaged goods (CPG) arena the opportunity to grow their fledgling businesses.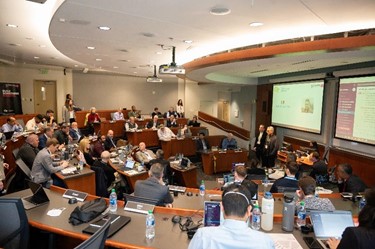 Once a founder has been accepted into the program, one of the main conditions is that they attend the CDL-Atlanta sessions to receive feedback from mentors on a set of objectives that guide progressive improvements along the way. These objectives are then reviewed by their mentors in subsequent sessions to gauge the entrepreneur's progress.
CDL-Atlanta and the TI:GER Experience
 The CDL program is free to admitted founders but requires a dedicated commitment to work with mentors, experts in the fields of science and technology, potential investors, and MBA and Ph.D. students. Students are qualify to participate in CDL-Atlanta if they are enrolled in the TI:GER program (Technology Innovation: Generating Economic Results), which is the educational arm of CDL-Atlanta. During the 16-month program, MBA and Ph.D. students work with founders to help build their companies by offering their expertise in operations, strategy, finance, marketing, and more.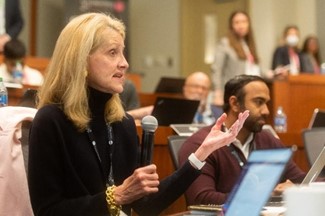 "The CDL experience is truly unique because it embeds MBA students in early-stage ventures to work with founders, their mentors, and investors. During the six months of engagement, students contribute their original research on markets, industries, and technologies, and they provide their strategic insights and operational recommendations to the ventures. Not only do students help accelerate the ventures' growth, they also benefit from observing founders, listening to mentors' advice, and working with other experts in the CDL community," said Jonathan Giuliano, executive director and academic director of TI:GER and professor of the practice in Strategy and Innovation.
Throughout the session, MBA TI:GER students were available to answer questions, support the guests, and listen in on special meetings.
"Being able to attend the CDL-Atlanta Commerce Session Three in person was a fantastic experience after being sidelined on Zoom for the previous two events. The energy, curiosity, and passion of the mentors and the founders in attendance were great to observe. Being in-person supercharged the collaborative nature of everyone involved. This happened not only in the small group meetings but in hallway conversations that occurred after sessions or before lunch. Truly, as a TI:GER student interested in learning about the entrepreneurial process, this was an unforgettable event during my time at Scheller," said Kris Batol, MBA '22.  
CDL-Atlanta is in its third year and owes its success in part to the expertise of Scheller faculty members and esteemed mentors. Peter Thompson, co-lead of CDL-Atlanta, Hal and John Smith Chair in Small Business and Entrepreneurship, and professor of Strategy and Innovation, Alex Oettl, associate professor of Strategy and Innovation and Lydia Turkié, CDL-Atlanta director and associate director of TI:GER, steer the CDL-Atlanta program while Jonathan Giuliano leads the TI:GER program.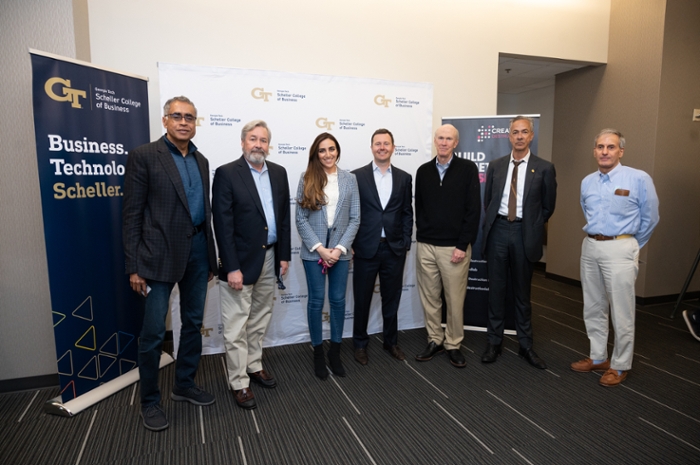 In addition, Scheller faculty experts include Sudheer Chava, Alton M. Costley Chair, finance; A.J. Kohli, Gary T. and Elizabeth R. Jones Chair, marketing; and Karthik Ramachandran, Dunn Family Professor; and area coordinator of operations.
Additional faculty include Todd Sulchek, professor, George W. Woodruff School of Mechanical Engineering; associate professor, Anton Kleywegt, Milton Stewart School of Industrial and Systems Engineering; and Alan Marco, associate professor, School of Public Policy.
Speaking about the experiential learning offered to MBA students, Giuliano was straightforward in his observation.
"We have nothing else like this at Georgia Tech, and there's nothing else like this at any other university in the South. Students graduate from the TI:GER and CDL programs with expertise, experience, confidence, and the lifetime value of the global CDL network."
Questions? Contact Lydia Turkié, Director of CDL and Associate Director of TI:GER.