The Georgia Tech Scheller College of Business was recently recognized as the 2022 Education Partner of the Year by the Atlanta Chapter of the National Black MBA Association (NBMBAA). Each year, the Atlanta chapter hosts a reception to showcase graduating high school students in the Leaders of Tomorrow program, award scholarships to undergraduate, MBA, and Ph.D. students in business, and recognize corporate and educational partners who have significantly contributed to the success of the organization.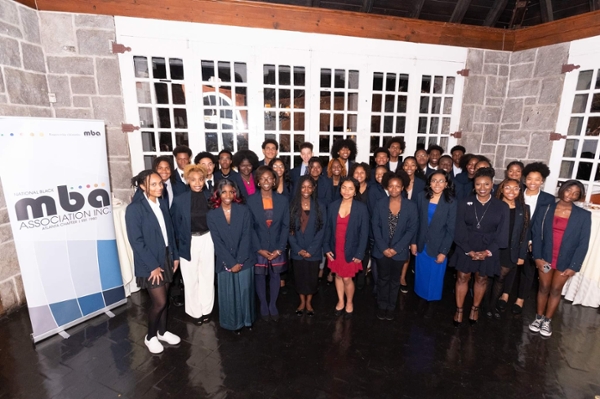 Students in the Leadership of Tomorrow program. Photo courtesy of Orlando Evans.
Scheller College has engaged with the organization on several initiatives and is a financial sponsor for NBMBAA scholarships. The College partnered with the Chapter to host a forum for representatives of Georgia MBA programs, and Scheller's Blacks in Business Club also hosted its 7th annual panel discussion on how to prepare for a career fair during the annual NBMBAA Conference.
In addition, Scheller MBA students participate in the annual NBMBAA Conference Graduate Case Competition. Last year, the Scheller MBA team won second place among 35 other colleges and universities with a prize of $15,000.