In honor of Black History Month, the Georgia Tech Scheller College is celebrating our Black student and alumni entrepreneurs. We sat down with MBA alum Kristen Daniel to learn about her new game company. 

An entrepreneur at heart, Kristen Daniel has always enjoyed creating businesses. She launched her first company when she was in middle school and later found two more companies during her career — KnewSkill and Pentorship. When the pandemic hit, she found herself reminiscing about the times she DJ'ed for friends and family, which sparked the idea for her new game experience company, Heard It All Before.

Daniel has always been a music aficionado and loves that music brings people together. Her new company combines both of her passions: entrepreneurship and music. Heard It All Before is the first game of its kind. Players listen to song snippets via a QR code and race against the clock to name music originals and samples. They'll hear familiar songs from 70's soul to hip-hop classics. Daniel says the game is about sharing stories and discovering new sounds for players to love while enjoying some friendly competition.

When Daniel, a Scheller Evening MBA alum, isn't busy working on her gaming company, she helps brands with product strategy, business model design, and executive coaching. She considers her superpowers to be immersion and empathy, which helps her solve problems creatively.

We talked with Daniel to learn more about entrepreneurship and the idea behind her new game.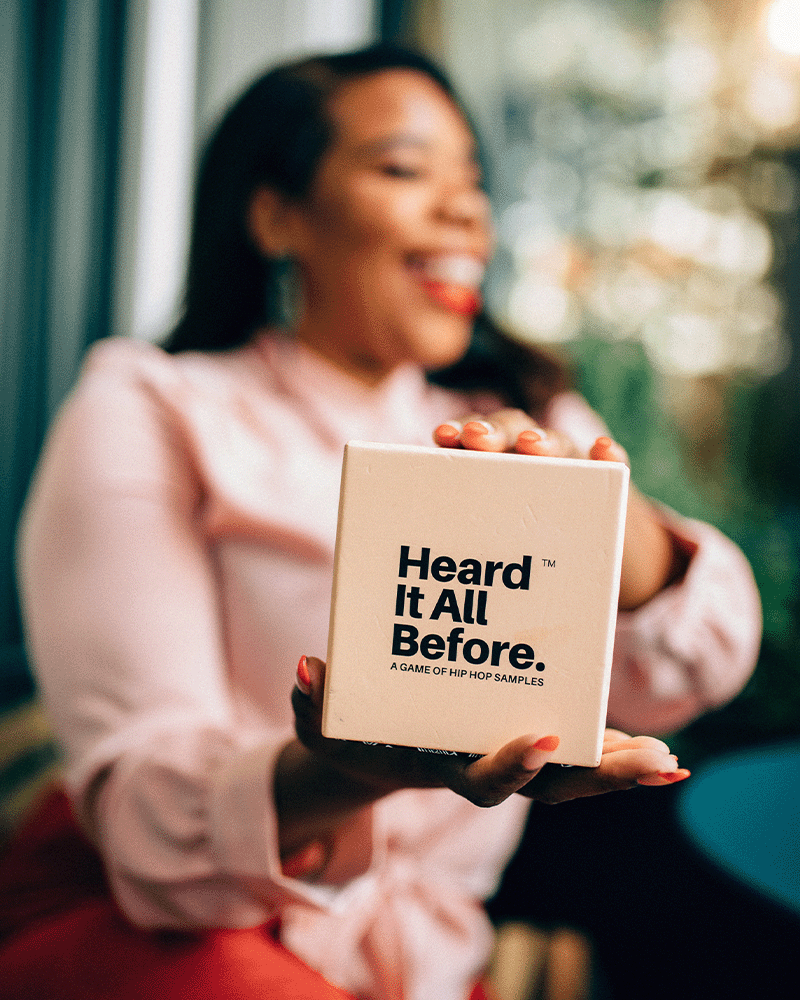 Tell us about the roots of your entrepreneurial journey. 
I've been fascinated with entrepreneurship since I was a teenager. I started my first business in middle school. Entrepreneurship has been woven throughout many of my career interests and projects, tinkering with ideas and working with family members who had their own businesses. Over the past decade, my entrepreneurship interest formalized through creating two social enterprises: a consulting business, and more recently, a game company. 
Tell us about your new company. 
The vision for Heard It All Before is to drive new paths toward music discovery through gameplay centered around music sampling. The games are hybrid physical and digital playing experiences designed to bring players of different generations, backgrounds, and music tastes together. Players compete to see who has the best ear for music samples.
Ultimately, the game is about sharing stories and discovering more about sounds they love. We want the art of sampling to be a source of curiosity and joy beyond someone being a music enthusiast. We're excited for our players to explore back catalogs of artists whose digital footprints have been minimal in the past and to develop insights around it. 
We brought our first version, the hip-hop edition, to market in fall 2021. 
How did you come up with your idea?
I came up with the idea for the game while sitting on the couch during quarantine and glancing at my amateur DJ set in my living room. The turntables were broken, but my mind wandered to times when I played originals and samples of music for friends and family. That daydream turned into a game idea, which I then prototyped in Canva and started to play with friends and family virtually. 
What are some surprises you've had along the way? 
In reflecting upon many surprising things, the part I have underestimated the most about entrepreneurship is how overthinking can derail a great idea, and underthinking can derail great execution. 
What does Black History Month mean to you?  
To me, Black history is American history. I think Black History Month is a great time for people around the world to set aside time and discover new stories — since history continues to unfold. I also think it is a wonderful time of year for people to reflect upon the accomplishments and contributions of their family members. In recent years, I've enjoyed diving more into the Reconstruction era. It's a fascinating period that contains so many stories and facts that can inspire anyone's thoughts about innovation. 
What role did Scheller play in helping you become an entrepreneur and innovator?
I feel so lucky to have attended Scheller during a critical turning point in Atlanta's startup, tech, and social impact scene. Being amid so many programs that were emerging at the time gave me the confidence to not subscribe to one specific approach to problem-solving. In addition to the amazing professors in venture creation and entrepreneurship law, the Institute for Leadership and Entrepreneurship played a significant role in expanding my network and supporting my work. And most importantly, my classmates, many of whom have become collaborators and supporters in my endeavors. 
What legacy do you hope to leave? 
While others will determine our legacy once we are gone, I hope to inspire more multi-potentiality and renaissance people to feel confident in the pursuit of their entrepreneurial and career endeavors.