As part of the Dean's CEO Speaker Series, Dean Maryam Alavi welcomed Jimmy Etheredge, CEO of Accenture North America, for a conversation at the Georgia Tech Scheller College of Business on Wednesday, November 9.
Etheredge, who leads the global consulting company's largest geographic market with $29B in revenue for FY22, joined Accenture in 1985. He became a partner in 1997, an executive partner in 2011, and the CEO in 2019. He oversees over 80,000 employees in the U.S. and Canada and is dedicated to diversity, equity, and inclusion (DEI) initiatives, helping the company earn numerous top rankings, including Fortune's World's Best Workplaces in 2022. He is a passionate ally of mental health and has championed Accenture's mental health and wellness programs. In addition, he grew Accenture's innovation hub by creating an incubator at Georgia Tech. He holds a Bachelor of Science in Industrial Engineering from the Georgia Tech, where he serves on the Institute's Hill Society.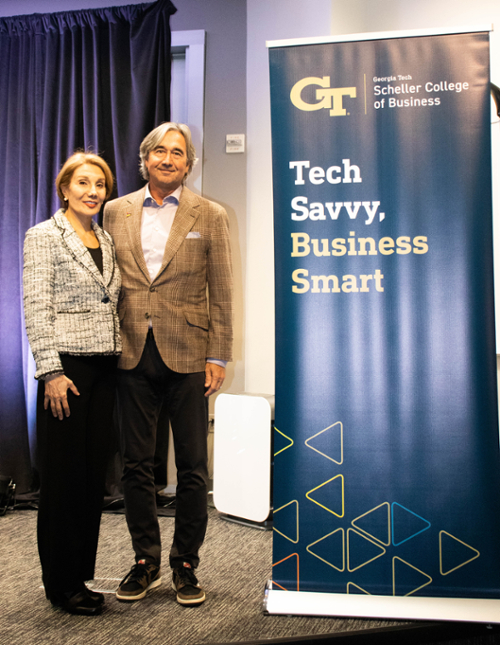 Ethredege shared his leadership philosophy, which has helped Accenture experience a 23 percent growth rate in the last fiscal year, despite the "black swan" event that was Covid.
He also discussed how clients are looking to apply technology in every aspect of their business, including increasing productivity, developing deeper relationships with customers, and creating a more resilient supply chain. Accenture's role is to help the client in all ways using technology and data, he explained. 
Etheredge also spoke about the importance of trust and being able to reach out for help, which reflects Accenture's focus on '360 value.'
"To grow a business, you're going to need to take risks, and if you take risks, you're going to fail. If you're going to take risks and you're going to fail, are you comfortable asking for help?" he asked.
When asked about the skills needed in today's climate, Etheredge stated that there is a skills shortage in the areas of cloud computing, AI, and cybersecurity. He believes that working in a team environment is crucial to success as is curiosity, risk-taking, and problem-solving - skills that Scheller College students gain.
"The more people are comfortable with the intersection of business, technology, and people, the more they're able to navigate through all the challenges that life and the organization throw at them," he said.
Etheredge steered the conversation to the importance of being stewards of good mental health, noting that "it's okay to not be okay" and that sometimes, one needs to unplug. He reminded the audience that life is a marathon, not a sprint.
"If you're not kind to yourself, it's hard to be kind to others," Etheredge reflected.