On Thursday, October 20, 2022, a group gathered on Tech Square in the emptied gravel lot on the north side of 5th Street. The sun shone through a thick white tent canopy, shading the guests beneath who were seated on folding chairs and gathered around the covered perimeter. President Ángel Cabrera warmly welcomed students, faculty, alumni, donors, and dignitaries to this celebration of the Technology Square Phase 3 groundbreaking.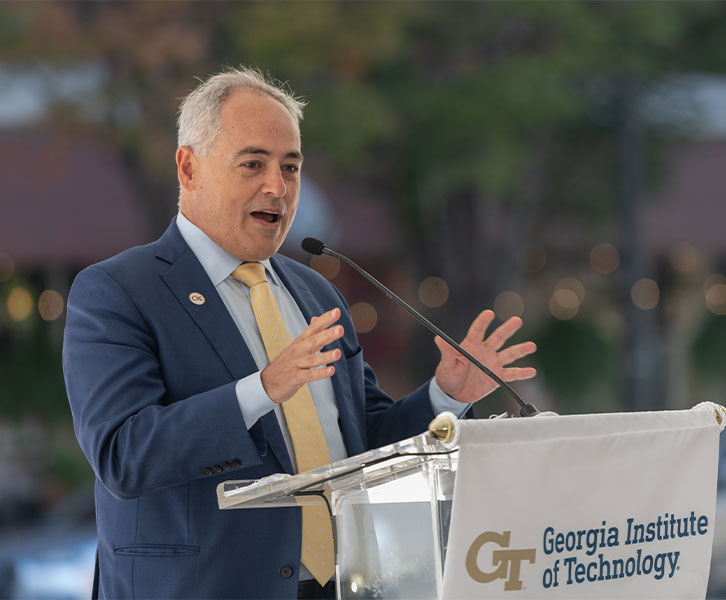 "When people come and visit Atlanta in decades, maybe centuries, from now they will see buildings that were erected to educate the best and brightest," said Cabrera. The President anticipated the good work that would flow from the building where people would come "to investigate, to do research, to come up with solutions for problems." 
Cabrera was clear on the narrative of how Phase 3 came to be. Speaking of the future building, he said, "A whole community came together to do something together because it matters, because it's important, because it makes a difference." The building, he hopes, will be defined by the community that came together to build it. That community includes the Georgia state government, the city of Atlanta, the University System, and generous philanthropist families. Those families include Bill and Penny George, Ernie and Roberta Scheller, and Milton and Carolyn Stewart, each dedicated to investing in the future of higher education.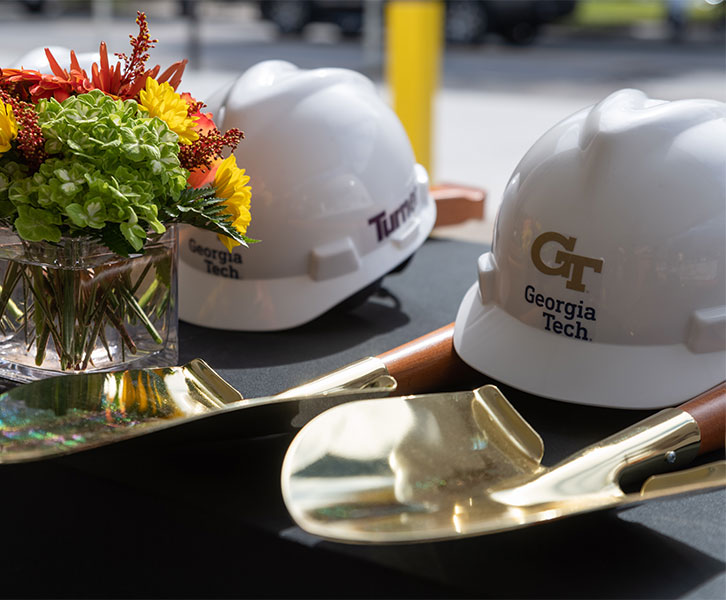 Tech Square: A Story of Vision  
Today, seeing the thoughtfully planned wide sidewalks, shaded by now-mature trees, that lead to the Georgia Tech Scheller College of Business, the Coda building, and the campus bookstore, it is hard to imagine a time before the bustling blocks became a hot spot for the convergence of students, faculty, and industry innovators. Today, Tech Square's success seems inevitable.  
 
However, a little over 20 years ago, Tech Square was a squalid part of town, one that people traveling south to their jobs drove through quickly, chain linked fences and derelict lots flickering past. It was beat down and crime ridden, no place, surely, for higher education to find a home. 
 
But former Institute President Wayne Clough had exceptional vision. In his book, "The Technological University Reimagined," he wrote, "The decision to leap across the Downtown Connector and build Technology Square was trigged when Olympic Village preparations forced me to take a roundabout route onto campus through a devastated part of Midtown Atlanta. I realized that the for-sale signs on so many of the properties there were flags of opportunity." 
 
Kevin Byrne, The University Financing Foundation's (TUFF) president and CEO, remembered partnering with the Tech Foundation and the financial engineering it took by both parties to make Tech Square possible. He watched Tech Square take shape out his historic Biltmore office window. "It was amazing to see how quickly all of that activity could manifest into a better place," he recalled. "Even as the ground was being constructed, there was a sense that this was going to be a grand place. I remember the days where you had to be careful because of drugs or crime. Today, you want to walk outside because you want to bump into somebody else out on the street." 
 
When it was suggested in the mid '90s that Georgia Tech should build more fences to keep out the crime and deterioration of surrounding neighborhoods, Clough determined that "Georgia Tech needed to become a good neighbor and build bridges, not walls." Tech Square was built to bring people together, to foster collaboration between university research and industry innovation. It would become what Clough and other alumni developers envisioned: "one of the most dynamic live-work-play neighborhoods in America."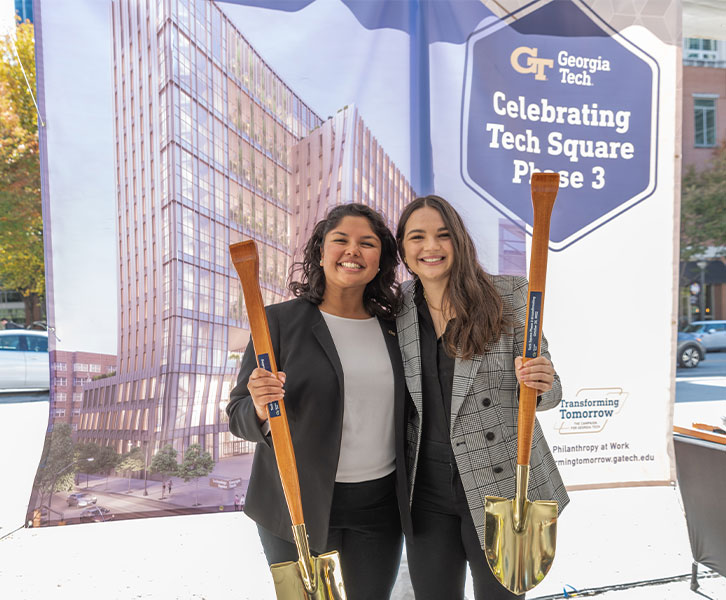 Phase 3: The Beginning of the Final Chapter 
 
Once the final chapter of Tech Square's master plan is completed, even more people will be flocking across the interstate to work and learn in the multi-storied two towers of the third phase. One tower will be named for donor Ernest Scheller. It will house the Scheller College of Business' graduate and executive education programs. The second tower will be the new home for the number one ranked Industrial and Systems Engineering program, and will be named George Tower, after Bill and Penny George. 
 
Dean of Scheller College, Maryam Alavi; Dean of Engineering, Raheem Beyah; and the Chair of the Milton School of Industrial Systems Engineering, Edwin Romeijn will act as stewards of the new building. Cabrera asserted that he knew they would "do great things with it," as the Colleges look towards the future with hope that the best of innovation and collaboration are yet to come.  
 
"The new facilities of Tech Square Phase 3 will offer our students the ability to learn, collaborate, and develop in a new, innovative environment. Thanks to the generosity and support of our community, we are now better positioned than ever before to fulfill our mission of cultivating principled business leaders who thrive in a tech-driven world," said Dean Maryam Alavi. 
 
Ernest Scheller expressed his hopes for the new development and the future of the College, stating, "Dean Alavi and the Scheller College team have consistently been moving up the ladder and have number one for the entire College well within sight. This new tower should give a big boost toward that goal." 
 
The ceremony closed with Meghan Meredith, Ph.D. in the Stewart School of Industrial Systems Engineering. "The future of both the Stewart School and Scheller College is bright," she said. "While these schools are prestigious by any measure, they are also committed to transforming the real world. Their history of producing inventive solutions to improve human life will only be propelled by this complex that will house the future of innovation."