A native of New Canaan, Connecticut, she was attending the Parsons School of Design in New York City, having transferred from the University of Connecticut. She had moved out of her mother's apartment on the Upper West Side of Manhattan to live in her own apartment in the city. To cover rent and tuition, she worked as a hatcheck girl at Manny Wolf's Steak and Chop House (now Smith & Wollensky's) on 3rd Avenue and 49th Street.

One evening in February 1954, while attending a square dance with a friend in Norwalk, Connecticut, a handsome young man approached her and asked for her phone number.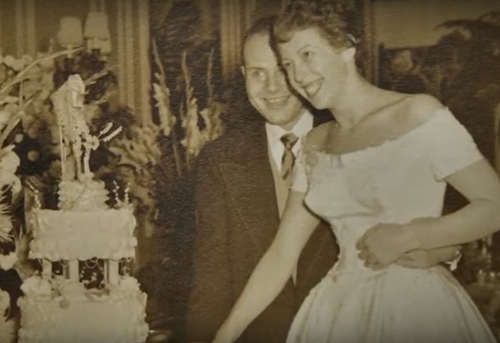 Their first date, a movie, soon followed. After that first date, he began commuting from Stamford, Connecticut to see her while he worked for his father's company. They got engaged at the wedding of mutual friends in June 1954, and on September 26, 1954, she married Ernest (Ernie) Scheller Jr. and became Mrs. Roberta Scheller.
The Beginning of a Resolute Union

The Schellers' marriage ceremony took place at the Savoy-Plaza Hotel, and their first night together was planned for the Waldorf Astoria Hotel. Ernie pulled out all the stops in choosing these two elegant places to celebrate their union. Roberta, with her fine fashion sense, dressed in a beautiful gown with all the accessories. But before the ceremony began, she could not find her wedding mitts – an absolute must have for a 1950's bride. She swallowed her disappointment and married without them, determined that nothing would stop them from getting married that day. Today, Roberta smiles from ear-to-ear and Ernie chuckles when they reminisce, and Ernie adds that it was a close call.

When they arrived at the Waldorf, they were told their luggage had been lost somewhere within the hotel, so they spent the night without their belongings. In the morning, they headed to the airport for their two-week honeymoon in Miami (a gift from Ernie's father), their lost luggage now in tow. But their trials weren't over. On the way to LaGuardia Airport, the cab driver had a flat tire and no spare, so the couple had to hail another cab so they wouldn't miss their flight.

For a new bride, this may have been a bad omen, but not for Roberta. The couple has been married for nearly 68 years.

This ability to be unruffled and resolute has been one of Roberta's steadiest characteristics. When she married Ernie, she paused her education, moved to Stamford where Ernie's family business was located, worked for Vogue in the city, and with two young children, resettled in Tamaqua, Pennsylvania, a coal and mill town where Ernie would grow his family business, Silberline Manufacturing.

A Dream Fulfilled

While she made the decision to leave Parsons, learning has always been essential to Roberta. At an early age, she learned how to sew on a Singer Sewing Machine in a special room provided to her by her mother, which influenced her love of design early on. She became so good at sewing, in fact, that her 7th grade home economics teacher recognized her talent and asked her to teach her fellow classmates how to sew.

Roberta's mother saw the importance of education. She had wanted to go to college but opted to work to support her brother through medical school. She hoped that at least one of her two daughters would earn a degree. Perhaps this inspired Roberta to attend the University of Connecticut and Parsons in the 1950's, when only around five percent of women completed four years of college.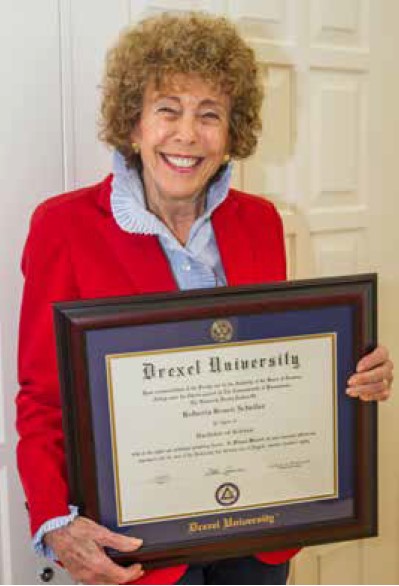 In 1975, while in her early 40's and after her youngest child had left for college, she made the decision to return to school and attended Drexel University in Philadelphia to study interior design. While there, she applied her growing knowledge to hands-on projects, working with architects and using the tools of the design trade in assignments. But her time there wasn't easy.

From 1975 to 1979, she made the two-hour commute to Philadelphia each way to attend classes. At times, when she had a late class followed by an early class the next day, a custodian would let her into the faculty lounge where she would sleep overnight. But the long commute and an unexpected illness once again prevented her from obtaining a degree.

Fast forward over 40 years later. Roberta became friends with Daniel Schidlow, a cousin's husband who also happened to be the dean of the College of Medicine at Drexel. He was curious about Roberta's time there and asked his staff to investigate how many credits she had left before she qualified to graduate. To his surprise, she had collected enough to meet the requirements. In a special ceremony in 2012, John Fry, president of Drexel University, presented her with a Bachelor of Science degree from the College of Media Arts and Design. As witnessed by those in attendance, with her degree in hand, she looked up and said, "Finally, Mom."

Giving to Others and Collecting Memories

As a couple, Roberta and Ernie are dedicated to supporting education and charitable organizations.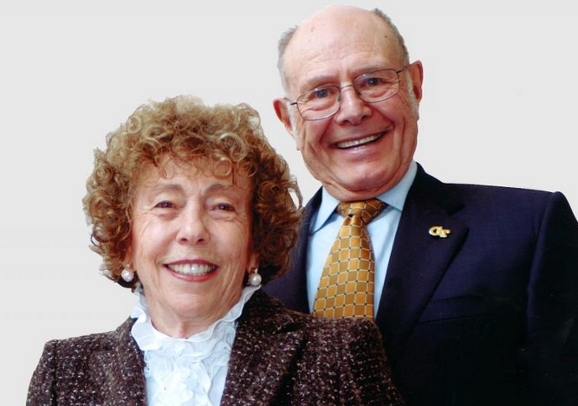 People familiar with Georgia Tech and the Scheller College of Business know about the depth of their philanthropic generosity, including the naming of the College and the forthcoming Scheller Tower to be constructed at Technology Square. They may be less familiar with Roberta's support and leadership in building and strengthening interfaith communities in Vail, Beaver Creek, and Edwards, Colorado, and her broad support for scholarships, health-related organizations, and Jewish causes that improve the lives of others.

Roberta is a testament to the humility and generosity the Schellers have exhibited all their lives. While she says little during dedication ceremonies and tends to dodge the spotlight, her light shines infinitely bright on the lives of those she has impacted. Throughout her life, Roberta has made family and community an integral part of her life and she relishes family outings, travel, and outdoor adventures, including skiing, snowshoeing, hiking, and golfing.

During her life, Roberta has ridden horseback with her sister into the Grand Canyon, watched one of the final Space Shuttle launches from close range at NASA's Kennedy Space Center, taken an African photographic safari with family, cheered on the Yellow Jackets to a last second victory against Oklahoma State at the 2004 Men's Basketball Final Four, and even walked the length of Augusta National Golf Club with Ernie at the epic 75th Masters Tournament in 2011, just days prior to a scheduled hip replacement, determined as ever to experience life to the fullest.

From Roberta's early years, she has shown a drive to make a difference in everything she does and works to support education and community health and well-being. As a daughter, sister, wife, mother, grandmother, designer, graduate, and friend, Roberta's legacy of determination, devotion, and generosity has touched and inspired countless lives.

Over the past 20 years, Roberta and Ernie have focused on "collecting memories, not things."  And we are forever grateful for the many priceless memories they have made with the Georgia Tech and Scheller College of Business community.