For some Georgia Tech Scheller College of Business MBA students, they not only leave the program with a degree, but also with a spouse. Others have decided to go back to school at the same time as their partner, while yet others are influenced by their partner's decision to go back to school and made the same choice. All in all, Georgia Tech not only produces leaders in business and technology but occasionally, some good love stories.
We caught up with four couples who went through our Full-time, Evening, and Executive MBA programs to talk about how they met, the positives and negatives of going through an MBA program at the same time as your significant other, and what they loved most about attending Scheller.
Katie (Full-time MBA '18) and David (Full-time MBA '19) Woods
Scheller Full-time MBA alumni Katie and David Woods decided to enroll in the program together at the same time. Katie and David are Double Jackets who originally met during the first week of their first year at Georgia Tech. Katie, who was trying to find Britton Dining Hall, called out to David for directions, and the two wound up eating lunch together and becoming friends before starting to date towards the end of their time as undergrads.
After getting married in January of 2015, the Woods decided that they wanted to pivot in their careers. Since they love experiencing new things together, they decided to enroll in the Full-time MBA program at the same time.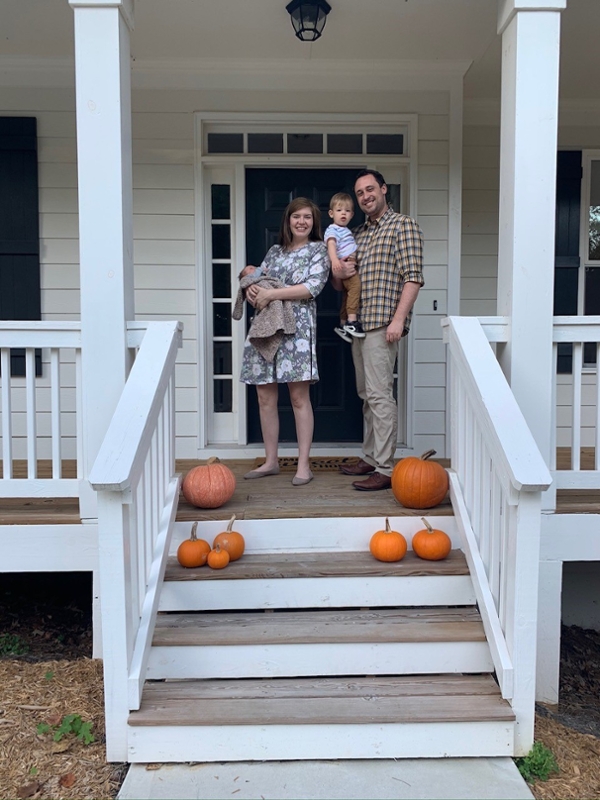 "When we went through the program together, we were able to really empathize with each other through the process, learn from each other as we went, and enjoy the same activities together," said Katie. "An example is the international practicum. David and I took the class together and traveled to India over spring break. It was so much more fun getting that experience together instead of one of us going by ourselves."
When David found out he had cancer six weeks into the second year of the program, he not only had his wife to lean on for support. The Scheller community rallied around the couple to provide encouragement and support, bringing food to the hospital and throwing David a welcome back social when he healed.
"When I was diagnosed with cancer, I was enveloped by the love, support, and encouragement from students and faculty alike," said David. "My professors did their best to ensure that I could stay engaged between surgeries and treatments and I never felt separated from the program during that trying time. Scheller exemplifies and instills in its students the resilience, compassion, and fortitude that prepares graduates to lead while also remembering to serve."
Emily (Evening MBA '20) and Nick (Evening MBA '19) Jennings
Like Katie and David, Emily and Nick Jennings also met as undergraduate students at Georgia Tech. They were both involved in Greek life and were introduced at a fraternity function. Nick then invited Emily to sit in his fraternity football section, and they began dating soon after.
Nick began the Evening MBA program in spring of 2017, with Emily joining two semesters later. For the two of them, a big positive of going through the program at the same time was having a better understanding of what the other was going through and having the opportunity to have conversations outside of class based on the material they were studying.
"Getting an Evening MBA while working full-time is strenuous and wildly time consuming," said Nick. "Since we were both going through it at the same time, we understood the constraints on each other's schedules and both saw the importance of scheduling quality time to focus on schoolwork and our jobs, but also each other. When you work all day and then have class immediately after until 10 p.m., it's great to be able to see your partner's face in the hallway before class and to have them pick up dinner for you when you're running late."
Another plus about going through the program at the same time was having the opportunity to travel to China together for their international practicum.
"We decided to join at the same time because we figured if our schedules were going to be wrecked, we may as well do it at the same time," said Emily. "We'd both reached points in our careers when we thought we'd get the biggest advantage out of an MBA and didn't see any issues with pursuing it at the same time. We also had plans to start a family and wanted to finish school and the timing worked out."
The timing did work out great for Emily and Nick – They are extremely excited to welcome a new baby Yellow Jacket who is due in April this year.
Rachel Firstman (Full-time MBA '20) and Martin Estes (Evening MBA '20)
While Full-time MBA alumna Rachel Firstman and Evening MBA alumnus Martin Estes didn't meet at Scheller, they both eventually wound up there at the same time in two different programs. The pair met on a dating app and were inseparable after their first date at Starbucks. At the time, both Rachel and Martin were interested in going back to school for their MBAs and applied separately, Rachel applying to the Full-time program and Martin to the Evening program. After both being accepted, they wound up going through the programs together.
"Whenever I was thinking through a problem or wanting a second set of eyes on a presentation to make sure it was logical, I had an in-house proofreader," said Rachel. "We also got to take a class together which was great."
The biggest challenge for the pair was operating on reverse schedules, with Martin working during the day and Rachel being at school. They would spend their evenings in the same buildings but without the chance to see each other.
"On days Rachel wasn't staying in the evening, we would have dinner together somewhere on campus," said Martin. "It was about the only hour we got to spend together in the day. I would usually leave in the morning before Rachel was up and sometimes would arrive back home after she was asleep. Those little dinner dates were always my favorite hour of the day."
Martin and Rachel got married at the Atlanta courthouse this past June before moving out to California. They plan to have a reception back in Atlanta once the pandemic subsides and are looking forward to celebrating with family and their many friends from their programs when it's safe to do so.
Ana Franco (Executive MBA '14) and Gabriel Prado (Executive MBA '18)
Scheller Executive MBA (EMBA) alumni Ana Franco and Gabriel Prado met on a 40-mile bicycle ride with friends. Prior to meeting Gabriel in 2016, Ana had graduated from the EMBA program in the Management of Technology cohort. Gabriel was able to rely on Ana's expertise and advice when he went through the program, with the only difference being that he was in the Global Business cohort.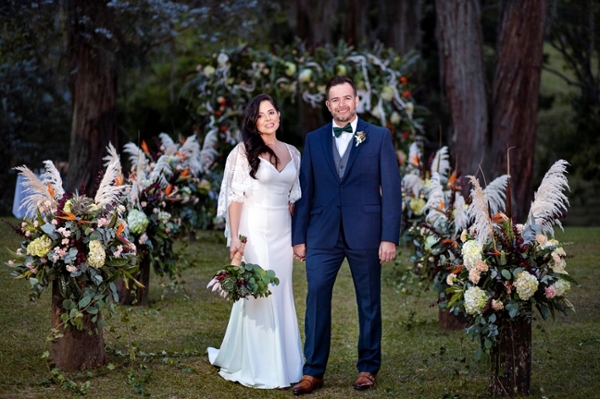 "We were not in the same program or year, but it definitely helped that Ana went through the program before," said Gabriel. "It helped to understand what to expect as far as time and effort to go through the program. We also shared some of the same professors."
In addition to the friendships they have made, Ana points to the lifelong network you gain after going through the program as her favorite part of the experience, while for Gabriel, it was his diverse and experienced cohort.
"Even though we graduated four years a part, friends from both of our cohorts became friends with each other. We always have the feeling of being at home with friends anytime we attend a social event at Georgia Tech," said Gabriel.
The relationships the couple made during their time in the EMBA program meant so much to them that many of their cohort mates attended Ana and Gabriel's 2019 wedding in Medellin, Colombia.