In the late 90's, Georgia Tech purchased eight acres "across the bridge" from its main campus on the east side of 5th street. By 2001, those eight acres had turned into 13 acres. Two decades later, this area of Midtown is now the bustling, vibrant jewel that is Technology Square, better known as Tech Square. The ribbon cutting ceremony to introduce Tech Square to the world was in 2003, but September 6, 2021 marks the 20th anniversary of its groundbreaking.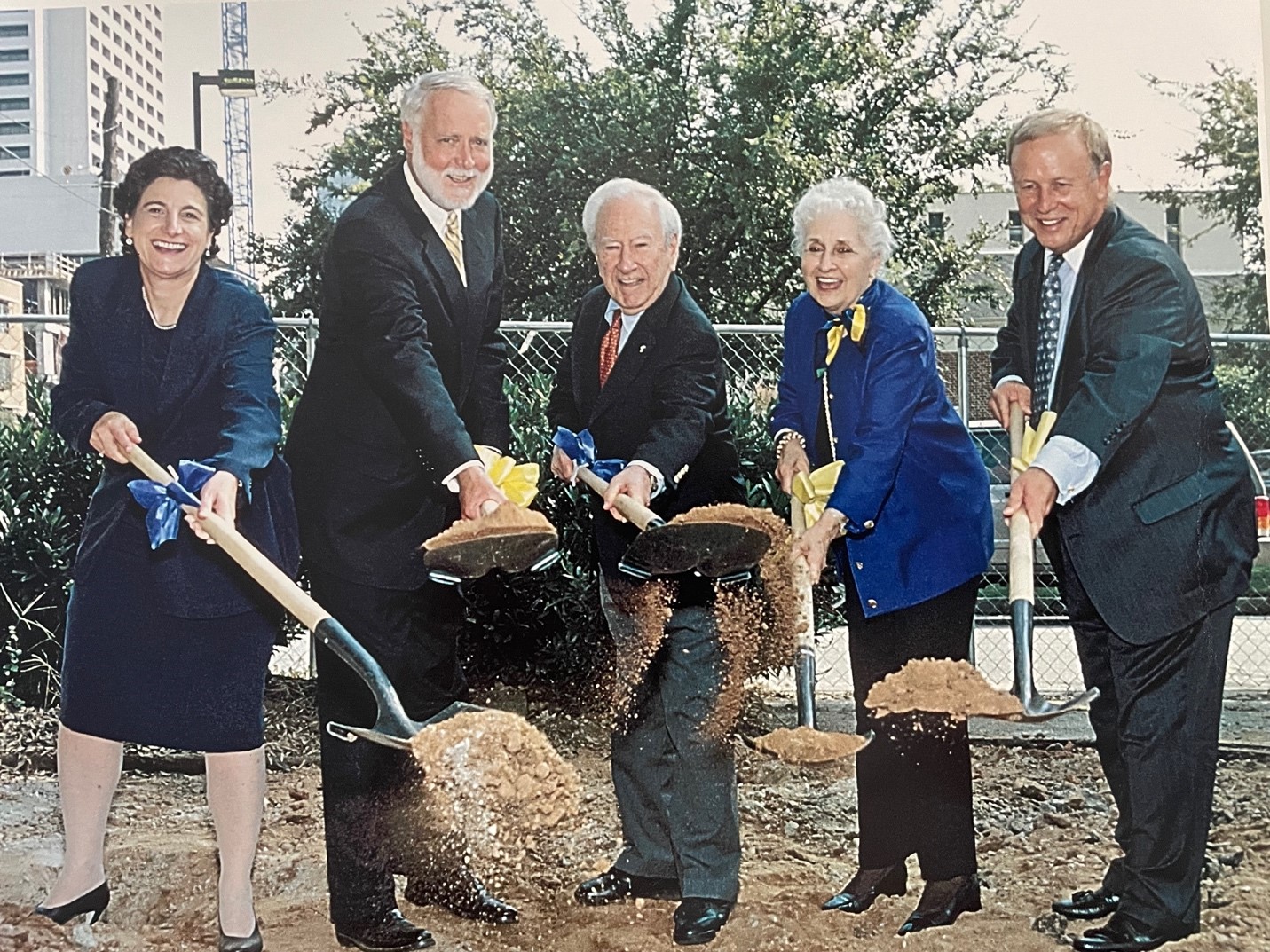 The groundbreaking of Scheller College of Business at the newly purchased Tech Square on September 6, 2001. Terry Blum (from left), President Emeritus Wayne Clough, Polly Poole, Dot Poole, Gary Jones.
Tech Square was the vision of a handful of leaders from the Georgia Tech Foundation and former Georgia Tech President Wayne Clough, with additional financial support from alumni and friends of Tech. President Cabrera wrote about the history of Tech Square in a 2019 blog post, including his first-hand perspective as a student when the area was in the process of revitalization.

In 20 years, how has Georgia Tech influenced Tech Square, which is now home to the highest density of startups, corporate innovators, and research centers in the Southeast? And how has Tech Square influenced the Institute?
Georgia Tech's Influence on Tech Square
It's noon on a Wednesday. Students, faculty, and staff are walking across the 5th street pedestrian bridge, crossing over 16 lanes of traffic on the I-75/I-85 connector. On the bridge, the noise from the traffic below is insignificant. It's drowned out by a lush green space with walls of plants that obscure the view below. And it's a prime example of Georgia Tech's influence on the Midtown environment - the Institute worked with the Georgia Department of Transportation to redesign the bridge.
Leaving the bridge, Tech students and employees intermingle with professionals, corporate executives, and visitors. They pass multi-storied modern buildings, retail shops, and restaurants, along with the Enterprise Innovation Institute (EI2) in the Centergy Building.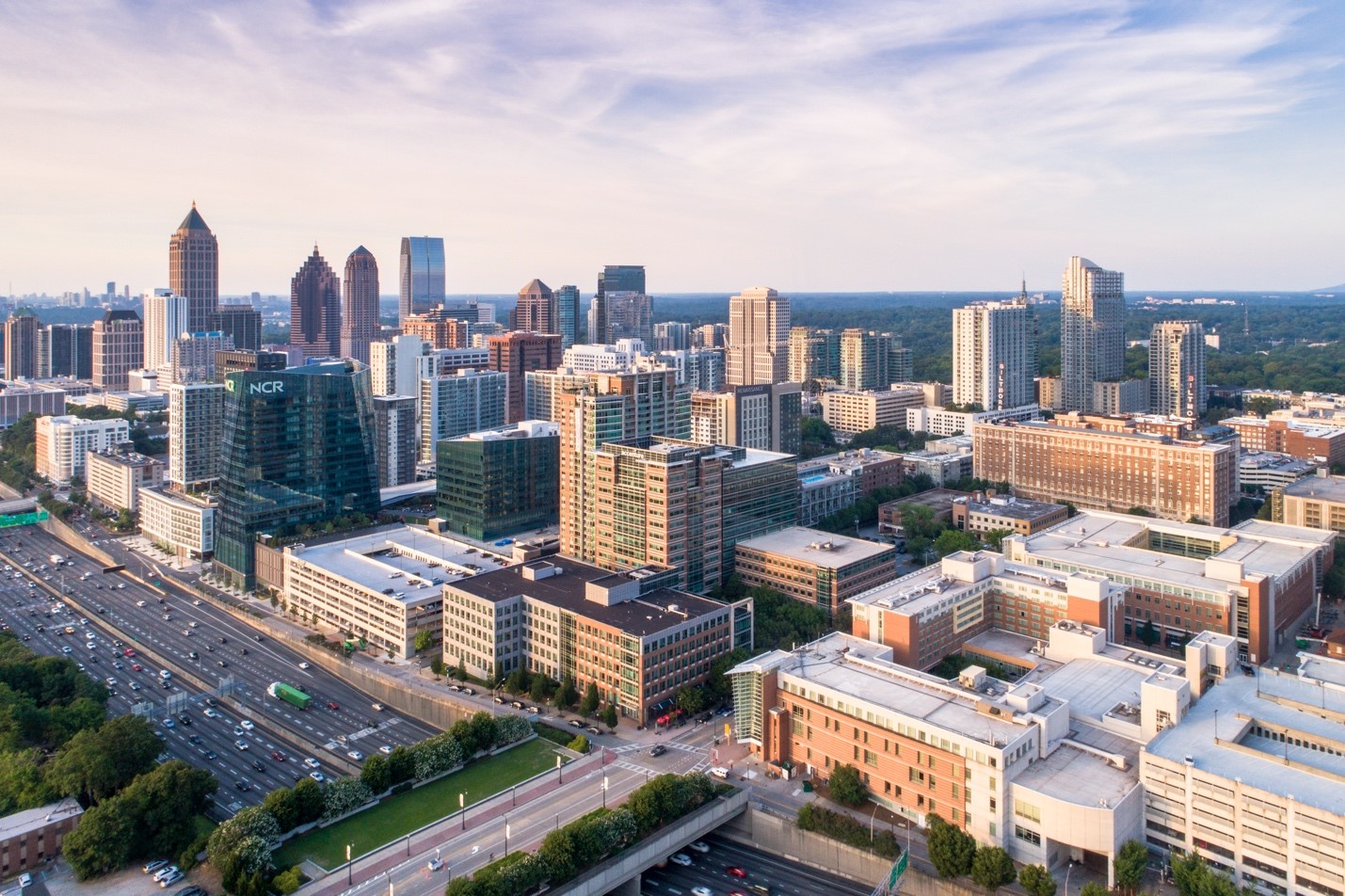 Aerial view of the pedestrian bridge and Tech Square in the heart of Midtown.
EI2, whose mission is "to increase the competitiveness of enterprises in Georgia through the application of science, technology, and innovation," is the umbrella group of Georgia Tech's business outreach program with the purpose of expanding local, regional, and global outreach. They have three distinct program offerings: commercialization, entrepreneurship, and business services.
Within their entrepreneurship programs is Georgia Tech's Advanced Technology Development Center (ATDC) program. It's the oldest technology incubator in the country and its three-year program supports start-up and serial entrepreneurs as well as high potential technology start-ups in Georgia. Its industry verticals includes FinTech, Advanced Manufacturing, HealthTech, and RetailTech. ATDC works with more than 325 companies per year, launching more than 150 new ventures and generating capital activity of more than $97 million.
ATDC director John Avery is also a mentor for Creative Destruction Lab - Atlanta (CDL-Atlanta), housed in the Georgia Tech Scheller College of Business. CDL-Atlanta is a program that supports massively scalable, seed-stage, science-and technology-based companies. Scheller College's Technology Innovation: Generating Economic Results (TI:GER) program is the educational arm of CDL-Atlanta, offering Tech MBAs and PhDs the opportunity to work directly with start-ups through a 16-month transdisciplinary program.
Within the EI2 business services programs, the Economic Development Lab (EDL) works with local, state, and federal entities and companies to support business expansion and innovation. Students have been landing part-time jobs and internships with the Lab and other EI2 initiatives since its inception in the early 2000's.
"The EDL has hired graduate research assistants from the Scheller College of Business for many years and will continue to do so because of the quality of its students. In my unit, Innovation Ecosystems, we have had students work on projects that have been both national and international in nature. The Scheller students we have used have been able to perform many complex research assignments and have a great capacity to provide new insights into long-standing problems related to economic development," said Lynne Henkiel, director of Innovation Ecosystems.
She continued. "In fact, I have students from all over campus who are interested in how to better apply their degrees to generating economic prosperity for underserved communities. I've had engineering, public policy, modern languages, bio-chem, bio-med, and environmental physiology students, to name a few."
Continuing on the right side of 5th street, visitors pass an Amazon Pickup Hub Locker, Waffle House (one of Coach Collin's favorite restaurants), retail stores, the Georgia Tech Hotel and Conference Center (where guests can stay at the 252-room hotel), and the Georgia Tech Global Learning Center (GLC), home to Georgia Tech Professional Education (GTPE). 
While previously housed in numerous buildings and offices across the main campus, GTPE's move to the GLC in 2003 allowed the Institute to centralize its professional and distance education, leading GTPE to where it is today – an essential resource to industry, valued contributor to accessible educational models, and thriving hub for nearly 124,000 lifetime learners each year.
"Over the last two decades, Tech Square has served as a conduit for meaningful educational innovation," reflects Nelson Baker, dean of Professional Education. "Our move came at a pivotal time of technological advancement, allowing us to exist in a more integrated setting alongside business and industry leaders and providing deeper insight into the needs of the workforce." 
The move to Tech Square also allowed the space for a state-of-the-art production studio equipped to design and produce Georgia Tech's high-quality online course content, supporting continued program growth and amplifying a network of learning communities that transcends distance and location.   
As pedestrians reach the intersection of 5th and Spring Street, they might pause for the traffic light to change. If they look up to their right, they can't miss the newest member of the Institute's Tech Square ecosystem - the Coda Building, looming larger than life in the downtown and Midtown high-rise landscape with a gold "Georgia Tech" logo emblazoned on it.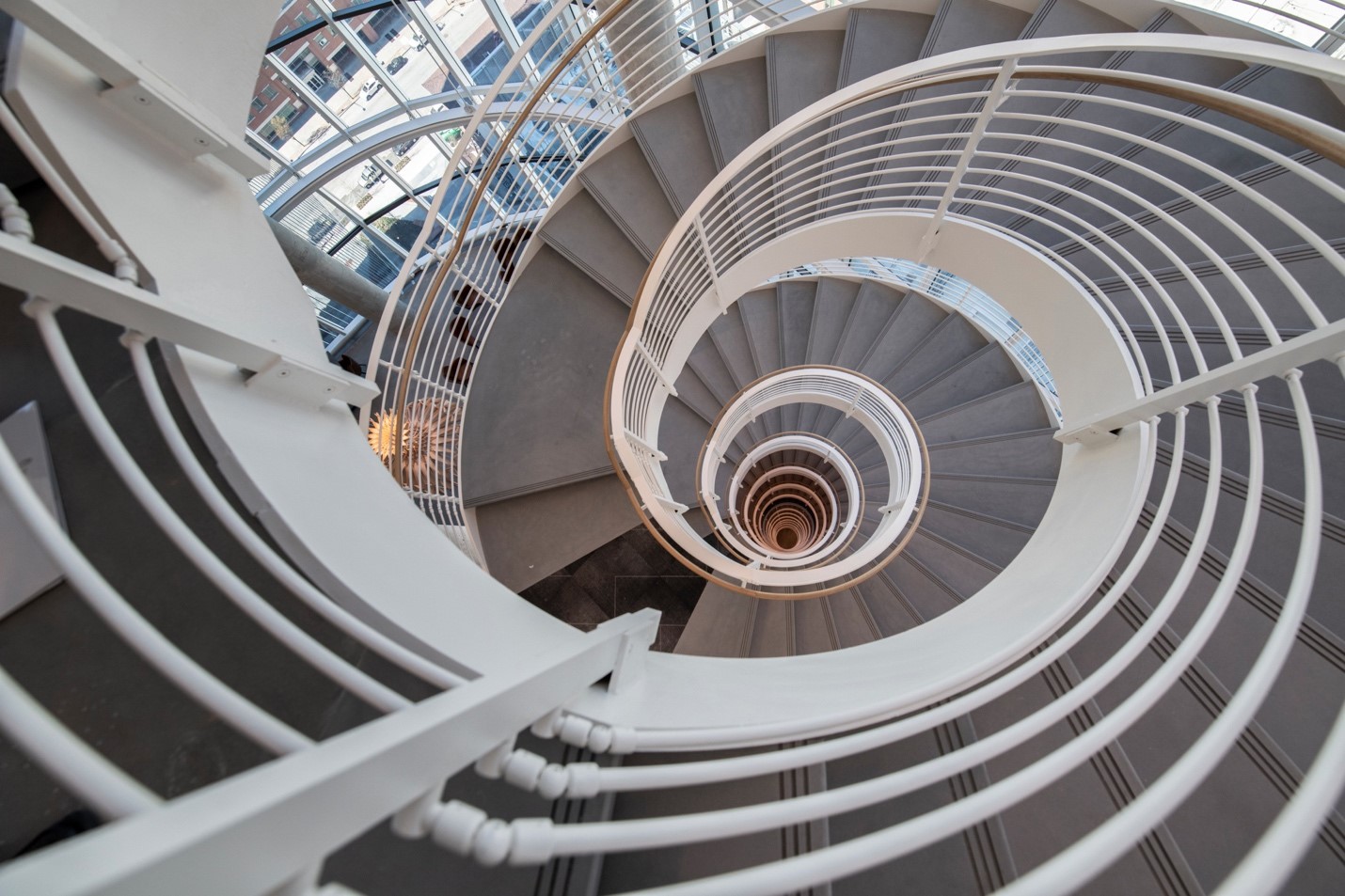 Georgia Tech is home to the world's tallest spiral staircase, located in the Tech Square Coda Building.
The 21-story, $355 million project comprises 755,000 square feet of space, including 605,000 offices, 93,000 data centers, along with the Hive Supercomputer, a $5.3 million-dollar high-performance computing system that supports more than 30 faculty, 50 research scientists, and 200 graduate students in multiple schools.
"The Tech Square area has become a hot bed of technology-related activity across the domains of AI, machine learning, data science, human-computer interaction, and cybersecurity. The recent addition of the Coda Building has fueled this growth even more. Coda provides a perfect ecosystem that includes academic research, corporate engagement, and startup/entrepreneurship activities," said Irfan Essa, senior associate dean of the College of Computing and the director of the Center for Machine Learning.
Coda is also home to numerous other Tech departments including some Georgia Tech Research Institute programs, the Office of Information Technology (OIT), the School of Computational Science and Engineering, the School of Cybersecurity and Privacy, the Center for Machine Learning, and more. Three research institutes also call the building home: the Institute for Information Security and Privacy (IISP), the Institute for Data Engineering and Science (IDEaS), and the Institute for People and Technology (IPaT). Georgia Tech leases about half the space in the building.
"The Office of Information Technology's move to Coda presented us with many opportunities to facilitate innovation and collaborate with partners across the Georgia Tech research and academic communities, as well as tech companies and established industry leaders," said Daren Hubbard, vice president for Information Technology and chief information officer. "We have Georgia Tech neighbors and corporate neighbors like Thyssenkrupp and WeWork. Through the Databank Data Center - one of the largest data centers in the southeastern United States - we also enable more high-performance computing and research to enhance learning experiences and outcomes for Georgia Tech students globally."
Georgia Tech isn't finished establishing its footprint in the area. In a partnership with Georgia Power, the Institute recently built the 1.4-megawatt Tech Square Microgrid. One critical purpose is to study sustainable energy practices with plans to provide power to Midtown as it continues to adopt smarter energy efficient solutions. The two-year construction project was completed this year and is located behind the Georgia Tech Hotel and Conference Center parking deck on Williams Street.
Looking forward into the future, Tech's vision includes further growth, with expansion opportunities for the Scheller College of Business MBA programs, the H. Milton Stewart School of Industrial and Systems Engineering, and other academic schools and program.
Tech Square's Influence on Georgia Tech
Crossing over West Peachtree Street, pedestrians head towards the historic Biltmore, purchased by Tech in 2016 and offering loft, office, retail, and ballroom spaces. Across the street is the Scheller College of Business. Students may be lured into the Starbucks and Barnes and Noble bookstore on their way to one of the many internships they've snagged at a venture lab or corporate giants such as NCR or Home Depot. Others may be running to a class in the Scheller Building where its undergraduate and MBA career centers have nurtured partnerships with many companies in and around the area.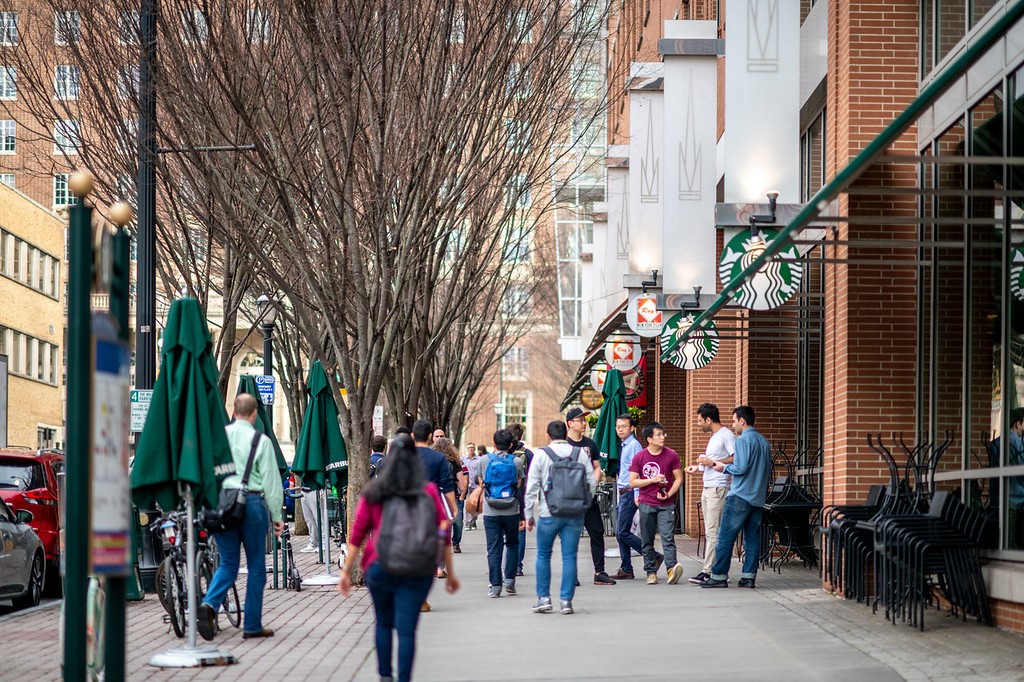 Professionals, Georgia Tech students, and residents mix on 5th Street.
"Our close relationship with the companies located in and around Tech Square really benefits our students AND those companies. The opportunities for experiential learning and internships that deliver real value to the companies and enrich our students' experience are enormous," said Dave Deiters, executive director of the Jones MBA Career Center.
Over its short history, Tech Square has become synonymous with Atlanta and the U.S. tech industry. Currently, the city is ranked No. 8 in tech start-ups. In Tech Square alone, there are over 100 startups, 25 corporate innovation centers, 10 research labs, and seven venture funds. Powerhouses such as Delta, the Home Depot, and Southern Company all contribute to the curated environment that fosters growth and innovation.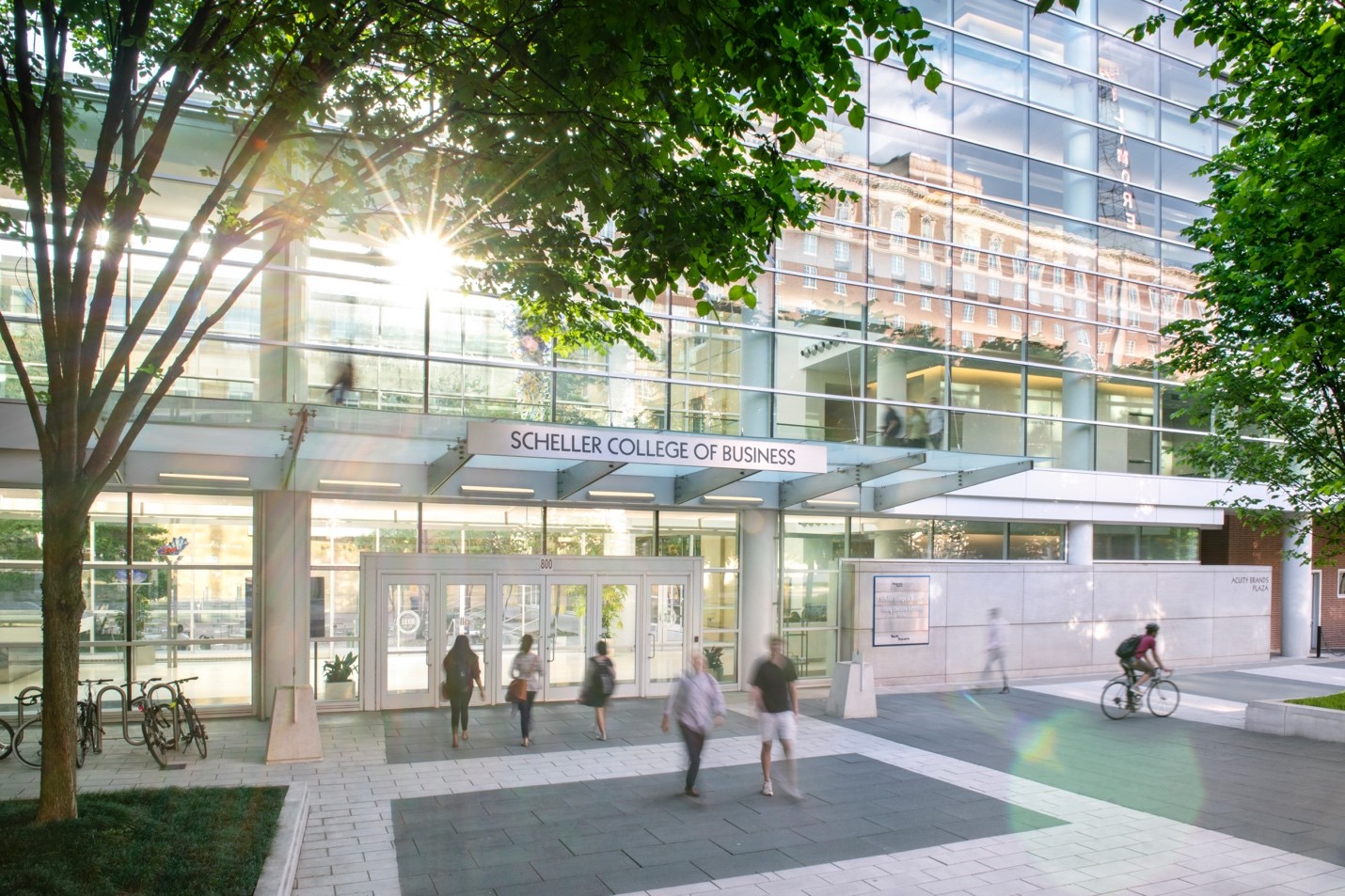 The Georgia Tech Scheller College of Business is home to Undergraduate, MBA, and PhD degree programs and nine centers and initiatives.
"Georgia Tech students have many opportunities including internships, co-ops, and projects with great companies within the area. Students can hold part-time internships during the school year and full-time internships during the summer with companies in technology, finance, and a variety of other fields," said Grant Lin, BSBA '21.
In one instance, Gursimran Singh, a Georgia Tech computer science student who lived across the street from the NCR headquarters, landed an internship there from spelling out "Hire Me" in sticky notes on his apartment window. He's an example of a student who literally seized an opportunity due to his proximity to it.
To many students, the corporate presence at Tech Square is crucial to their career success. According to Tony Burdett (ISyE '95) and university relations leader for NCR, they've hired over 50 interns in the summer and 250 to 300 new hires in the last three years. Burdett noted that they probably hire students from every school at Tech, including Scheller's Steven A Denning Technology & Management Program.
"Our location is so critical to Scheller and Tech. It's tough to get into Georgia Tech and when we look at students across multiple skill sets, we feel like we have a good opportunity to find roles and positions that are going to both interest them and challenge them for growth." He continued. "When it comes to our internships, they are absolutely getting real-life project work that is making them better prepared for their next job. Hopefully it's with NCR, but even if it's not, they're going to become better qualified."
As for their location in Tech Square, Burdett sees more and more companies moving in as Tech Square continues to offer opportunities for businesses - and Tech students.
In fact, the newest neighbors to establish their headquarters at Tech Square include the healthcare giant Anthem with a 21-story, 352,000 square feet building housing over 3,000 employees, and the renowned railroad company Norfolk Southern Corporation, with 750,000 square feet of office space taking up 3.4 acres.
Just the Beginning
The Georgia Tech and Tech Square landscape will continue to change and evolve in next 20 years. This will largely be driven by the opportunities identified through the Office of Institute Relations' Economic Development team and Tech leaders working with organizations like the Midtown Alliance and Metro Atlanta Chamber of Commerce.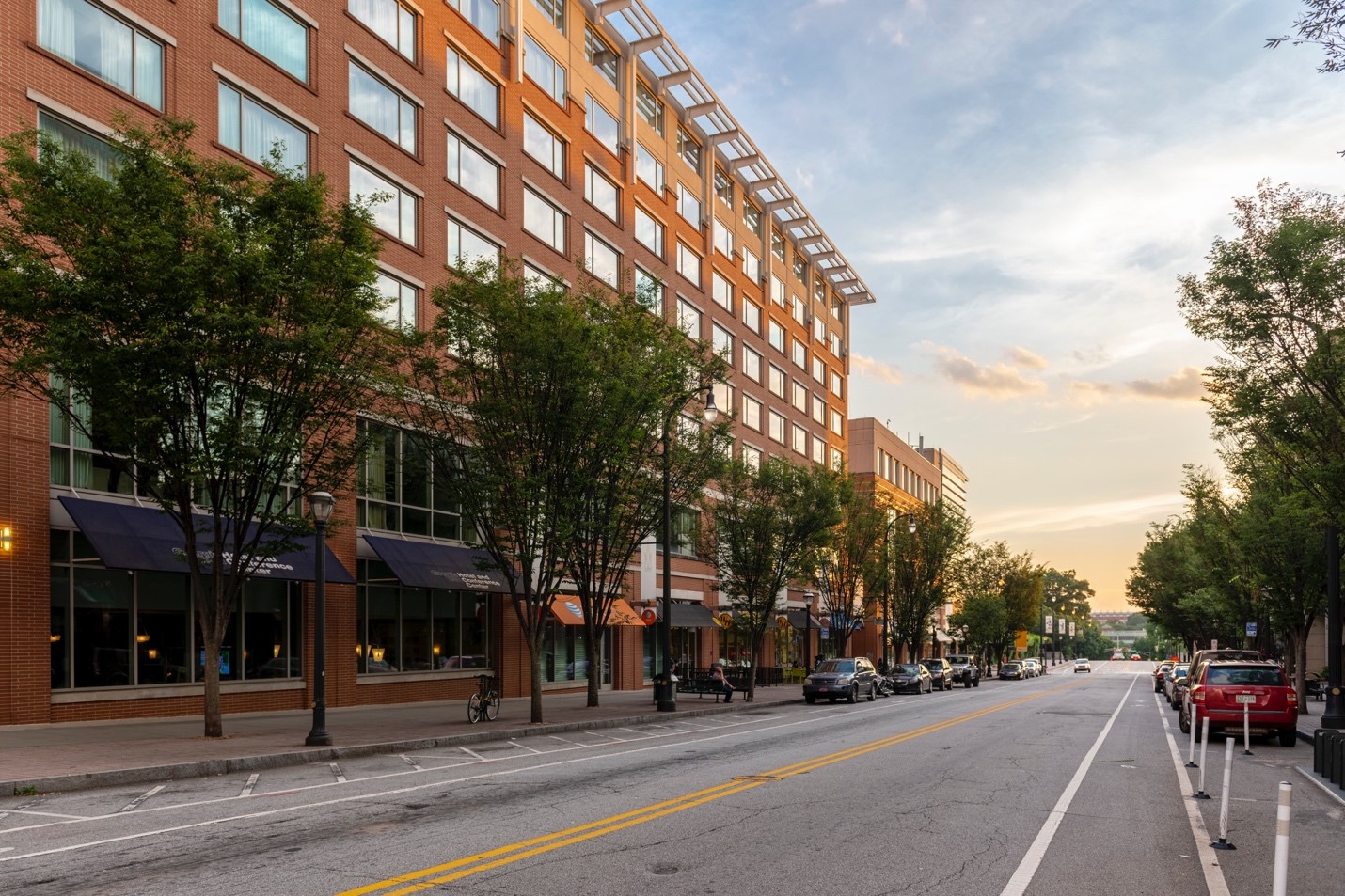 The sun sets on 5th Street after a long day of bustling activity.
Paige Clayton, professor in City & Regional Planning in the College of Design, studies the emergence and growth of regional entrepreneurial economies, and the role of innovation-based economic development policy. She is an Atlanta native and started as an undergraduate student at Georgia Tech in the late 2000s during the Tech Square transition.
"Tech Square is now unrecognizable from how the area looked 15 years ago. Every year, the Midtown skyline changes as more companies are attracted to the area. The synergies created by the proximity of Georgia Tech researchers, neighboring research universities, innovative corporations, and a consistent churn of new ideas and start-ups have raised the profile of Atlanta's entrepreneurial ecosystem and provide new opportunities for the city."
When President Clough and other dignitaries broke ground on Tech Square 20 years ago, could anyone have guessed the extent to which the Georgia Tech and Tech Square partnership would impact innovation in Atlanta, the southeastern U.S., and the world? It's hard to say. What can be said is that their vision and investment in growth has generated incalculable impact, with the best yet to come.