Aparna Sharma is passionate about a number of things – running, health and wellness, and diversity, equity, & inclusion, to name a few. We caught up with the Georgia Tech Scheller College of Business Executive MBA (EMBA) student, who is the director of product marketing at GreenSky, a board member of the Atlanta Track Club, and a Georgia Tech Diversity, Equity, & Inclusion student council member, to talk to her about her passions and her journey in the EMBA program.
Why did you decide to go back to school and get your MBA?

Getting my MBA was about unfinished business for me.  I always knew I would go back to get my MBA. I just could not find the right time. The irony is I don't think there ever is a right time, as I took the plunge and started the program in 2021 during the pandemic.
I've been in the work force for 20+ years, working as a tech marketer and throughout my experience, I desired more out of my professional career. I wanted to add more to my brand and credibility. This led me to my decision to get an EMBA.
Having worked with both start-ups and large organizations, I wanted to stay competitive in the marketplace, enhance my knowledge of finance, and gain knowledge from like-minded professionals who've chosen to share a similar journey as me.
What were the reasons you chose Scheller's EMBA program?
Brand and reputation. As a marketer, I know the value of a good brand. The Georgia Tech Scheller College of Business has been on my radar forever.  Georgia Tech as a whole has a very strong brand presence, and its reputation precedes itself.
Ranking. The program itself has been ranked very highly, which made it an easy choice for me personally.
Innovation. I loved that the program's focus is on the intersection of technology and business, which enables innovation and outside of the box thinking.
Access to world-class professionals. Scheller's recruiting strategy to bring together the best professionals from various industries, which made this an even more attractive program.
Why did you choose the Management of Technology (MoT) track?
As a data-driven technology marketer, it was very natural for me to pick the MoT track. I did talk with previous EMBA students who went through this track and they spoke very highly about the skills they gained and how it translated into their current careers. I was also very inspired by the possibility of potentially creating a tech enabled start-up, which became a catalyst to my decision.
Going through the program, I feel validated that I made the right choice. It has given me so much confidence in my ability to take something from ideation to execution.
What was your experience on the EMBA international residency trip to Dubai like?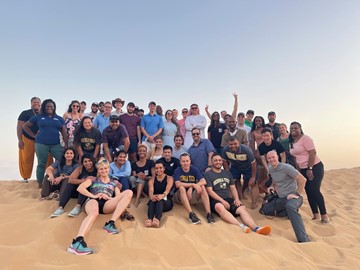 The Dubai trip was a once in a lifetime experience. We learned about how business is conducted in the UAE. We had the opportunity to meet professionals from startups and large companies like Microsoft and 3M, to name just a few. I continue to be amazed by how speed and innovation go hand in hand over there. In addition, we also got to attend the 2020 World Expo, a great showcase of innovation in sustainability and mobility around the globe.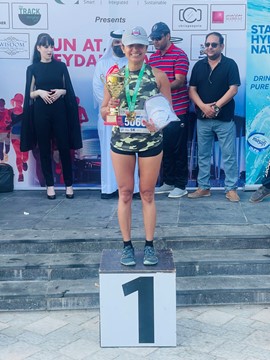 As a passionate runner, one of the highlights of the Dubai trip was a race that I competed in with two of my peers in my cohort. While I did not expect to win, I was very glad to have shared the road with my friends. I was happy to have left my footprint in Dubai.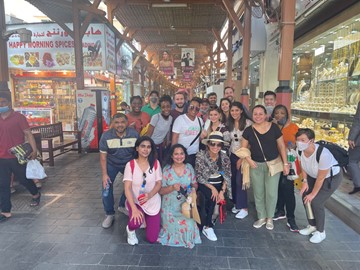 For me, the biggest highlight of the trip was bonding with my peers. We had the perfect opportunity to get to know each other at a human level. We connected. We laughed. We bonded. We made friendships that will be honored and respected for a lifetime. My experience with the people I went with came first, then the place. I am thankful I had the opportunity to get to know my peers at a deeper level. There are people who have positively influenced my way of thinking and approach to problem-solving, and that will stay with me for a lifetime.
What have you gained from the EMBA program so far?
For starters, it has strengthened my quantitative skills. I guess when you are in Georgia Tech there is no hiding from that! The program has also shaped my thinking around corporate culture and values, sustainability goals, and leadership styles, just to name a few. Also, our MoT track has really empowered us to test ideas, learn from customers, and build prototype models.
The learnings from my sustainability class provided me with so much inspiration that it led me to work with a local organization called Partnership for Southern Equity to help build their diversity & equity scorecard.
The application of the material from my leadership and my MoT classes is evident in my workplace success and the creation of my team's company ZANZI, which is about improving accessibility to amazing outdoor experiences. Our aim is to connect humans with nature through curated camping experiences.
What is a lesson you learned either inside or outside of the classroom that has surprised you?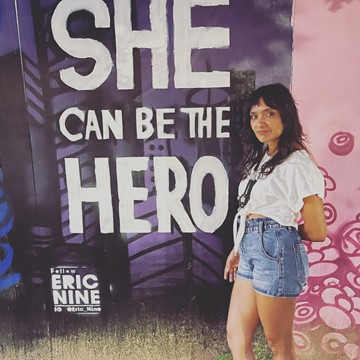 I think this program is about deconstructing yourself and then rebuilding yourself. I found it rather therapeutic in many ways. I think when you put strong professionals with many years of work experience in a room together, each of them is going to have their own preconceptions and some element of unconscious bias.
Guess what? We had to leave all that behind the minute we started the program. We were not there to push our opinions and be heard. We had to leave our titles behind. We had to start afresh. We were there to listen and learn from each other's experience. We collaborated and learned. Unbeknownst to us we were going through a transformation. That was my biggest surprise.
What has been your favorite part about being in the program?
One of the highlights of this program has been to witness every single person's resilience and ability to adapt during the pandemic. I have enjoyed hearing the stories that we have uncovered about adapting to change. I have a lot of gratitude for the people that made this journey possible.
I must thank my employer GreenSky and my manager Kyle Cochran for being extremely supportive throughout this EMBA journey. I want to credit the professors, program managers, my peers, and the administrative staff for navigating during the tumultuous times and a lot of uncertainty. Every single one of us had to adapt to what was happening in our background with the pandemic. We made the impossible possible.
I believe our class of 2021 will make the best-case study for years to come at Georgia Tech. When the world was in lockdown mode, we earned our MBAs. This will be the story we will tell for many years to come.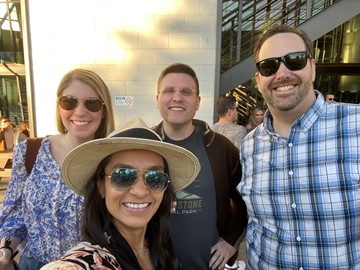 My EMBA team, Critical Mass (Mass = Mucklow, Allan, Spruell, Sharma) has helped me grow in countless ways. They are great minds who will be doing amazing things in their careers. They are consummate professionals, knowledge seekers, doers, collaborators, supporters, and the best team I could have possibly gotten to work with.