Rachel Langston, BSBA '20, remembers the exact moment she realized she wanted to be Buzz, the lovable Georgia Tech mascot.
"It was at the Clemson game in my freshman year and it was the fourth quarter. We were losing by a large margin. My friends and I were still cheering strong and Buzz joined us in cheering and dancing. I decided that night that I wanted to bring people joy in the same way," said the Georgia Tech Scheller College of Business graduate.
After her epiphany and arduous tryouts, Langston was chosen to become Buzz and brought joy to thousands of Tech fans for over two years. She graduated this past December with a concentration in supply chain and operations. She is only the third woman at Georgia Tech to fill the role.
Being chosen as the official Georgia Tech mascot is rigorous – and covert. Every student who is applying for the position must keep it a secret. There are three rounds of interviews, including interviews with Coach Nestor, alumni Buzz members, and finally, with the current Buzz.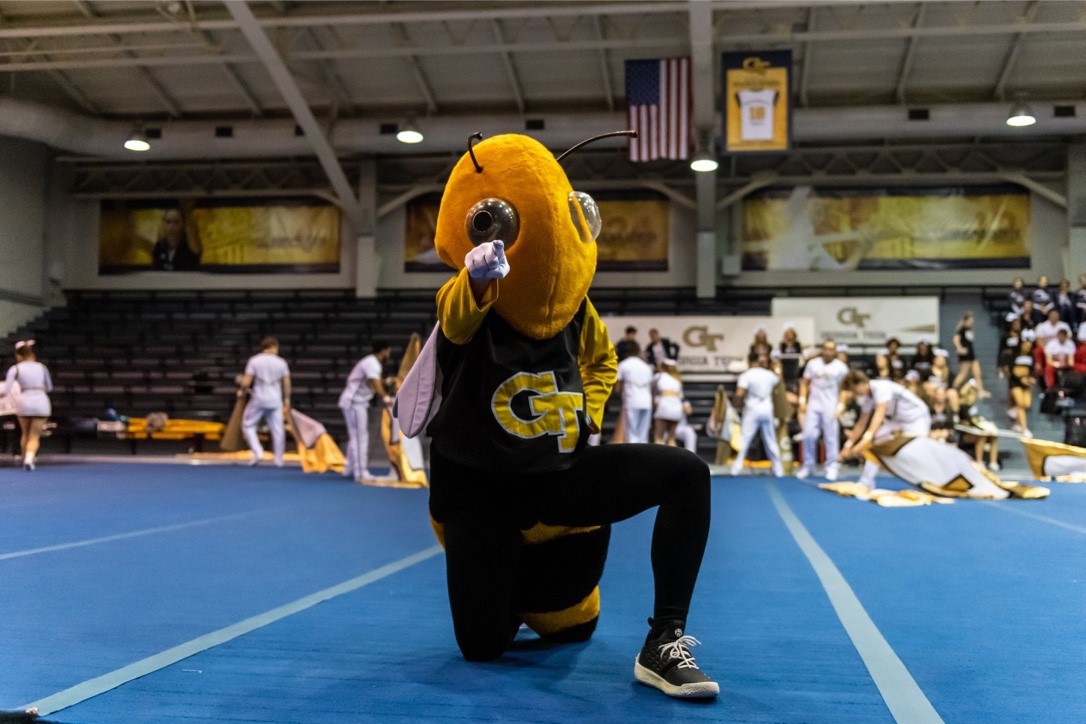 Next comes the auditions, which, according to Langston, included providing a response to specific scenarios (such as screaming babies or over-excited fans), dancing, performing a 45–90-second skit, doing 50 push-ups, and doing the full Buzz flip. Finally, the aspiring Buzz must complete a questionnaire that includes challenging questions, such as how to be Buzz while balancing schoolwork, extracurricular activities, and tests; what Buzz means to you; what you'd bring to the role; and how you'd keep it a secret for the length of your term.
"Buzz has many duties, including football, basketball, baseball, and other Georgia Tech sporting events as well as Commencement, the Gold and White Gala, weddings, birthday parties - you name it," said Langston, describing the amount of time and energy required of the position. For a fee, Buzz can also be rented for on and off-campus events, so the mascot keeps busy.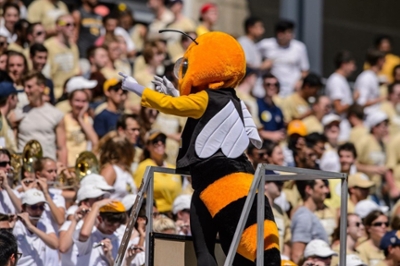 Through the two years that Langston was Buzz, she accumulated quite a few memories that she'll take with her as she starts her new career with The Home Depot as an inventory planning analyst.
"Some of the fondest memories I have from my time with the program include a 6-year-old birthday party where Buzz spent the afternoon in a bouncy house with a crowd of children who could not get enough of him. Other memories I look back on are third quarters at football games when Buzz conducts the band for Budweiser and when basketball and football games finish and Buzz gets to do 'the horse' (a cheerleading dance) on the court or field with the whole cheer team," she reminisces.
Asked what Buzz means to her, Langston was thoughtful in her answer.
"Being selected as Buzz is one of the highest honors at Georgia Tech. If you asked a hundred Georgia Tech fans, I am sure you would get a hundred different answers for what Buzz stands for at the Institute and I think that is part of the beauty of it. He is a fun and mischievous character that makes you laugh at sporting events, and he is kind and patient when a child is nervous or excited to meet him. Beyond any one interpretation, Buzz stands for history and tradition, bringing Georgia Tech students together for nearly 50 years! Your dad, mom, brother, sister, child, or grandparents went to Tech? Every one of them have a special memory with Buzz and that embodies what he stands for better than any words I could muster."