When Ray C. Anderson (IE '56, Honorary PhD '11), had an epiphany, or as he called it, his "spear in the chest moment," he was an established leader in the carpet industry. Carpet tiles manufactured by Interface, the company he founded, graced hundreds of thousands of floors, particularly in office environments. It was in 1994 that Anderson realized his company was not environmentally sustainable. He sought to create a positive effect on the environment and to be an example of a change maker to other organizations seeking ways to incorporate sustainability into their business operations.
The Purpose of the Ray C. Anderson Center for Sustainable Business
"Ray was a proud and involved Georgia Tech alumnus. The Ray C. Anderson Foundation (a family foundation) felt that creating the Ray C. Anderson Center for Sustainable Business at his beloved alma mater would be a meaningful way of honoring his legacy as a visionary sustainable business leader," said Beril Toktay, who is the Center's faculty director, professor, and Brady Family Chair in Management.
The Center is housed within the Georgia Tech Scheller College of Business and seeks to empower business leaders of tomorrow to create sustainable businesses and communities through their curriculum, research, programs, community outreach, and partnerships.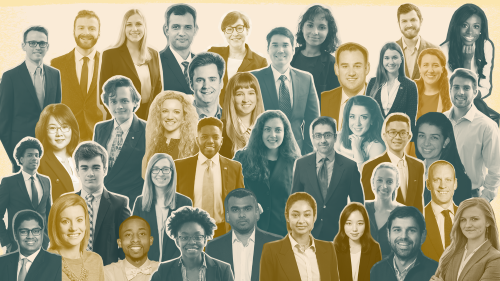 In the 2020-21 academic year, the Center is supporting a total of 38 Sustainability Fellows and Ambassadors—the "Ray C. Andersons of tomorrow."
It is a thriving resource for undergraduate and graduate students across the Institute, and its offerings continue to raise Scheller's rankings in sustainability. Corporate Knights, one of the world's largest circulation magazines focused on the intersection of business and sustainability, releases its annual Better World MBA Ranking, and from 2015 to the present, Scheller has ranked top five among programs in the U.S. This recognition highlights the Center's longstanding success at integrating sustainability curriculum into its MBA program.
Hands-on Curriculum and Learning
The Center provides students with opportunities to study and learn in a traditional classroom as well as in real-world situations, offering unique experiential learning. One example is the Sustainable Business Consulting practicum, which is available both to undergraduate and graduate students. Students learn management problem-solving and consulting skills and then apply this knowledge to actual organizational sustainability challenges within large and small companies, non-profits, and government entities. Clients range from Delta Air Lines and The Coca-Cola Company to Grubbly Farms and the City of Atlanta. Co-instructors Michael Oxman, Center managing director and professor of the practice, and Bob Lax of Accenture are supported by consulting coaches from EY and Accenture.
MBA students wanting to dive deeper into the topic are also able to package three to four sustainability-related classes together to earn a Strategic Sustainability Concentration or an Innovating for Sustainability Immersive Track.
In 2019, the Institute began offering a Certificate in Sustainable Business to undergraduates from any major. The certificate supplements degrees for students who seek to work with companies on their sustainability efforts. Students interested in obtaining the certificate can apply for the Vivian Nora Lukens Memorial Scholarship.
Jenny Choi (BSBA '20), who received the scholarship in 2020, decided to stay another semester at Tech to obtain the certificate. As a student in the Sustainable Business Consulting practicum, Choi worked with a startup to assess the feasibility of a solar marketplace platform in the Southeast. She said, "Thanks to my courses and experiences at Georgia Tech, I clearly see the intersection between communities, businesses, and sustainability… I expect the knowledge I gain through Certificate-related courses to shape business decisions throughout my career." 
Partnerships across the Community
One of the Center's differentiators is its partnerships across the Institute. Students in the Master of Sustainable Energy and Environmental Management (MSEEM) and Certificate of Sustainable Energy and Environmental Management (CSEEM) programs are eligible to take graduate-level courses offered by Scheller. All Georgia Tech students are invited to participate in the Graduate Sustainability Fellows and Undergraduate Sustainability Ambassadors programs.
Each year since 2017, the Center has co-sponsored the Carbon Reduction Challenge. To participate in the Challenge, students work throughout the summer in internship or co-op positions and create projects with the potential to reduce carbon dioxide emissions while saving money for their employers. Some projects have been implemented by the organizations, resulting in millions of pounds of CO2 emissions reductions and hundreds of thousands of dollars in saved energy costs.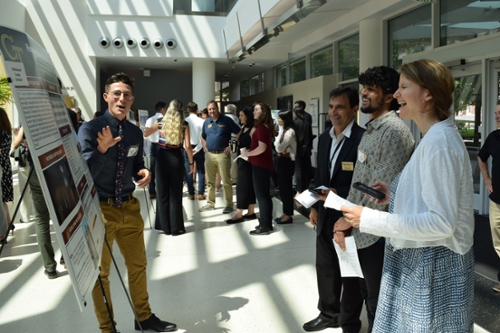 At a poster session for the Carbon Reduction Challenge, students in summer internships shared projects that would deliver large energy and cost savings to their employers. 
The Center also partners with Serve-Learn-Sustain to offer a Foundations of Sustainable Systems course and with the Global Leadership Living Learning Community to co-teach the Global Leadership special topics course. The special topics course focuses on how to combine technical and sociological skills to advance the UN Sustainable Development Goals.
Another key partnership is the Drawdown Georgia initiative. Inspired by Project Drawdown, Drawdown Georgia is building a movement to advance progress toward net zero greenhouse gas emissions in Georgia by 2030. The Center's contribution has been to ensure that "beyond carbon" dimensions of climate action (e.g., equity and public health) are considered and incorporated in carbon reduction solutions. They are also working on creating a consortium of like-minded companies that are interested in collaborating on activating Drawdown Georgia solutions (via a "carbon compact").
The Center also sponsors projects in collaboration with units across campus, including the Georgia Tech Vertically Integrated Projects (VIP) Program, the Global Change Program, and the Office of Campus Sustainability.
"Georgia Tech's new strategic plan includes the goal to 'Amplify Impact'—meaning that we embrace our power as advocates in helping to define and address the most critical problems of our time. Earth Week helps to shed light on complex challenges as they relate to sustainability. Our Center is well positioned to advance solutions to these challenges," Oxman summarized.
To learn more about the Center and Drawdown Georgia, join Professor Beril Toktay for "Drawdown Georgia: Bringing Climate Solutions Home," a Scheller Lunchtime Live session that will be held on Friday, April 30 at 12:00 p.m. ET.