Homecoming. The word evokes feelings of nostalgia for returning to places remembered and memories loved. Each year, Georgia Tech celebrates Homecoming by bringing together old and new friends. But it's not just about get-togethers and watching traditional football rivalries. It's a special time to reminisce and remember what it means to be a forever Yellow Jacket.
Meet Dave Deiters, Class of 1982 graduate of the Scheller College of Business. After an impressive 35-year career in management and business strategy consulting, he retired from global consulting firm North Highland as president in 2015. In 2018, he returned to Scheller to become the executive director of the Jones MBA Career Center. We recently interviewed him about his time at Tech, his impressive career in business, and his return to his alma mater.
What is your hometown?  
I grew up in South Georgia on St. Simons Island. At that time, it was just a tiny town with one traffic light, one gas station, and a Tasty Freeze. Nobody used turn signals because everyone knew where you were going!  
Why did you choose to attend the Georgia Tech Scheller College of Business? 
I applied only to Georgia Tech. It's a family thing. My grandfather went to night school here and my father and all three of his brothers graduated from Tech. Several of my cousins attended Tech with me, and my younger brother followed me to Scheller.
Now many of our generation's children have graduated from Tech, including my daughter, Maggy Deiters Perkins (MBA '19), and her husband, Ben (MBA and M.S. Analytics '19). We are certainly a well-degreed Georgia Tech family!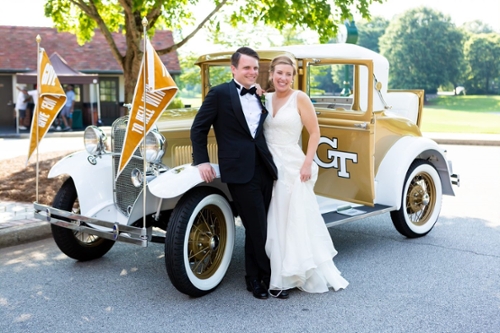 Maggy Deiters and Ben Perkins (Dave's daughter and son-in law, both Scheller MBA grads)
Why Scheller? When I enrolled, I thought I wanted to practice business law, so the 'Industrial Management' degree offered by the College seemed to make the most sense.
What are some of your best memories as a student at Scheller? 
I remember my strategy professor, Professor Carney, very well. He was tough as nails, but I learned so much from him.
Perhaps more broadly (and importantly), even then, the Industrial Management students banded together and were quite close, which Scheller continues to offer with its strong sense of community. Some of the coursework – statistics, market analysis, management theory, economics, and accounting – were pretty difficult. The spirit of collaboration and 'getting through it together' was alive and well at Scheller.
Of course, there are a lot of memories outside of the classroom too. Some important ones include camping out overnight at the Ajax Placement Center to sign up for the precious few interview slots available and attending the football games. I was on the golf team and have fun memories of my teammates. While we weren't very good, we had a great time together.
In addition, I was a wannabee frat-star, and even won the Greek Week beer chug and the beer connoisseur contests in the same year – a feat I was most proud of back then. I could never quite figure out how to show that on my resume though!
Most importantly, I met my bride Susie when I was at Scheller. She was attending Agnes Scott College - a "Scottie" - and we've been together ever since.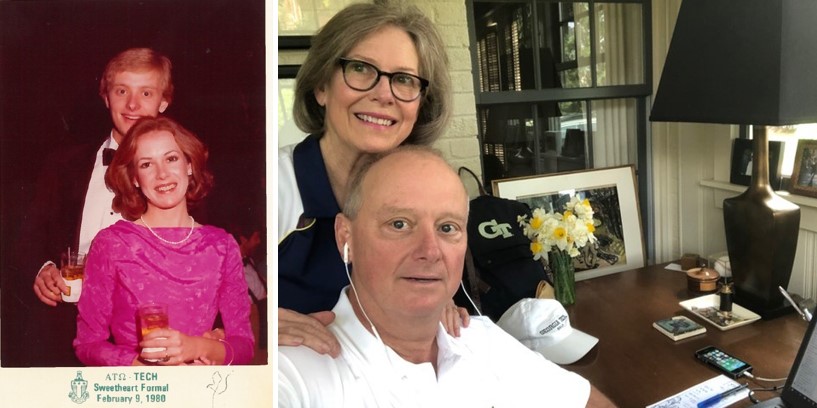 Dave with his wife of 37 years, Susie, at the Sweethearts Formal at Tech and in present day, "Schellering" in place
Do you think having a degree from Scheller helped you in your career? Why? 
Absolutely. It has been extremely valuable. When someone sees a Scheller degree, they know it represents an ability to problem solve, a resiliency, and a stellar work ethic. I really think the most important lesson I learned at Scheller is how to take a complex problem and break it down into smaller, simpler, easier-to-solve components. Additionally, I think Scheller taught me the value of not just recognizing but seeking out others' perspectives, which is key to better understanding and communicating.  
What are some of the most important lessons you've learned during your career?
Number one; assume noble intent in others. Number two; seek first to understand, then to be understood. Number three; work as a servant leader and all that it means. Number four; understand that different opinions and perspectives always lead to a better solution, and number five; always take the high road…it just leads to better destinations.
What made you decide to leave the corporate world and return to Scheller?
I had retired from consulting after 35 years and was looking for something rewarding. Our firm had hired many, many Scheller MBA grads over the years, and when I heard about the opening in the Jones MBA Career Center, I was compelled to apply. The job seemed to have everything I was seeking - a fantastic, collaborative environment, the incredible opportunity to work with amazing MBA students, and the fulfilling rewards of helping Scheller grads achieve their career goals.
What has your experience been like coming back to Scheller?  
Nothing short of amazing. Engaging with and serving Scheller's MBA students has proven to be both stimulating and energizing. To properly serve our students, we have to bring our 'A game" every day. It has also been fun to re-engage with my friends and contacts in the corporate world. What a pleasure it is to represent such brands as Georgia Tech and the Scheller College of Business. The immense satisfaction we get to share with our students when they 'ring the bell' and celebrate the culmination of pursuing their dream job is a tremendous thrill. 
Describe your role as the executive director of the Jones MBA Career Center.  
I wear multiple hats as the executive director. As a member of the Jones MBA Career team, I coach students. I help them target their searches and represent their best selves to the employment world. I also spend a large amount of time networking in the corporate world looking for prospective new employers for our students.  Finally, I support our talented team of advisers who serve our students. We are blessed with a deeply experienced and talented team of career coaches, and our students directly benefit from their work every day.
What makes the Jones MBA Career Center and Scheller MBAs so successful? 
It starts with the quality of students coming into Scheller. Add to that the level of care and expertise that the Jones Center professionals bring, a rigorous and proven process, and world-class employers that want to connect with our students, and you have a fool-proof recipe.
Do you attend homecoming and participate in any events? What does homecoming mean to you? 
Of course! Many of our recent MBA alums come back for homecoming events, and it's great to see them and catch up. It's also fun to reconnect with old college pals, many of whom participate in an annual golf tournament, which is usually the week before homecoming.