Scheller College of Business doctoral student Chris Green recently received a promotion from Major to Lieutenant Colonel in the United States Army. The ceremony took place at Scheller College in front of faculty, staff, students and family members - a first for the College. Green's advancement represents a significant promotion in the U.S. Army that typically takes at least 16 years of service to achieve. Lieutenant Colonels are considered field-grade officers, which means they do not conduct operations with soldiers like company-grade officers do (i.e. lieutenants and captains); rather, they plan, resource, and synchronize the operations to ensure they work together to achieve mission ends. Lieutenant colonels are typically the leaders of such organizations.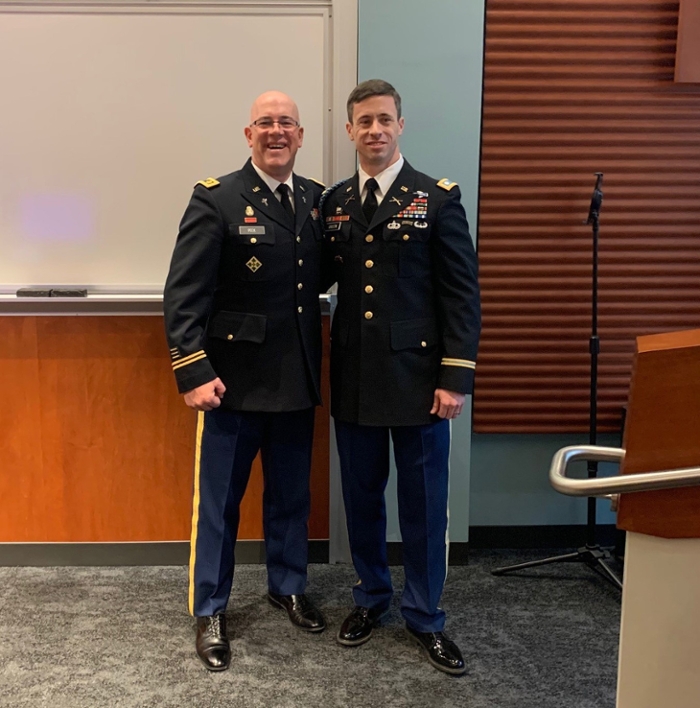 Green has served as an active-duty officer in the U.S. Army since commissioning from the United States Military Academy at West Point in 2003. During his career, he has served in both conventional and special operations army assignments, deploying to Iraq three times and Afghanistan twice. He received a master's degree from Stanford University and spent three years as an assistant professor in the Department of Systems Engineering at the United States Military Academy at West Point. He is currently pursuing a PhD in Operations Management at the Scheller College of Business before returning to West Point as a member of the senior faculty in the Department of Systems Engineering.

Manpreet Hora, associate professor and PhD coordinator for the Operations Management area said, "Chris' maturity obtained from years of military service shows in his presentations and conversations. His work ethic and collegiality with his PhD colleagues are equally impressive. Being part of the ceremony where the Army promoted Chris from Major to Lieutenant Colonel was a two-fold celebration. First, it was great to be part of Chris' promotion and second, to be part of his recognition at Scheller."

Green's awards and decorations include the Bronze Star Medal with one oak leaf cluster, Meritorious Service Medal with two oak leaf clusters, Army Commendation Medal three oak leaf clusters, Army Achievement Medal, Combat Infantryman's Badge, Expert Infantryman's Badge, Senior Parachutist's Badge, Air Assault Badge, and Ranger Tab.