When Avery Ashby's son was ill, he went online to book a reservation to see his doctor and was able to select a time that corresponded to the time it took to drive to the doctor's office. In Rome, Georgia, some cancer patients are receiving personalized care because they're holistically connected to digital platforms that don't require a routine visit to a medical facility. These are just a few examples of how healthcare is undergoing a digital disruption and how innovation is creating frictionless healthcare that will change the landscape for patients, providers, and payees.
In a recent event hosted by Scheller College of Business and moderated by Dean Maryam Alavi, Stephen P. Zelnick Jr. Chair and professor of IT Management, panelists and keynote speakers from Accenture, Anthem, and Georgia Tech convened to discuss Frictionless Healthcare and what it means to patient, providers, and the healthcare industry.
Panelists included Avery Ashby, Accenture Managing Director, Applied Intelligence Southern Market – Payer and Provider; Katie Baker, Anthem Director of Innovation, Digital Care Delivery; and Elizabeth Mynatt, Georgia Tech professor, College of Computing, executive director for Institute for People and Technology (IPaT). Keynote speakers included Bob Ghafouri, Accenture senior managing director, co-founder Accenture/Bloom, and Warris Bokhari, Anthem vice president, Digital Care Delivery.
In defining the benefits and challenges of Frictionless Healthcare, Baker said "it's how we can digitally deliver and monitor people. It's also being able to have access to healthcare that we'd normally not have." Mynatt concurred. Healthcare is no longer a one-size-fits-all model, but a personalized one that allows digital technology to enhance every aspect of a person's life. 
There are challenges, however. Digitizing healthcare can remove the community aspect of patient care. "We're underestimating the value of the supportive care of a center," said Mynatt. All panelists agreed that it's a complex process that will require consolidating old ways of patient care with newer technologies.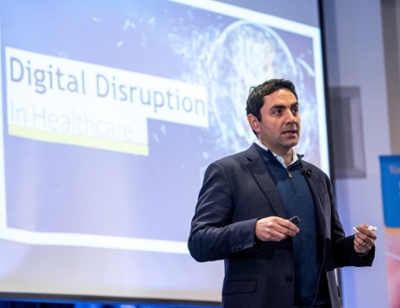 Bob Ghafouri, Sr. Managing Dir, Co-Founder Accenture | Bloom
Ghafouri's keynote presentation "Digital Disruption in Healthcare," examined why doctors, payees, and pharmacies aren't in sync when it comes to patient care and predicted leaders in disruption healthcare will include startups willing to embrace risk more than corporations and use technology and data to improve the customer experience.
Artificial Intelligence will play a key role in creating frictionless healthcare, according to Bokhari, in his keynote presentation "The Near Future of Artificial Intelligence in Healthcare."  However, he noted that there needs to be considerable work done to enhance AI in order to get to a place where the technology is able to diagnose and treat patients effectively.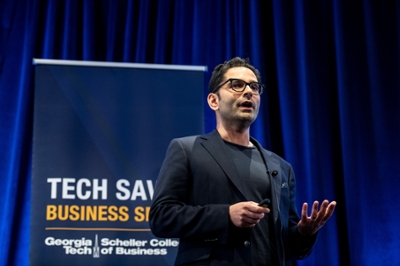 Warris Bokhari, VP, Digital Care Delivery, Anthem
The event was open to all students (undergraduates and MBAs), faculty, staff, alumni and outside visitors.
About Digital Disruption Series: Digital Disruption is a Georgia Tech Scheller College series that partners with industry leaders to discuss trends in today's ever-changing digital arena. The series explores ways successful organizations and managers embrace technological advances and leverage opportunities to accelerate innovation, create value, and build the workforce of the future.