At first glance, there may not seem to be many similarities between getting an MBA and playing college football. But if you take a closer look, there are more similarities than you'd think. The Georgia Tech Scheller College of Business is no stranger to former football players, with a variety of student-athletes in its Full-time, Evening, and Executive MBA programs. After talking to a few former Georgia Tech football players, we learned that there are a lot of lessons that can be used both on the field and in the MBA classroom.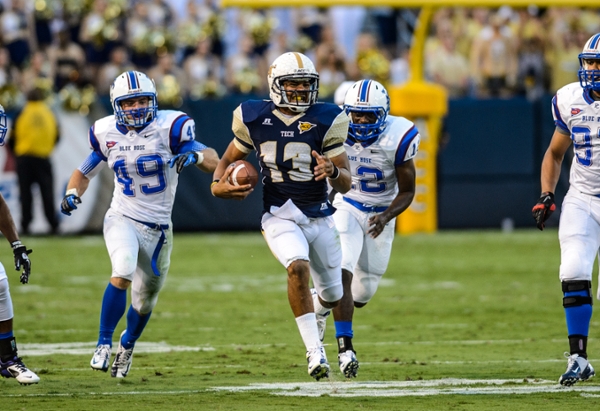 Tevin Washington, former Georgia Tech quarterback from 2008 to 2012, currently has the opportunity to put the lessons he learned while playing football into practice as a member of the current Executive MBA (EMBA) class.
"I've always wanted to get my MBA," said Washington. "I have an undergraduate degree in business, and I wanted to sharpen my saw with an EMBA. One of the biggest lessons I learned from being a student-athlete at Tech is time management and that has helped me the most going through the MBA program."
Washington is an associate construction manager at Atkins and already holds two degrees from Georgia Tech, a BS in Business Administration and an MS in Building Construction Facilities Management. He chose Georgia Tech's EMBA program because of the opportunity to have an experience that is second to none.
"I'm enjoying learning new best practices in my courses, specifically finance and accounting, and also making new connections with my peers throughout Scheller," said Washington.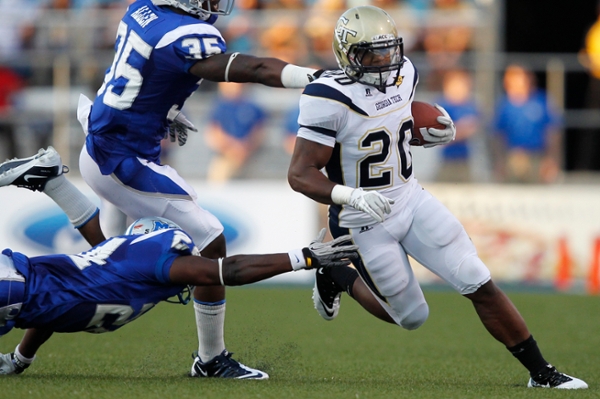 Roddy Jones, an Evening MBA alum, was an A-back on Tech's football team from years 2008 to 2011 and graduated with a BS in Management in 2010. He is currently a football analyst on the ACC Network, as well as a co-host of a radio show on SiriusXM and host of his own podcast called ACCAF that's all about ACC Football.
"Being a student-athlete teaches you about discipline and mental toughness and gives you an appreciation for the work that goes into completing a goal. I needed all of those in completing my MBA. It was challenging and I was the youngest person in every one of my classes with the least amount of real-world experience. That meant to catch up, I had to put in extra work and really find people that would help me with the concepts or real-world applications that took longer for me to grasp," Jones said.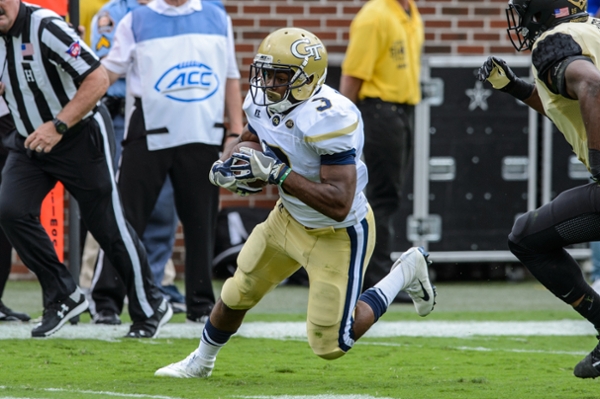 Isiah Willis, another Evening MBA alum, was still playing football during the first semester of his MBA, but in his last semester, he was on the other side of the line as a fan.
"As part of the Milligan Scholarship I received my last semester of the MBA program, I got to be on the sideline for all the home games as the football program and would host Georgia Tech professors, show them the behind the scenes leading up to kick-off, and provide sideline passes to watch the game. Watching from the sideline definitely made me wish I was out on the field again playing with my boys," said Willis. 
Willis was an A-back for the Georgia Tech football team from 2012 to 2016 and he received his BS in Business Administration in 2015. He was able to take many of the lessons he learned on the gridiron to the MBA classroom and ultimately into his career as a management consultant at Accenture.
"Being a student-athlete at Tech has taught me a lot that applied in the MBA program and still in my career today," said Willis. "From dealing with adversity, working with people from different backgrounds, managing expectations, etc., all those lessons helped me grow in the classroom to make it out of Tech a second time as well as grow in my career."
Photo Credit: Roddy Jones - Georgia Tech Athletics, Tevin Washington - Georgia Tech Athletics/Danny Karnik, Isiah Willis - Georgia Tech Athletics/Austin Foote