On Thursday, April 4, Scheller College of Business held its eleventh annual Honors Day at the Renaissance Hotel Midtown to celebrate the accomplishments of students, faculty, and staff and the generous support of Scheller College benefactors.
David Rowland (IMGT 1983), chair of the Scheller College of Business Advisory Board, served as MC of the event. "The reputation and prestige of Scheller College of Business has continued its upward trajectory," said Rowland. He noted that the College's Full-time and Evening MBA programs are ranked #10 in the U.S. among public universities in 2019 and the Jones MBA Career Center is ranked at #4 in the world, according to the Financial Times while Scheller's Undergraduate program is ranked #8 in the U.S. among public universities in 2018, according to Poets & Quants magazine. Rowland then introduced Dean Maryam Alavi, who holds the Stephen P. Zelnak Jr. Chair and a professor of Information Technology Management.
After being introduced, Dean Maryam Alavi thanked the many benefactors who have graciously provided their support to Scheller students, faculty and staff. "Many of these awards are made possible due to the enthusiasm and financial support of our distinguished alumni, corporate partners and friends. Thanks to the generosity of these donors, Scheller College is able to attract and retain top-tier faculty and recruit diverse and exceptional students, several of whom are receiving awards today."
The award recipients represent some of Scheller's best, and in keeping with this high standard, Mr. Ernest Scheller Jr., the college's namesake and largest benefactor, was in attendance and was warmly greeted by all attendees. He presented the last award of the event; the Ernest Scheller Jr. Award, which went to Jonathan Clarke, Associate Professor of Finance, for being a role model among his peers and his service excellence to the College.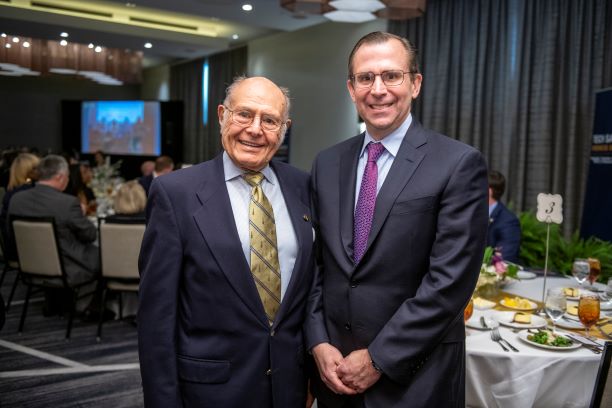 Honors Day 2019 Award Recipients
FACULTY AWARDS
Brady Family Award for Faculty Research Excellence
Beril Totkay, Professor, ADVANCE Professor; Faculty Director, Ray C. Anderson Center for Sustainable Business
Brady Family Award for Faculty Teaching Excellence
Marius Florin Niculescu, Associate Professor, PhD Coordinator, Information Technology Management
Linda and Lloyd A. Byars Award for Faculty Excellence
Dong Liu, Associate Professor, Organizational Behavior


STUDENT AWARDS
John R. Battle Award for Student Excellence
Roopal Goel, BSBA 2019
Dow Chemical-P.C. McCutcheon Award for Outstanding Student Achievement
Hannah Koenraad, BSBA 2020
Jennifer R. and Charles B. Rewis Award for Student Excellence in Accounting
Madeline Whitridge, BSBA 2019
Dean's Award for Evening MBA Student Excellence
Nancy Wheless, MBA 2019
Dean's Award for Full-time MBA Student Excellence
Steve Murchison, MBA 2019
Ashford Watson Stalnaker Memorial Award for Ph.D. Student Excellence
Nikhil Paradkar, Ph.D. Candidate, Finance
Maria Roche, Ph.D. Candidate, Strategy and Innovation
STAFF AWARDS
Verlander Family Award for Staff Excellence
Shannon Smith, Administrative Professional
Stephen P. Zelnak, Jr. Award for Staff Excellence
Julia Snell, Academic Program Manager, Full-time MBA Program
 COLLEGE-WIDE AWARDS
Melvyn P. and Eleanor N. Galin Creativity Award
Alex Vibber, IT Support Professional, Scheller College of Business
The Ernest Scheller, Jr. Award
Jonathan Clarke, Associate Professor, Finance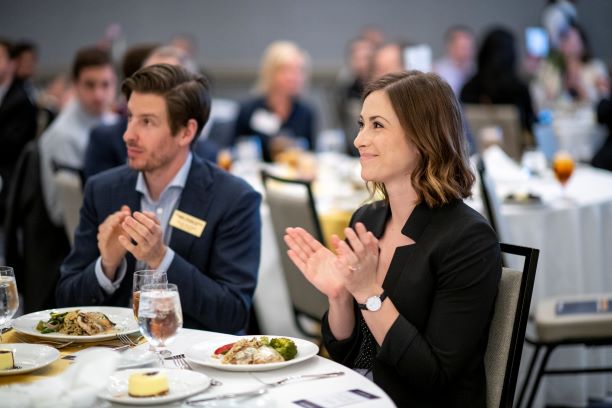 In her closing remarks Dean Alavi stated, "I am thrilled by the progress we have made as an innovative business school in support of our differentiated positioning at the intersection of business and technology, and I look forward to further advancement as we continue to transform business education."