The National Black MBA Association (NBMBAA) Case Competition awards were held in late September at the 41st Annual NBMBAA Conference in Houston. Thirty-four teams from the nation's top MBA schools vied for a winning spot in the case competition and Scheller College's Team LifeUnited placed third in the nation, winning $10,000.
Sponsored by the NBMBAA and the Fiat Chrysler Association (FCA), the case competition required teams of four to assess the viability of a vehicle subscription plan, then present their solution before an esteemed panel of executives and academicians. Scheller's Team LifeUnlimited included Candice Blacknall, MBA '21, Henry B. McGill, MBA '20, Diana Nichols, MBA '20, and Savona Smith, MBA '20, who spent over a month analyzing, planning, and developing their solution to the complex case study.
As the basis of the case competition, vehicle subscription plans allow a driver to enjoy multiple vehicles in a given fleet while paying a single monthly price that includes car fees, insurance, maintenance, repairs, and roadside service.
"We started by surveying the competitors' subscription models and the potential consumer interest," stated Candice Blacknall. "It was important for us to capture the voice and experience of the consumer so we surveyed over 150 drivers, ultimately using consumer insight to create the LifeUnlimited solution. We diligently worked to create the story around the consumer experience using our recommended product."
A co-sponsor of the competition, the NBMBAA provides support and financial contributions to graduate minority business students from national colleges and universities.
Scheller College encourages all MBA students to become members of the NBMBAA and attend their annual conference. Last year, MBA Diversity Recruiter, Terrance Gresham, put a team together to participate in the competition. It was Scheller's inaugural competition and though they did not place, they left with a wealth of valuable insight and feedback that they implemented this year. Two MBA students from last year's Scheller team, SaVona Smith and Diana Nichols, decided to compete again this year and created a new team with a widely diverse set of skills and experiences. Recognizing that, similar to their experience last year, participation in the case competition is a progressive learning experience, they chose to include a second year student, Henry McGill and a first-year student, Candice Blacknall, on the team to allow next year's team to retain the lessons gained from this year's competition.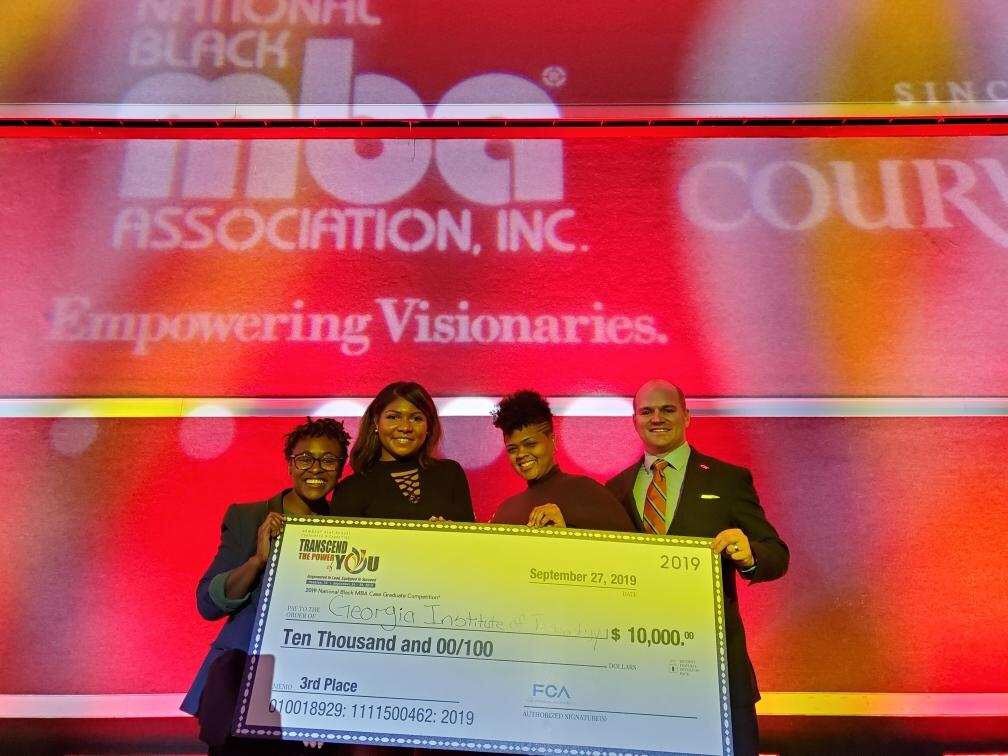 "We can't overstate the value of team dynamics," shared Candice. "We are all from different backgrounds and varying levels of experience, but we came to the table ready to learn and grow from the knowledge of our other teammates. We also tapped into our alumni network for feedback and ran several Q&A sessions with them to help us anticipate and field the judges' questions. We believe that having that objectivity allowed us to really push our product to the next level. We provided solid and actionable recommendations to Fiat Chrysler that can be implemented immediately. To develop something so outstanding, while still being MBA students, takes our confidence to new levels. We now believe that with the right team, we can solve any business problem. Nothing is beyond us."
"Scheller College of Business is committed to diversity and inclusion, and this competition is one of the many exciting opportunities our program offers MBA students. Scheller College students continue to demonstrate the highest caliber of creativity and business acumen, and I am proud of Team LifeUnlimted," said Dean Maram Alavi.