As assistant director of Undergraduate Career Education in the Scheller College of Business, Stan Broome manages recruitment relationships with corporations, and teaches career development classes to business students. A big part of his job is helping students figure out what they want to do after graduating.
"I went to Tech, and I was a business major," Broome said. "That's not a necessity to help students with their careers, but I understand what it's like to be in their shoes. I think it helps. I know that every single organization in the world needs the skills our business majors offer, but college students don't know how to execute the most effective job search strategies."
Broome joined the Scheller College's undergraduate office in 2008 after three years in the MBA career office. His corporate experience includes being vice president at a technology company that is now a subsidiary of GE Transportation. He later started his own consulting business in transportation and logistics. After selling the business he came to work at Tech.
"I thought I would stay in academia a year or two. That was 14 years ago," Broome said. "I have the best job on the planet. I love my job. I get to work with some of the most organized, motivated, and intelligent young people. And, I help them achieve their goals. It's just fun!"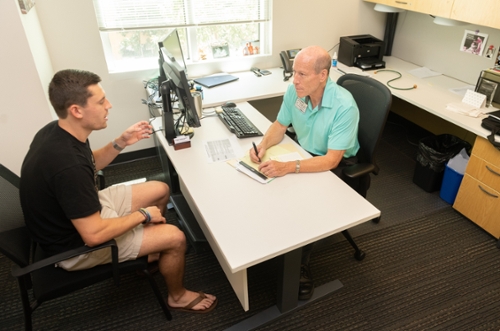 Broome and the Undergraduate Career Education staff teach a career development course six times each semester. Students must be in their third year to take the course.
"That's my primary responsibility — teaching students how companies select candidates," he said. "The hiring process is not intuitive to someone who is not in the corporate world. The theory behind the class is that if the students understand the process they can excel at it. This course explains the process."
Students usually have had one internship when they take the career development course. Broome helps them to get a second, more prestigious internship before they graduate. The office also suggests assessments to help students determine which internships or careers they should consider pursuing.  
"We encourage students to get out into the world and try things out. That's where internships are most valuable," he said. "We don't encourage students to take internships to build their resume. We encourage them to go test-drive their future career. Go see what you like in the corporate world. An internship that you hate is just as valuable as one you love. Internships are a brilliant strategy."
Broome also helps companies recruit Tech students by facilitating their interaction with students.
"The work I do with the companies is rather easy because they want to recruit our students. I don't have to convince companies to come here," he said. "When I talk to my colleagues at other colleges, they are trying to get companies to come to campus. We don't have that problem. And there are so many companies in our neighborhood. That's extremely beneficial to our students."  
Broome said he has a "softness" for undergraduates, particularly incoming students, because he wants their Georgia Tech experience to be better than his.
"I didn't enjoy my time at Tech," Broome said. "It was too competitive. Too brutal. I felt like nobody cared about me. They acted like they didn't care if you made it or not. It was sink or swim."
Broome said the "sink or swim" attitude needed to change, and he is happy that it has.
"I got to meet President Clough, and I told him he was my hero. He was the first person who looked at that attitude and said, 'That's wrong.' And changed it."
Broome does his part to welcome incoming students and show support. He teaches GT 1000, Georgia Tech's seminar course that supports the retention and success of first-year students.
"I want them to succeed," he said. "They need to know somebody cares about them and believes in them. That's important."  
Away From the Office
When he isn't working with Scheller students on their career goals, Broome enjoys teaching karate, riding horses, and riding his motorcycle.  
He began training in karate as an undergraduate. He is a master black belt, and he teaches one night each week. His students range in age from six to 65, but most are between ages 10 and 18.
"Young people struggle to figure out who they are and to be secure in that," Broome said. "Karate helps build confidence. It teaches you that if you work hard, you get rewarded and you get ahead. That's a life skill. I can see my karate students become confident in themselves."
He finds his own reward, and his peace of mind, on the open road.
"There's no time for worry when you're on a motorcycle. You're busy balancing and shifting. You have to put more effort into driving, so you can't worry!"
Written by Victor Roger and originally published in the September 19, 2019 edition of The Whistle.