Georgia Tech alumnus Tina Boyd (MBA 2000), chief of staff of the 335th Signal Command (Theater) in Atlanta, was promoted to Brigadier General in the U.S. Army Reserve.
Boyd held her promotion and pinning ceremony at Georgia Tech's Wenn Student Center this past Sunday. "Holding the ceremony at Georgia Tech was my number one choice," she said. "It is where my Army Reserve career began, so I thought it would be most appropriate."
The U.S. Military Academy graduate moved to Atlanta in 1998 after leaving active duty to begin her MBA at the then-Dupree College of Management – now Scheller College of Business – and her initial Army Reserve assignment with Third Army at Fort McPherson.
"I have tremendously fond memories of the students, faculty, and the spirit of the campus," Boyd added. "A few years after graduating, it became clear that my experience at Tech was foundational to the direction my life took. I feel privileged to be a Yellow Jacket."
When asked if her time at Tech influenced her military career in any way, she answered, "Unquestionably, my decision to attend business school at Georgia Tech was critical to my trajectory, not only in my military career but in my civilian professional career. It provided me with the resources, business acumen, and relationships that complemented my technical background and enhanced my niche capability to deliver innovation in both my military and civilian careers."
"It is truly an honor for us to recognize and celebrate the accomplishments of one of our graduates," said Maryam Alavi, Dean of Scheller College. "Tina's strong leadership skills and dedication set her apart, and we congratulate her on this achievement."
The ceremony was opened with remarks by Major General Peter Bosse, commanding general of the 335th Signal Command (Theater).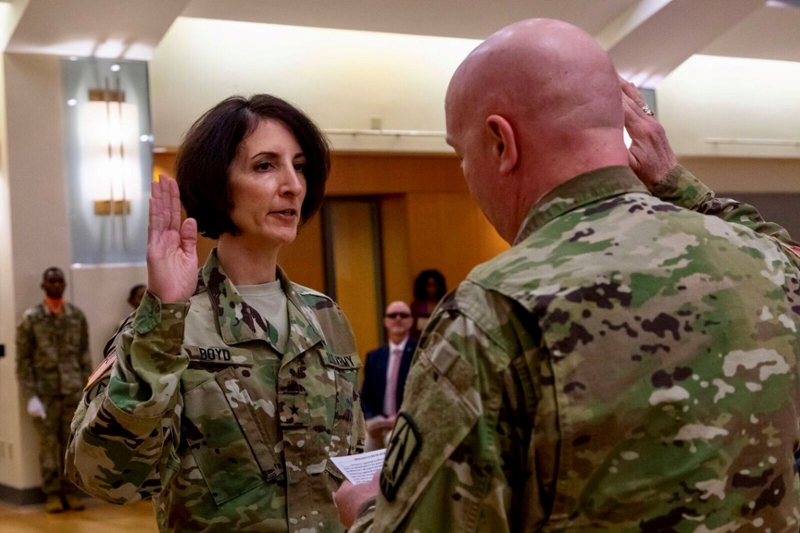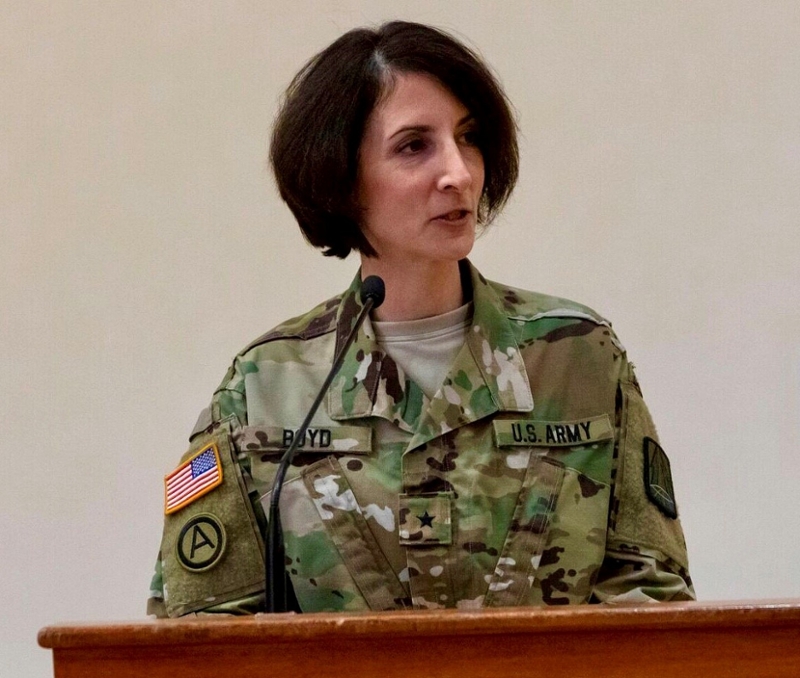 "I am extra-proud of Tina Boyd; a stellar brigade commander, and a superior performer," he said. "I couldn't have been more delighted to promote her today."
Highlights of the event included her daughter, Sophia, presenting Boyd with her star and her husband, Jim, placing it on her cap. Her brother also spoke about the influence of being in a military family and of the characteristics that have continued to make Brig. Gen. Boyd successful, both in her military and civilian careers.
She was presented with her general officer's flag, featuring a single white star on a background of scarlet trimmed in a gold fringe, as has been historically presented since the early 1900s. Customs and courtesies dictate that the personal flag be present at all military functions and be visibly displayed in the office of the receiving General Officer.
Before its presentation, Brig. Gen. Boyd's flag had been physically touched by the hands of those who have touched her life.
"As a leader," Boyd said, "I look to leverage my team's skills and abilities. I am looking forward to this new role and thank you all for being part of the team."
Brig. Gen. Boyd received her commission as a signal officer from West Point in 1989. Her awards and decorations include the Meritorious Service Medal (with three oak leaf clusters), the Army Commendation Medal (with three oak leaf clusters), the Joint Service Achievement Medal, the Army Achievement Medal (with two oak leaf clusters), the Global War on Terrorism Expeditionary Medal, and the Parachutist Badge. Boyd will serve as the deputy commanding general-sustainment for the 335th Signal Command (Theater).