Georgia Tech President G.P. "Bud" Peterson joined Georgia Governor Nathan Deal, Atlanta Mayor Keisha Lance Bottoms, and other government officials and business leaders from across the state of Georgia at a ribbon-cutting ceremony to mark the opening of global management consultancy firm Accenture's Innovation Hub. Located on the 11th floor of the Centergy building in Midtown Atlanta's Technology Square, the 30,000-square-foot hub is projected to employ 800 by 2020.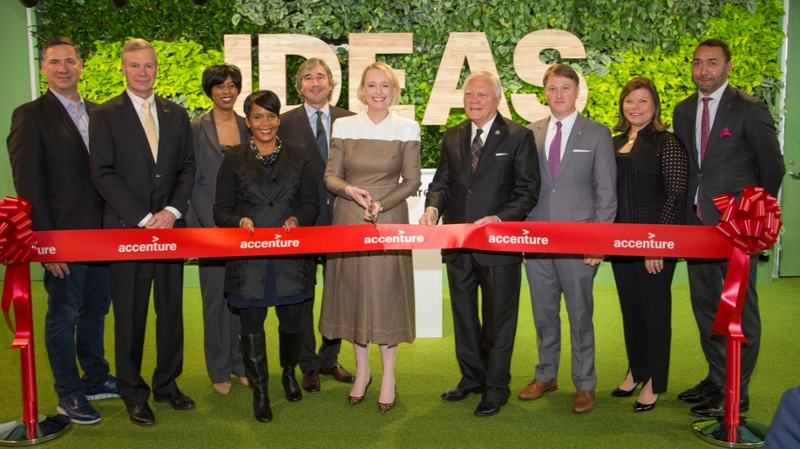 Georgia Tech President G.P. "Bud" Peterson (second from left) joined Atlanta Mayor Keisha Lance Bottoms (fourth from left), Accenture Senior Managing Director Jimmy Etheredge (fifth from left), Georgia Govenor Nathan Deal (fourth from right) and other government officials and business leaders from across Georgia at Accenture's Atlanta Innovation Hub opening in Technology Square.
Employees at the hub will work with technologies such as artificial intelligence (AI), blockchain, computer vision, and virtual reality to solve client needs. The hub will also serve as a collaboration point for employees and their clients. Its location puts it in within reach of emerging innovation from Tech Square's 100 startups, more than 50 accelerators and incubators, and over 20 corporate innovation centers, along with academic researchers and students at Georgia Tech. 
Watch the Fireside Chat
Later, at a railroad-themed open-house (in homage to Atlanta's history as a railroad hub), Jimmy Etheredge, Accenture Senior Managing Director of the Southeastern U.S., co-hosted the first of three Fireside Chat discussions with Hala Moddelmog, president and CEO of the Metro Atlanta Chamber and Scheller College of Business Board member.
Scheller College Dean Maryam Alavi co-hosted the second discussion with Joe Depa, Accenture's Managing Director of Applied Intelligence, for an engagement titled: The Talent War – How Artificial Intelligence is Changing the Game.
"Georgia Tech has been a key partner of ours and Accenture is proud to support Scheller College of Business through recruitment of its students and our co-sponsorship of Scheller's Digital Disruption Series, which examines ways successful organizations embrace technological advances and leverage opportunities to accelerate innovation and build the workforce of the future," Depa opened.
"Speaking for Scheller College of Business, we have strategically positioned ourselves at the intersection of business and technology with our location also here in Tech Square," said Alavi. "It's exciting to have the hub, literally, in our backyard."
When asked where the workforce is headed in terms of AI, Alavi replied, "Hardware and software are not naturally occurring phenomenon; humans create these." She continued, "There's going to be a change in entry-level jobs as a result of AI. This is why we train our students to not only have business acumen but to also be tech savvy."
Alavi continued to predict that jobs of the future will fall into one of three categories: automated work (tasks performed by machines); human work; and augmented work, which combines the efforts of both humans and machines. "AI comes with some unintended consequences, but can also lead to great things for businesses and society."
"What can academia and corporations do together to so that our workforce is prepared?" Depa asked.
"First, it's important for academia to be affordable, accessible, and collaborative," Alavi answered. She then touted Georgia Tech's new online master's degree programs in Computer Science (which has received over 8,000 applications in just two years) and Analytics (which will have 2,000 enrolled in the spring) as examples of how Georgia Tech is making technology education more attainable and affordable.
"But, our online programs don't skimp on difficulty," said Alavi to crowd laughs, noting that the courses are "just as challenging" as Georgia Tech's brick-and-mortar classes.
"The workforce is changing. We try to get our students to develop a mindset of continuous learning while they are at Scheller. I often remind my students that learning is a very effort-intensive process. The harder you work, the more you learn," Alavi concluded.
The hub is the 11th addition in a network of Accenture's innovation hubs in North America, connecting to more than 100 office locations around the world. Accenture's 50,000 employees work with 92 of the Fortune 100 companies and operate out of 200 cities in 120 countries.