Diverse: Issues In Higher Education profiled Scheller College and Morehouse School of Medicine M.D./MBA dual-degree program, including quotes from Dean Maryam Alavi and incoming dual-degree student Allison Rowell.
"In today's health care environment, being a great physician is not just about understanding medicine and patient care — it is increasingly important to have an understanding of the overall health care industry along with an ability to facilitate innovative thinking, demonstrate strong leadership and incorporate critical problem solving skills," said Alavi.
Alavi went on to note the significance of the College's partnership with Morehouse, one of the oldest HBCUs (historically black colleges and universities) in the country, noting that diversity, equity, and inclusion are "fundamental values" within the Scheller College community.
The story also features Rowell, one of the first two students in the program. "Everything in business, we are literally learning in the first semester, so it's definitely an immersive experience," she said.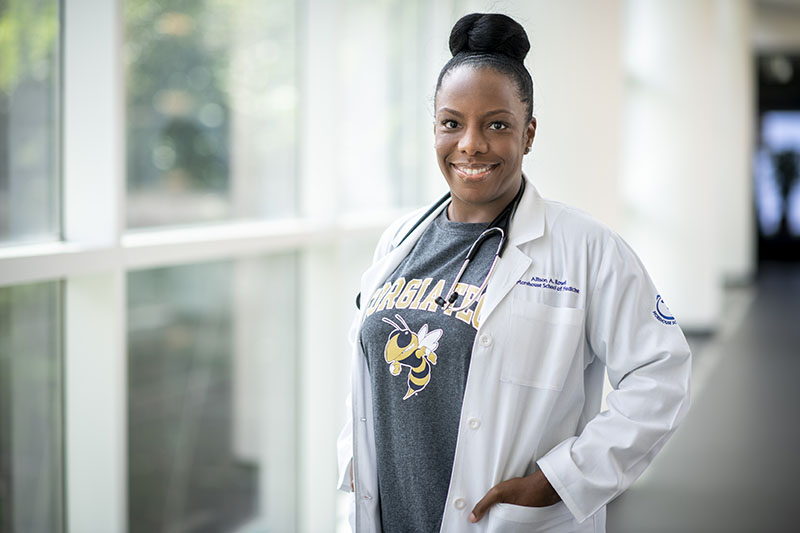 Allison Rowell is one of the first two students in the M.D./MBA program.
Rowell was a registered nurse for six years before deciding to attend medical school at Morehouse School of Medicine and did not always understand why certain business decisions were being made at the hospitals where she worked.
"From the medical side, you just want to take care of your patients," she said. "When I look back at my experiences, I look back and remember when I was in the front line, and now I'm learning how those business decisions were made."
The article highlights the three-semester structure of the program which offers participants the ability to reduce the cost and time required to complete their MBA degree at Scheller by counting 15 credit hours from their M.D. courses toward their MBA elective requirements. The structure allows students to complete their MBA while enrolled in the M.D. program without interrupting their career later, the article notes.