January 18th marked the first in a series of technology panels co-sponsored by Scheller College of Business at Georgia Tech and Accenture
Over 300 people attended the inaugural panel of the Digital Disruptions Speaker Series at the Scheller College of Business at Georgia Tech. The Speaker Series is a collaboration between Accenture and the Scheller College of Business. Moderated by Dean Maryam Alavi, the panel featured leading industry experts, including David Godsman, Chief Digital Officer of The Coca-Cola Company; Saby Mitra, Senior Associate Dean of Programs at Scheller College of Business; and Mike Sutcliff, Group Chief Executive of Accenture Digital.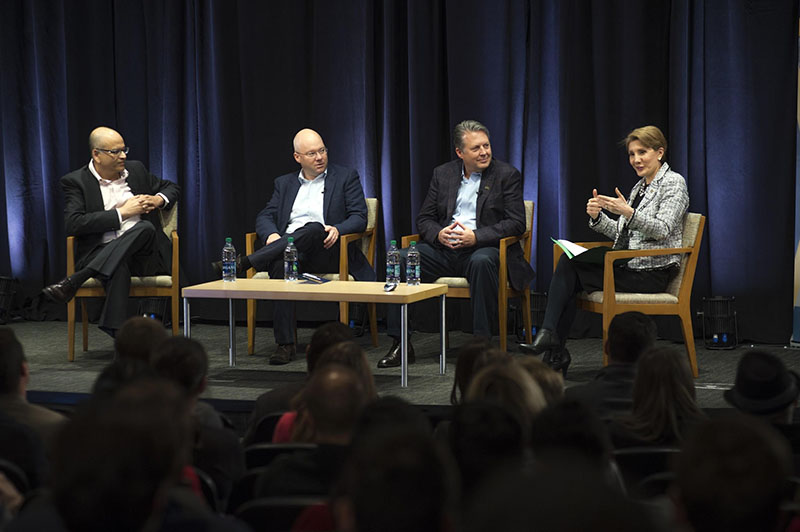 (Left to Right: Saby Mitra, David Godsman, Mike Sutcliff, and Dean Maryam Alavi)
The theme of the discussion centered on navigating the rapid pace of digital disruptions in the world of business. Topics ranged from corporate agility and global innovations, to reimagining the technological infrastructure and the ways in which academics, corporations, and startups can cooperate to create better business models.
A Balancing Act
Dean Alavi started the discussion by asking the panelists why some corporations are more effective than others in digital transformations and why incumbents are often at a disadvantage. She gave the examples of Uber versus taxicabs and Amazon versus traditional retailers. Mike Sutcliff emphasized that the difference often lies in leadership and their willingness to embrace innovation and change. Saby Mitra explained that digital transformation is a "balancing act" for large incumbents that requires the right mix of internal innovations and acquisitions, the right timing when the market is ready, the right incentives, and the right balance between old and new business models. Digital transformation requires agility and flawless execution that can be challenging for large companies. Mike Sutcliff brought up the importance of knowing your stakeholders and maintaining their trust throughout the process. Loss of trust by customers, governments, and other stakeholders can significantly affect the business, as seen with Uber in London. Mitra and Sutcliff explained that companies must embark on game-changing innovations more deliberately to maintain customer trust.
David Godsman added that many large companies can act with arrogance towards emerging companies and technologies, but in this disruptive landscape, they must act with respect. They need to understand how digital technologies and e-commerce are influencing their supply chain and existing business model. "You have to have a view of where you're trying to go as a company so that you can create value for your customer beyond your product," said Godsman.
"Digital is not just one technology, its wave after wave of technology. The question is are you paying attention to those waves and anticipating what's going to come next to maximize your business growth," noted Sutcliff.  "We're now seeing the collision of manufacturing technology with information technology and this is creating a massive security issue."
The group discussed the global convergence of innovation, noting that there are several countries investing heavily in technology outside of the U.S. They cited Singapore as a hub of data scientists, China and India as upcoming technology hubs, and other countries whose regulations might hinder technological growth and innovation, including the EU.
Nonetheless, the group unanimously agreed that the United States remains a powerhouse for technology innovations – there is capital available to invest, an ecosystem to support innovation, and a willingness to explore start-ups. Additionally, university systems play a key role in creating technology disruptors. However, Mitra commented that while 10 years ago, U.S. universities contributed most of the published research on technology and innovation, in the past five years, more research is coming from international universities. Godsman noted that there is also a bit of mirror and mimic – with ideas from top technology companies reflected in some of the offerings from new players, including Alibaba in China.
The group also discussed the importance of data, noting that many companies have built their assets on data and that there is an inherent risk in that. In the inevitable occurrence of a catastrophic digital event, consumers will start to reclaim their data, thus "disrupting" their current business models.
Machine learning is opening new opportunities to leverage data. Godsman gave a real time example of how the Coca-Cola Company is leveraging new systems to harness the power of data at a global scale, "We are starting to use machine learning in how we approach our audiences and how we go to market," said Godsman. "The ability to use large data sets and analysis to design a stronger business model, leads to more revenue and sustained consumer loyalty."
Finally, the group discussed how to best develop the workforce of the future. Instilling a robust process to recruit new talent, while at the same time providing upskilling opportunities for current employees through development and learning opportunities, will create a reliable employee base that can harness technology for business benefits.
Sutcliff noted that Accenture utilizes "hackathons" to identify talent in new hires. The group noted that you can't build a workforce with all new employees straight out of school, existing employees bring a lot to the table, and again, finding the right balance is key.
Dean Alavi closed the event by stating, "What we've learned here tonight is that technology is not the sole answer to your business problems, and that complex problems need expertise at the intersection of business and technology."
The next panel discussion in the Digital Disruption series will take place on March 8, coinciding with International Women's Day, and featuring an all-women panel of experts. The panel will once again explore emerging topics in the world of technology and business focusing on big data and analytics. Learn more or register for the event.
About Georgia Tech Scheller College of Business
Georgia Tech Scheller College of Business is located in Atlanta, home to 17 of the nation's Fortune 500 companies, and is strategically centered in the world-renowned Technology Square district. This positioning at the intersection of business and technology provides students with an unparalleled opportunity to learn in one of the nation's premier high-tech business centers. The College offers globally-recognized, highly-ranked business programs including full-time, evening, and executive MBA degrees, undergraduate and Ph.D. degrees, and executive education programs. Interdisciplinary centers and programs encourage collaboration in research, teaching, and experiential learning within Georgia Tech in some of today's most sought after arenas including sustainability, business analytics, leadership, ethics, innovation, entrepreneurship, supply chain, international business, and more. In partnership with several Georgia Tech Colleges, Scheller College offers joint MS degrees in Quantitative and Computational Finance and Business Analytics. Non-degree programs provide executives and professionals with company-specific and open enrollment offerings in areas such as digital disruption, innovation management, supply chain, business analytics and Lean Six Sigma for continued learning.