Hannah Todd (BSBA 2019) will lead the football team onto the field for the 2018 kickoff.
At this time last year, Hannah Todd didn't know how to drive a stick shift. Now she's behind the wheel of one of America's most iconic cars.

Todd, a business major in Georgia Tech Scheller College of Business, spent hours upon hours this summer learning the intricacies of driving a 1930 Model A Ford Sport Coupe. Former drivers helped Todd "get her skills."

"I would take the Wreck out at 10 o'clock at night when no one else was around," Todd explains about her learning to drive the Wreck.

Her fellow Reck Club members voted her the fourth female to take the keys as driver, and she put in the work to earn her spot.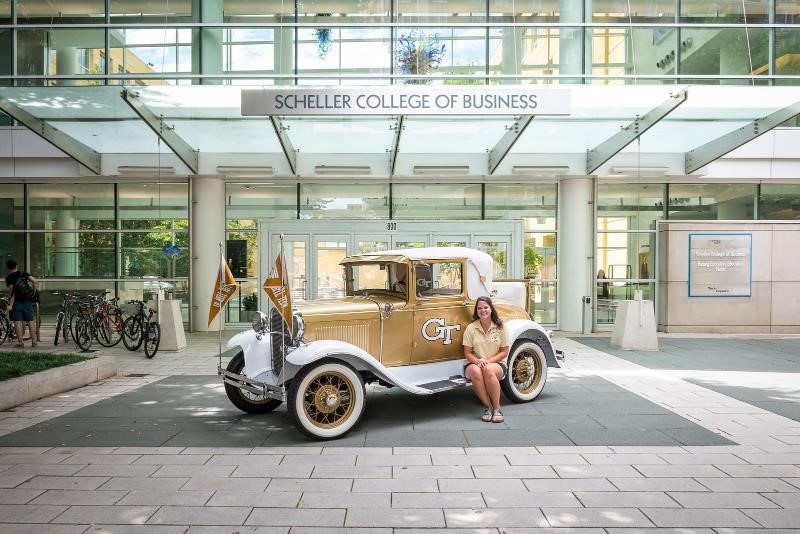 She's coordinated and planned the Homecoming Wreck Parade, hand-painted the gameday banners that the Wreck drives through, and overseen time-honored traditions like the Mini 500 and the Cake Race.
"I saw how all of our traditions bring so much joy to people at Georgia Tech," Todd says.

During her free time in her fifth and final year at Scheller College, you can often find Todd driving around offering rides to students across campus.

"I just love being able to give students an experience they may remember the rest of their life," she says with a smile.

As for her first drive out onto Grant Field, Todd admits she has a few butterflies.

"I'm a little nervous, but I think mostly I'm excited to crash through that banner and see thousands and thousands of Tech fans cheering on the Yellow Jackets."

She also recognizes the historic moment "We've been leading out the team since 1961, and it's unlike anything else any college in the country does. I'm excited to get to continue that tradition for the Jackets."