Marking a decade this year, Scheller College of Business student volunteers visit New Orleans to rebuild homes.
For the past decade, groups of Georgia Tech Scheller College of Business full-time MBA students have traveled to New Orleans to make a lasting impact on the community. Averaging twelve students each year and three full workdays, the students lend a hand rebuilding communities devastated by 2005's Hurricane Katrina.
Throughout the project's history, MBA students have donated more than 2,000 hours to rebuilding after the community's loss. Each project includes rebuilding rooms in homes under construction. Typical activities include hanging drywall, mold remediation, installing framing for new rooms, demolishing kitchens, and removing old flooring. This year, the students insulated a newly built home and installed ceiling, floor, and bathroom drywall.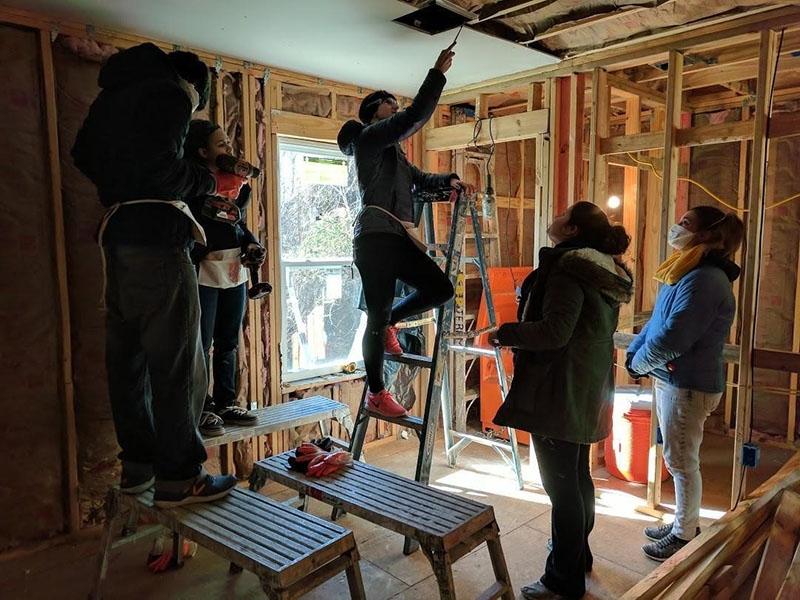 Believe it or not, twelve years after Katrina many communities are still cleaning up and trying to return to normal life. "This trip is a tremendous opportunity to serve our communities and impact lives, while building camaraderie with classmates," says Scheller College MBA student and organizer of the trip, Jesse Brooks.
This year, a group of sixteen student volunteers visited New Orleans from January 2nd to the 6th, again working with the Saint Bernard Project (SBP), a nonprofit disaster relief organization started in 2006. The mission of the organization is to rebuild the Ninth Ward and other parish communities. While it's a busy week for the students, totaling 250 volunteer hours, their time yields a major payoff. In 2016, the team began a project to rebuild a woman's home after she lost everything to the hurricane. With the help of the homeowner, the group of volunteers were able to rebuild the home, helping it become even better than before the hurricane.
Please take a moment to watch a video of a previous trip experience and learn more about the Saint Bernard Project. For more information about this trip, or to get involved in next year's trip, please contact student organizer, Jesse Brooks.