Ramblin' Wreck driver Hannah Todd (BSBA 2018) made a special appearance at Scheller College of Business to welcome none other than the College's namesake – Ernest Scheller Jr. (IM 1952, HON Ph.D. 2013).
For the second time this year, Mr. Scheller visited the Georgia Tech campus, first stopping at Scheller College for its Fall 2018 Advisory Board Meeting just ahead of Tech's Homecoming Weekend kickoff. The meeting was opened by Chairman David Rowland as he recognized the newest members of the Board.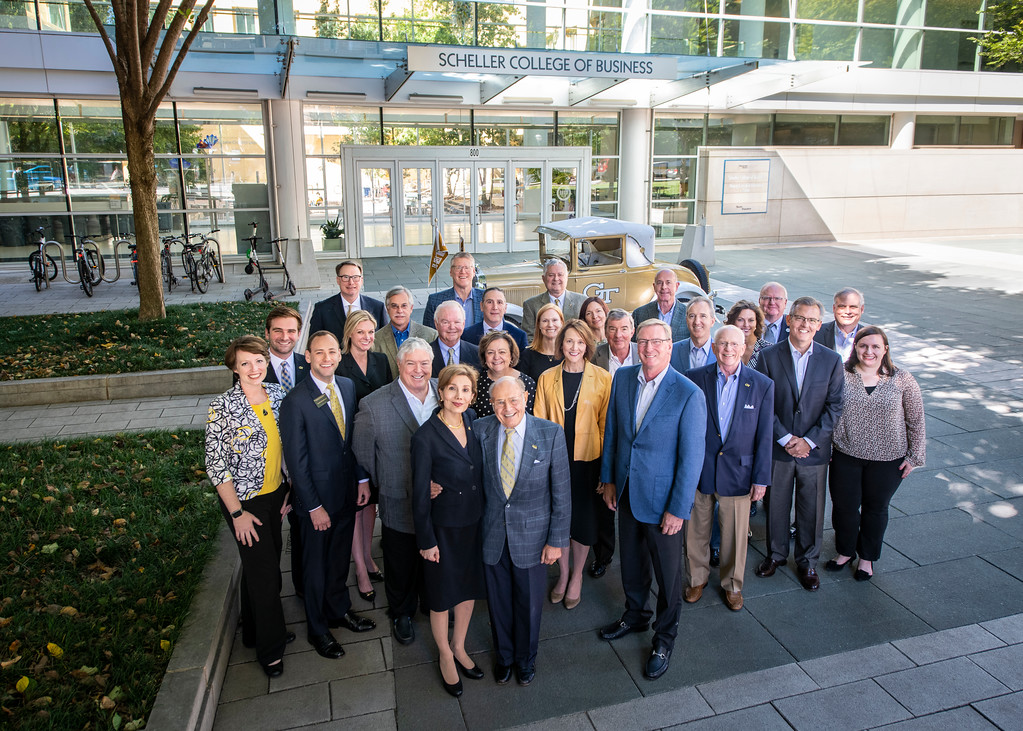 Ernest J. Scheller Jr. poses with members of the Scheller College Advisory Board
The morning concluded with a Board photo in front of the Scheller College of Business building, where Mr. Scheller was welcomed by Todd and the Ramblin' Wreck.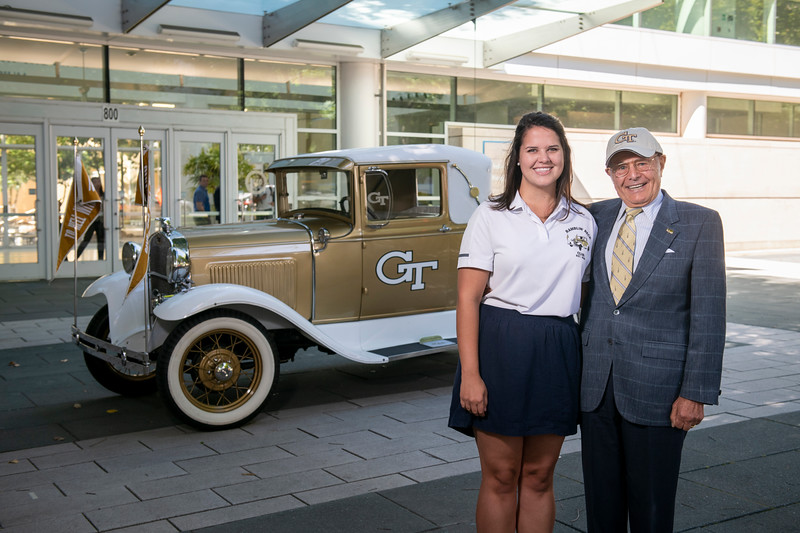 Ernest Scheller Jr. and Hannah Todd
"It's such an honor to meet you," Todd greeted. "It's always good to be home," Scheller replied, as he donned a gifted 'GT' hat from the Scheller College administration team.
Mr. Scheller then praised Todd, only the fourth woman Wreck driver to lead the Yellow Jackets football team on to Grant Field since the tradition began in 1961. Todd, a Scheller business major from Peachtree City, then posed for a photo with Mr. Scheller followed by shots of Scheller College Dean Maryam Alavi and members of the Board.
The excitement for Scheller and Todd did not end on Friday.

Mr. Scheller's weekend concluded by taking in Saturday's Homecoming game where he was to see Todd once again – as she was crowned 2018 Ms. Georgia Tech.