Georgia Tech Scheller College of Business proudly hosted Ed Bastian, CEO of Delta Air Lines, for a conversation with Dean Maryam Alavi discussing leadership, strategy, and Delta Air Lines' innovative culture. The interactive discussion provided insight into Delta's core values, including their strong commitment to employees and customers, as well as strategies to confront the challenges posed by a rapidly-changing digital climate.
Dean Alavi opened the conversation by asking Bastian's personal definition of leadership, to which he responded, "It's all about the people." He highlighted that his long-term goal for Delta is to become the airline that best connects the world. His focus on servant leadership and company interdependence exemplifies how much he values and depends on his employees across the organization. He explained key characteristics that define Delta's culture, such as selflessness, adventurous spirit, and the passion to serve. In particular, Bastian commented that the people of Delta "sustain his energy for leadership," and to be effective, Delta must continue to reinvest in its employees.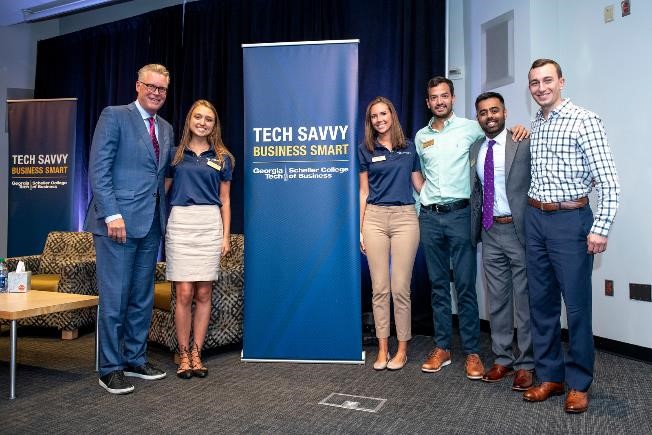 The conversation also highlighted the innovative way that Delta is approaching technology and digital disruption. With an expansive collection of data, Delta is working to leverage customer information from multiple databases to have a better understanding and a holistic perspective, as well as tailor the full Delta experience from booking through flight. Bastian went on to mention unique sustainability initiatives, such as a program that allows customers to calculate and offset their personal carbon footprint. As technology keeps increasing the potential customer service touchpoints, the need for design thinking and engineering will be critical to continued success. These innovative strategies are examples of how Delta is working to move faster than the rapid technology changes that will continue to pose challenges moving forward.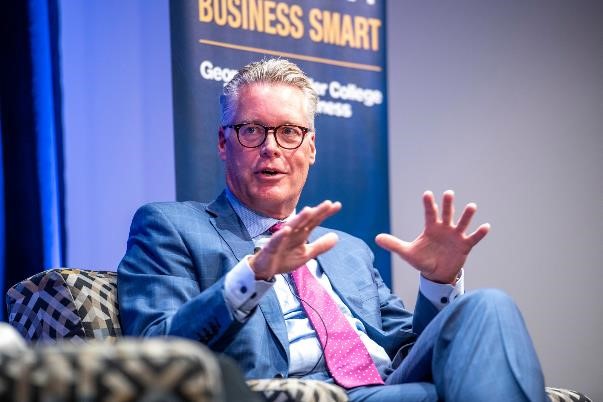 At the conclusion of the moderated interview, Dean Alavi opened the floor for audience questions. Highlights of the Q&A included:
Q: How might leadership be expanded in today's global and digital climate?
A: One challenge that has arisen from this climate is the effect social media has had, especially for airlines. A customer's ability to share a poor experience that can go viral immediately allows  that issue to be amplified and often alters the truth of the issue itself. Unfortunately, there's a lack of leadership in today's world and often the loudest voices tend to run the room in the absence of leadership. Standing up for the company's values and culture becomes critical for leadership in these instances.
Q: How does Delta employ ethical leadership at the company?
A: We have created a "Rules of the Road" document which lays out the specific values and principles of Delta. It outlines how to conduct leadership as a manager and the ways we incorporate our values into leadership.
Q: Where do you see the future of available service offerings moving? Is supersonic travel an option?
A: We certainly are headed toward more efficient missions and continue to streamline our processes so that more locations and options become available for the customer. We do not see supersonic travel as a viable offering at this juncture. The industry has been democratized and affordability is key to the consumer. Supersonic travel may simply be too expensive for the affordable culture created around air travel.
Q: What types of employees do you look for at Delta?
A: We look for people that love to serve. We can teach the airline business, but we can't do it unless you have a passion for serving others. We look for selflessness – people who are willing to put the team in front of themselves. We also look for adventurous people. One of the best benefits we offer is travel.
Q: How do you change a company with millions of moving parts?
A: You make sure you have the right people on the bus. We need people that think alike and are motived and driven by the same goal. Our people are our best asset.