Why do Fortune 500 companies such as AT&T, The Coca-Cola Company, Michelin NA, Pirelli Tire, and State Farm turn to Georgia Tech Scheller College for Lean Six Sigma training? Because we teach world-class problem-solving skills employees can use from day one.
LSS Black Belt Curriculum
Georgia Tech's Lean Six Sigma Black Belt course builds upon the pre-requisite LSS Green Belt and Data Analytics classes and propels the LSS Black Belt student to the expert level, with a deep understanding of the DMAIC principles and how to apply these critical skills and methodologies to make better business decisions and solve critical business process problems.
Upon completion, the LSS Black Belt student will possess keen insight and in-depth understanding of the lean enterprise concepts; be able to identify "non-value added" elements to processes; have advanced knowledge of how to employ LSS statistical tools and analytics to projects, and be well adept at utilizing the specific tools and functions of the complete Lean Six Sigma process.
Key Expertise Skills in:
Organization-wide Projects: Detailed Planning & Deployment
Organizational Processes: Management & Measures
Team Management & Leadership
Organizational Expertise: Problem Identification & Problem Solving through implementation of DMAIC (Define, Measure, Analyze, Improve, Control) Principles.
Lee Campe, Master Black Belt instructor
Learn from the best. Georgia Tech Adjunct Instructor, Lee Campe, is a certified Lean Six Sigma Master Black Belt instructor and proven Six Sigma deployment leader with a wide array of expertise in all facets of business.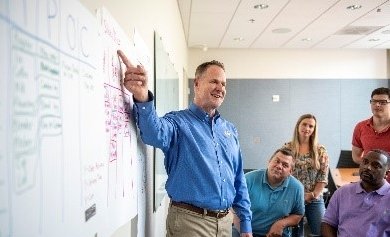 With an extensive experience in Design for Six Sigma (DFSS), change management, metric development, Business Process Management and hypothesis testing, Lee has taught as a Master Black Belt (MBB) for Home Depot, JP Morgan Chase, Johnson and Johnson, General Electric Power Systems, Penske Logistics, NAPA, and Benchmark Brands among others.
In addition to teaching Lean Six Sigma for Georgia Tech Scheller Executive Education, Lee is also Master Black Belt Instructor for the joint GTPE - US Army program, VET2, developed for Army personnel transitioning from a military career to the civilian sector. He is also Master Black Belt Instructor for Georgia Tech Scheller College's MBA programs.
Lee's class reviews from students are always stellar and he routinely is awarded 5 out of 5 stars for his engaging and informative, hands-on teaching style.
Lean Six Sigma Black Belt Certificate and Georgia Tech Credentials
Students completing the LSS Black Belt course will work with instructor Lee Campe to identify a Black Belt project for their final assignment.
Upon completion, submission, and final approval of their Black Belt project, students will receive their Georgia Tech Lean Six Sigma Black Belt certificate and Georgia Tech credentials.
Lean Six Sigma Black Belt Class Fee
$4,350 per person
Class Schedule
Monday-Friday
8:30 am–5:00 pm
Breakfast & Lunch provided
Upcoming Class Dates
Aug 17 – Aug 21, 2020
Nov 9 – Nov 13, 2020
Next Steps
Download a Lean Six Sigma Brochure
Register for a Black Belt Class
Please note: Internet Explorer 10 and older versions are not supported. Please use a newer version of IE or an alternate web browser to access Registration.
Questions about Georgia Tech's Lean Six Sigma Black Belt?
Please contact: Malisa Gipson, Lean Six Sigma Program Manager
or 404-385-0548.