Part IV focuses on how artificial intelligence is influencing and changing the way we do business.
AI has moved from the lab to mainstream, gaining traction through personalization and prediction. As it alters the business landscape, we will explore how AI's unprecedented impact continues to create/prompt/identify/incite challenges and spur opportunities.
We are excited to share Part IV of the Digital Disruption series between Scheller College of Business at Georgia Tech and Accenture, that explores trends in today's ever-changing digital arena. The series examines ways successful organizations and managers embrace technological advances and leverage opportunities to accelerate innovation, create value, and build the workforce of the future.
Featured highlights of Digital Disruption, part IV:
Or watch the full presentation  
Photo highlights from Digital Disruption, part IV:


IMAGE GOES HERE
Moderator: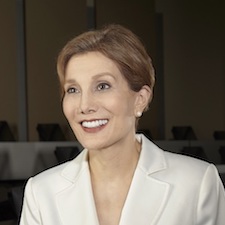 Maryam Alavi
Dean and Stephen P. Zelnak Jr. Chair, Professor of Information Technology Management, Scheller College of Business
VIEW PROFILE