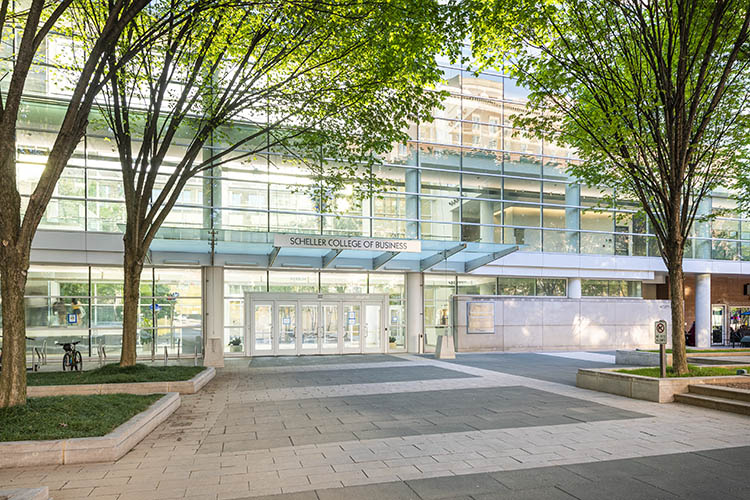 Impact Lunchtime Talks: Tené Traylor, Urban Institute
Details
Areas
ILSI
Evening MBA
Full-time MBA
Executive MBA
Format
Online
On-Campus
Impact
Location
Scheller College of Business (In-person & Virtual)
COB 101
800 West Peachtree St., NW
Atlanta, GA
Registration Closed
The Partnership for Inclusive Innovation and the Institute for Leadership and Social Impact presents the first Impact Lunchtime Talk of the Fall featuring Tené Traylor, vice president for nonprofits and philanthropy at the Urban Institute. Lunch is provided with registration.
Tené brings national expertise in place-based philanthropy, equity, and civic leadership, particularly in the South, where she has honed a distinguished career in the nonprofit and philanthropic sectors. She joined Urban after concluding her tenure at The Kendeda Fund, where she oversaw several grantmaking portfolios totaling $8 million annually.
The Urban Institute is a nonprofit research organization that provides data and evidence to help advance upward mobility and equity. For more than 50 years, they have been a trusted source for changemakers who seek to strengthen decision-making, create inclusive economic growth, and improve the well-being of families and communities. 
Before joining Kendeda, Tené was a senior program officer at the Community Foundation for Greater Atlanta. She led community development and neighborhood transformation grantmaking (including the Neighborhood Fund) for 10 years, launched several related programs and initiatives, and helped transform the foundation's grantmaking approach from programmatic to general or core support. She has also held positions with the United Way for Greater Atlanta and the Zeist Foundation Inc.
The conversation will be moderated by Debra Lam, the Founding Director of the Partnership for Inclusive Innovation, a statewide public-private partnership committed to investing in innovative solutions for shared economic prosperity. She continues to lead smart communities and urban innovation work at Georgia Tech. Debra serves on the Community Foundation of Greater Atlanta board and was most recently appointed by the U.S. Department of Commerce to the Internet of Things Advisory Board.
The event is co-sponsored by Serve-Learn-Sustain and the Society of Women in Business.
Impact is a monthly series of meaningful, free and open conversations. The main goal of the series is to engage students, faculty, staff, and the broader community on topics that matter through discussions and presentations by leaders and entrepreneurs from all sectors. Past talks are accessible on the Institute for Leadership and Social Impact's YouTube page.
Lunch will be provided with registration.
Virtual attendance link for those unable to attend in person can be found here.