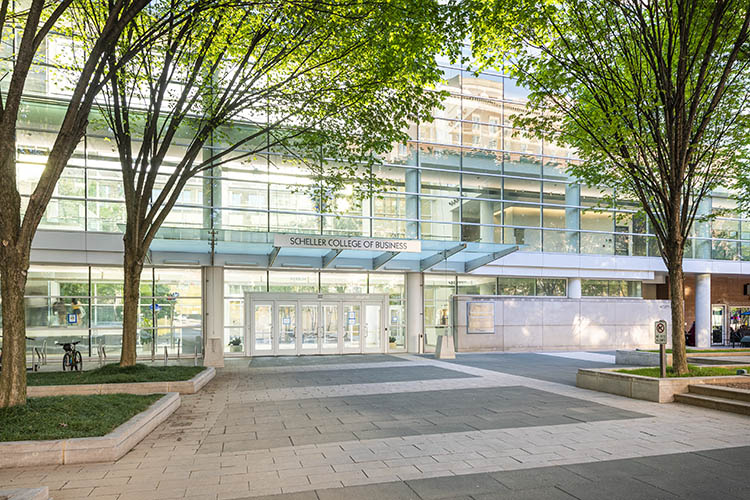 A Fireside Chat with Amy Webb
Details
Type
Special Event
Alum Event
Location
Scheller College of Business
LaCraw Auditorium
800 W Peachtree St NW
Atlanta, GA
Quantitative futurist Amy Webb shares insights about what may lie ahead for industries and issues vital to Atlanta. Plus, Scheller College of Business faculty detail how AI could shape our world.
Internationally renowned futurist and author Amy Webb discusses what's next for Georgia and industries vital to its future. Founder and CEO of the Future Today Institute, Webb pioneered a data-driven foresight methodology that is used within hundreds of organizations worldwide. She packs the house as a keynote speaker at SXSW; advises Fortune 500 companies, Hollywood, and the Pentagon; and is a professor of strategic foresight at New York University's Stern School of Business.
With an eye toward Atlanta industries, Webb shares examples of potential disruptions that she details in her 2023 Emerging Tech Trend Report. Rodney Gibbs, the AJC's senior director of strategy and innovation, moderates the conversation.
Preceding Webb's keynote discussion, Georgia Tech's Scheller College of Business faculty members discuss the impact of AI on business, including implications for teams, leaders, and industries prominent in Atlanta and beyond. Panelists include Katie Badura, Assistant Professor of Organizational Behavior; Eric Overby, Catherine and Edwin Wahlen Professor of IT Management; and Karthik Ramachandran, Dunn Family Professor of Operations Management. Deven Desai, Sue and John Staton Professor in Business Law and Ethics, moderates.