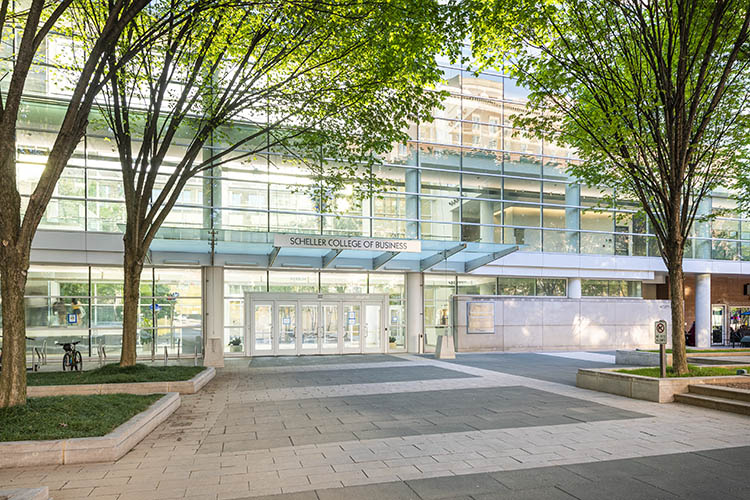 Impact Presents: Lara O'Connor Hodgson, President and CEO, NowAccount
Details
Areas
ILSI
Evening MBA
Full-time MBA
Executive MBA
Location
Scheller College of Business (In-person & Virtual)
800 West Peachtree St., NW
Atlanta, GA
Join us for Impact and try out our new lunchtime format. We continue to bring you meaningful conversations with remarkable leaders in a more dynamic format. And did we mention lunch is included with registration?   
Community members are invited to join the conversation in person at the Scheller College of Business in Room 200 or virtually through web conference on Thursday, March 17 at 11:15 a.m. 
Virtual https://primetime.bluejeans.com/a2m/live-event/ywdwdrsd
GT alumna (AE) Lara O'Connor Hodgson, President and CEO of Now, serves as an Entrepreneur in Residence at Harvard Business School and is an internationally recognized speaker, leading seminars on creativity, innovation and access to capital.
Prior to Now, Lara co-founded Nourish (the manufacturing company), and Insomnia, LLC, a firm specializing in investment, development, and management of complex and innovative "world-changing" projects. Her background also includes 5 years with Dewberry Capital Corporation, an Atlanta-based commercial real estate development and investment firm, where she served as the company's Chief Marketing Officer and Chief Operating Officer.
Her product experience includes Dunk, a performance footwear and apparel manufacturing/retail company built on the concept of mass customization and founded with Shaquille O'Neal & Mike Piazza, where she served as Executive Vice President.
Lara received an MBA from the Harvard Business School, and a BS in Aerospace Engineering with highest honors from the Georgia Institute of Technology. Today, she serves as a Trustee of the Georgia Tech Foundation in addition to other Boards. E&Y recognized Lara as a 2018 Finalist for the Southeast Entrepreneur of the Year.
Chuck Easley is no stranger to Georgia Tech. A former Rhodes Scholar State Finalist, two-times Academic All-ACC, and three-time Letterman in Football, he has been named to the Top Ten Outstanding Young Atlantans, and was recognized for his service with awards like the Camp Fire Ember Award, Georgia Tech Outstanding Young Alumni, and Georgia Tech Total Person-Former Student Athlete of the Year. Chuck has extensive experience in strategy execution of supply chain optimization and design, business transformation, operations improvement, process improvement, and executive coaching. After many years in various corporate roles, he started and leads his own firm, EPIC Performance Group LLC.
Chuck holds a BS in Industrial Management and a minor in Industrial/Organizational Psychology from Georgia Tech graduating cum laude. He is a member of various academic honor societies including Gamma Beta Phi, Omicron Delta Kappa, Beta Gamma Sigma, and the ANAK Society, Georgia Tech's highest honor.
Please join us for a lunch reception after the talk. The first twenty to register and attend in-person will receive a copy of the book.
Impact is a weekly series of meaningful conversations, free and open to all. The main goal of the series is to engage students, faculty, staff, and the wider community on topics that matter through conversations and presentations by leaders and entrepreneurs from all sectors. For the 2021-2022 school year our focus remains on social and racial justice, inclusive leadership, and diversity and equity. Past talks are accessible on the Institute for Leadership and Social Impact's YouTube page.