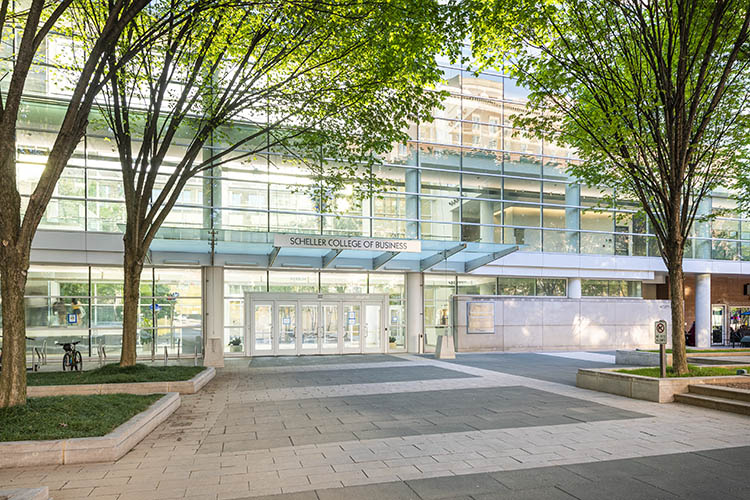 Lifelong Learning: The Transformative Power of Sustainability
Details
Areas
Sustainability
Evening MBA
Full-time MBA
Executive MBA
October 26, 2020 1pm - 2:15pm EST
Work – It's changing. How we work, where we work, and the skills we need to work have all evolved in drastic ways, driven by global disruptions and crises, accelerated connectivity, corporate sustainability, and more. What does the future of work look like? What is in store for the workplace, the workforce, and the nature of work itself?
Join us for the Future of Work, a series sponsored by the Scheller College of Business at Georgia Tech, that discusses trends in today's volatile, unpredictable world. This series explores how leaders and companies can leverage industry changes, technological advances, and organizational strategies to accelerate innovation, create value, and shape the future of work. 
For the first event of the series, sponsored by the Ray C. Anderson Center for Sustainable Business, we will hear from alumni and corporate partners of the Carbon Reduction Challenge, a 10-week summer program that allows interns to build business cases for organizations to help them curb their carbon emissions. 
Learn from the program's participants and their experience working on these transformative projects, and gain new perspectives into leading horizontally and building resilience to create sustainable business solutions.
Moderators:
Beril Toktay – Georgia Tech Scheller College of Business Brady Family Chair in Management; Professor; Faculty Director, Ray C. Anderson Center for Sustainable Business
Steven Murchison (MBA '19) - former Category Manager, Georgia-Pacific
Panelists:
William Courreges-Clercq (BS '18, Business Administration) – Business Solution Manager, The Coca-Cola Company
Casey Erb (BS '20, Environmental Health Engineering) – Field Engineer, Mortenson
Stephanie Armistead – Sustainability Lead, Chick-fil-A
Amy Hook – Environmental and Social Impact Professional