Nurturing diversity is one of Georgia Tech's highest institutional priorities. We welcome a wide variety of perspectives and our commitment to developing and maintaining an open, friendly and productive environment is reflected throughout our campus community.
Diversity at Georgia Tech
The broad appeal of the Georgia Tech brand continues to attract a variety of faculty, staff and students from diverse cultural, academic and professional backgrounds. Therefore, Scheller College of Business well reflects the diversity of today's business world.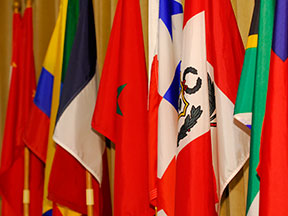 With over five million residents, Atlanta is a thriving metropolis teeming with opportunity, expansion, and diversity. And, literally, at the heart of this growth, is the Georgia Institute of Technology. People from all corners of the world now make Atlanta — and Georgia Tech — their home. Georgia Tech stands firm in its belief that the Institute's continued development rests in our willingness to embrace varied backgrounds, talents, and ideas.
Diversity at Scheller
Our students hold careers in a wide range of fields, including financial services, healthcare, real estate, media, energy, and the non-profit sector. The diversity of experiences and viewpoints represented in our student body helps ensure you gain a broad perspective on today's business issues.
 Our students join a vast network of more than 100,000 alumni around the globe, opening up a world of possibilities.
My classmates were from around the world and a variety of industries; each offered a unique perspective on the global economy and what it takes to be successful.