Prestigious faculty and outstanding advisors will introduce you to new vistas and opportunities. You will learn to think strategically on a global level, taught by professors who will inspire you.
Our accessible advisors will provide individual guidance and advice to help you reach your academic and professional goals.
Faculty Within Reach
Far from the remote and unreachable university professor stereotype, Scheller faculty members are consistently recognized by our students as the top teaching faculty on campus for their engaging teaching styles and accessibility. They often go far beyond the call of duty by sharing corporate contacts for internships, inviting students to assist them with their research, and giving feedback on academic and career development.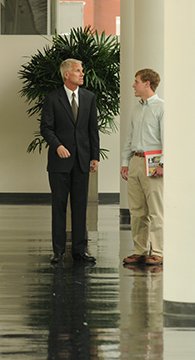 Widely diverse, our faculty members are experts in their fields and connected to corporations through consulting and extensive professional networks. With approximately 80 faculty members, most holding a PhD or a JD degree, there is a vast array of expertise available to you on any topic in your of business interest.
Our professor's expectations were very high, but very clear. He genuinely cared whether we learned the material. For example, he conducted an online survey to identify student grievances early on in the course and addressed them at the beginning of the next class. What's more, he held a review session almost every Saturday morning to work practice problems.
Strong Academic and Career Advising
We understand that academic advising is essential for students' academic and career success.  Our academic and career advisors provide exceptional personalized academic advising to each of our students.  Assigned advisors help students create an individualized academic plan to maximize their marketability during career/internship fairs and interviews.
My academic advisor changed my life forever. During our initial meeting the conversation was not about classes, but about me as an individual. She asked what I planned to do after graduation. She injected a sense of hope and confidence in me that I have never experienced before.
Advising is an integral part of creating an academic plan that incorporates appropriate certificates, minors internships/co-ops, study abroad programs and research that will make students competitive for top jobs and graduate schools. Undergraduate students are expected to meet with their advisor at least once per year to ensure they're on track for graduation and understand the numerous options and resources available at the College of Business and Georgia Tech.
Discuss with your academic advisor
at least once each year:

What to expect from your
Scheller College advisor:
Major selection
Curriculum and degree requirements
University policies
Academic standing
Professional development
Study abroad
Undergraduate research
Campus resources
Registration
Individual attention
Accurate knowledge of the BSBA degree requirements
Suggestions for class selection and the academic plan
Assistance in starting the internship and career search
Information about campus and College resources
Response to your emails within 48 hours
Encouragement and mentoring during your time as a business student
Academic advising for MBA students is typically done during orientation and thereafter on an as needed basis in the Scheller Graduate Office. EMBA students are automatically registered for the correct classes each semester.
Faculty directory
Academic advising for undergraduate students
Career advising