Part IV focuses on how artificial intelligence is influencing and changing the way we do business.
AI has moved from the lab to mainstream, gaining traction through personalization and prediction. As it alters the business landscape, we will explore how AI's unprecedented impact continues to create/prompt/identify/incite challenges and spur opportunities.
We are excited to share Part IV of the Digital Disruption series between Scheller College of Business at Georgia Tech and Accenture, that explores trends in today's ever-changing digital arena. The series examines ways successful organizations and managers embrace technological advances and leverage opportunities to accelerate innovation, create value, and build the workforce of the future.
Featured highlights of Digital Disruption, part IV:
Or watch the full presentation  
Photo highlights from Digital Disruption, part IV:


Moderator: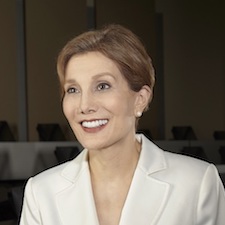 Maryam Alavi
Dean and Stephen P. Zelnak Jr. Chair, Professor of Information Technology Management, Scheller College of Business
View Profile
Panelists:
Joe Depa - Managing Director, AI Lead, Accenture Digital
Joe is a Managing Director and the Southeast Applied Intelligence Lead for Accenture.  Joe's team of over 100 data scientists, consultants, and engineers is laser focused on leveraging data, analytics, artificial intelligence and new technologies to improve the customer experience, drive product innovation, boost revenue growth, and help transform businesses. With disruptive technology shaking up industries and startup companies changing the competitive landscape, Joe is considered a proven thought leader on innovative business transformations as well as a recognized executive advisor for Fortune 100 clients.

Joe's area of focus include developing a deep understanding of the market, establishing partnership across the value chain, encouraging experimentation and innovation with new ways of working, leveraging the latest in artificial intelligence and automation, and ensuring the right talent is in place to be successful.   Joe is a frequent speaker on digital disruption and enabling technologies at forums and conferences.

Joe graduated from Georgia Tech with a degree in Industrial Engineering.  He is active in the Atlanta and Southeast community, serving on the Board of Trustees for Cure Childhood Cancer, an Atlanta based non-profit, as well as a St. Jude's Children's Research Hospital Family Mentor.  He lives with his wife and two sons in Johns Creek, Georgia.
Valentine Fontama - Global Practice Lead, AI, Google Professional Services
Valentine Fontama is the Global Practice Lead for AI at Google Professional Services, where he advises strategic customers around the world.   Prior to this he was a principal data scientist manager on Microsoft's AI Data Science team in Azure. Valentine was also a new technology consultant at Equifax in London, where he pioneered the use of data mining to improve risk assessment and marketing in the consumer credit industry; principal data scientist in the Data & Decision Sciences Group (DDSG) at Microsoft, where he led consulting to key customers, including ThyssenKrupp and Dell. He was a senior product manager for big data and predictive analytics in cloud and enterprise marketing at Microsoft, where he was the first product manager for Azure Machine Learning, HDInsight, Parallel Data Warehouse (Microsoft's first ever data warehouse appliance).
 He has published 11 academic papers and co-authored three books on big data including Predictive Analytics with Microsoft Azure Machine Learning: Build and Deploy Actionable Solutions in Minutes (2 editions).
 Valentine holds a PhD in Artificial Intelligence, an MSc. in computing, an MBA in strategic management and marketing from the Wharton School, and a BSc. (First Class Honors) in mathematics and electronics.
Charles Isbell - Executive Associate Dean, College of Computing, Georgia Institute of Technology
Dr. Charles Isbell received his bachelor's in Computer Science from Georgia Tech. He earned his PhD at MIT's AI Lab and eventually joined AT&T Labs/Research. In 2002, he returned to Georgia Tech where he is now Professor and Executive Associate Dean for the College of Computing.

The unifying theme of Charles' research interests has been using machine learning to build autonomous agents who engage directly with humans. His work has been featured in the popular press, congressional testimony, and in several technical collections.

Charles has also pursued reform in computing education. He was a chief architect of Threads, Georgia Tech's structuring principle for computing curricula. Charles was also an architect for Georgia Tech's first-of-its-kind MOOC-supported MS in Computer Science. Both efforts have received international attention, and been presented in the academic and popular press.

 In all his roles, he has continued to focus on issues of broadening participation in computing, and is the founding Executive Director for the Constellations Center for Equity in Computing. He is a AAAI Fellow and a Fellow of the ACM. Appropriately, his citation for ACM Fellow reads "for contributions to interactive machine learning; and for contributions to increasing access and diversity in computing".