For Georgia Tech students seeking a path to leadership roles in a tech-driven world, the Steven A. Denning Technology & Management (T&M) Program is open for business. The T&M Program provides students with unique experiential learning opportunities over a two-year course of study and the chance to earn unique minors in business, computing, engineering, and technology. And sometimes, the opportunity for hands-on learning doesn't just apply to students.
As the senior manager for industry relations for the T&M Program, John Stanford works with industry clients to ensure T&M students gain valuable professional experiences through internships and practicums.
In 2019, Stanford began discussing a possible partnership with the Navy Nuclear Laboratory (NNL). Of particular interest was their Naval Nuclear Propulsion Program, which is part of the U.S. Navy. Since then, the NNL has sponsored several T&M capstone projects that allow Georgia Tech students of all majors to study improvements in nuclear propulsion. Last year, the T&M student capstone team studied the possibility of high-volume production of nuclear reactors that would benefit from economies of scale.
In late 2021, Stanford and three Georgia Tech faculty from the School of Aerospace Engineering were invited to stay overnight on the aircraft carrier USS Abraham Lincoln, boarding from San Diego. Stanford was joined by Stephen Ruffin, associate chair of the graduate program; Juergen Rauleder, assistant professor; and Julian Rimoli, associate professor. The historic vessel is captained by Amy Bauernschmidt, the first woman to ever command an aircraft carrier in the history of the Navy - a major milestone for women in combat and senior leadership positions. The men were considered Distinguished Visitors of the Navy, which is bestowed on only a select group of politicians and educators each year.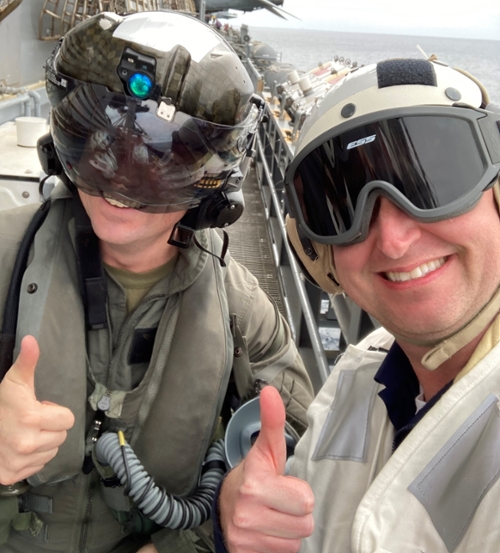 The goal of this visit was for educators to familiarize top engineering programs with the operational functions of the Navy. The Navy is especially interested in recruiting Georgia Tech undergraduate students for the Navy Nuclear Propulsion Officer Candidate program (NUPOC ), which is a highly elite and selective program that allows STEM candidates to serve in either civilian or military roles.
Stanford recounts many highlights from his trip including landing on the active aircraft carrier at sea via a V-22 Osprey, watching flight operations up close, touring an active nuclear submarine, and learning more about the Navy Nuclear Propulsion Program. 
"Watching flight operations from the deck of an active aircraft carrier was a dream come true for me.  Remember the famous intro scene from the Top Gun movie? I saw that when I was 10 years old and was absolutely enthralled. So, to be able to get suited up in flight deck gear and watch fighter jets take off and land from only ten yards away was almost indescribable," Stanford recounted. "They let me stand so close to an arresting cable – that's how fighter jets land with a tail hook – that I was shaking. These are 45,000+ pound jets flying around 150 miles per hour onto a moving ship and stopping within yards of me. The combination of incredible human skill and engineering was absolutely overwhelming to witness."
Watch a video with footage from Stanford's experience.