Georgia Tech and Atlanta - enjoy the best of both worlds! Georgia Tech students enjoy a tree-lined campus, abundant green space and the pedestrian-friendly streets of a traditional campus, while also benefiting from the social, recreational and career opportunities of midtown Atlanta.

You'll enjoy all of the benefits of the major city, with easy access to numerous recreational and entertainment opportunities. The pleasant climate allows year-round outdoor activities and both the mountains and the coast are within a reasonable distance.
With a growing population of 5.3 million residents, the metro area has more than 2,100 international businesses and the third largest concentration of Fortune 500 headquarters in the United States. CNN, The Coca-Cola Company, Delta Air Lines, The Home Depot, UPS, U.S. Center for Disease Control and Prevention, and American Cancer Society are just a few organizations that call Atlanta home.
Consistently ranked among the best American cities for business and technology, Metro Atlanta is the business and distribution center of the Southeast – with the nation's fifth-largest concentration of supply chain employment. This is a major bioscience and high-technology hub and supports more than a dozen incubators for innovative emerging businesses.
Atlanta houses chambers of commerce and foreign consulates from 73 countries. In addition, the world's busiest airport, Hartsfield-Jackson International Airport, offers direct flights to major destinations around the world.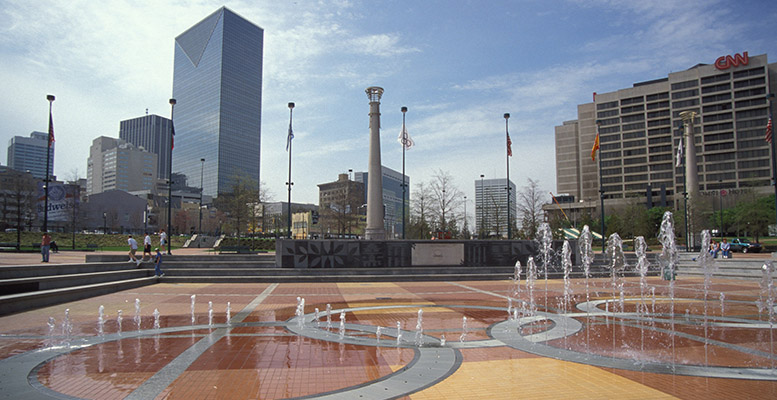 Some Top Companies Headquartered in Atlanta

Fortune 500 Companies

AGCO

The Coca-Cola Company

Coca Cola Enterprises

First Data

Delta Air Lines

Genuine Parts

The Home Depot

NCR

Newell Rubbermaid

Southern Company

SunTrust Banks

UPS

Fortune 1000 Companies


Aaron Rents

Acuity Brands

AGL Resources

Asbury Automotive Group

BlueLink Holdings

Carter's

Equifax

Exide Technologies

Georgia Gulf

Graphic Packaging

Mirant

Spectrum Brands

Wendy's/Arby's Group
The cost of living consistently ranks below the national average and is considerably less expensive compared to other major metro areas, making Atlanta an affordable place to live. You'll enjoy the benefits of a major metro area with numerous networking, community and recruiting opportunities, without compromising access to entertainment, recreation and quality of life.
The Woodruff Arts Center — which includes the Atlanta Symphony Orchestra, the Alliance Theatre, and the High Museum of Art — is located close to Georgia Tech and the Ferst Theater for the Arts is located on the Georiga Tech campus. Atlanta is conveniently located within driving distance of the mountains and the coast. The mild climate makes outdoor activities possible year round.


 
The site of the 1996 Olympic Games, Atlanta is also home to exciting professional sports teams, including the Atlanta Braves (baseball), Falcons (football), and Hawks (basketball).