In every industry and every discipline, technology is becoming increasingly instrumental as organizations look to move to the next level. That's why our curriculum strongly emphasizes technology in solving the complex business problems that confront companies today.
You will develop expertise in the fundamentals of business as you learn to assess and manage the technologies relevant to your interests.
It Begins with the Way We Think
Being at the intersection of business and technology means we produce leaders who are uniquely qualified to impact an ever-evolving business climate on a global scale. Using an analytical approach to solving business problems, technology serves as a filter for our curriculum, so our graduates can excel at global corporations and small startups alike, in any industry or organization.
A Business Education like No Other
From our $1 million high-tech trading floor, instrumental in training students to use the latest financial analysis and trading tools, to the study of business through technology-related case studies, projects, speakers and extracurricular opportunities, there is value for everyone.
Students who are immers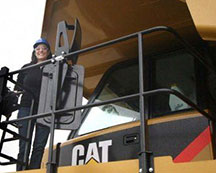 ed in technical, scientific or engineering disciplines will gain access to some of the preeminent academics in their field, backed by an institute with a reputation for excellence in technology worldwide. They will learn the language of business, develop a fluency in all key business functions, and learn to work with peers in non-technical fields.
Students from non-technical backgrounds and interests, such as liberal arts or the humanities, will gain a deep understanding of the technology underpinnings that allow business and organizations to function competitively. You will learn to assess emerging technologies while developing skills pertinent to your career interests and build leadership abilities that will help you work effectively with engineers and other technical professionals.
Graduates of our programs have an advantage over their competitors because they have already successfully worked on diverse teams to achieve common goals. They know how to leverage technology to create real and lasting change in organizations.
That's something that employers and recruiters recognize in our students, and it sets Scheller graduates apart.
I have had opportunities I never thought possible while pursuing a degree in business. Working alongside engineers on projects involving high-tech subjects such as microelectronics is something I never imagined doing. I am gaining a cross-functional perspective that is essential to today's job market.