In 2013, the Cecil B. Day Program in Business Ethics was established at Georgia Tech Scheller College of Business.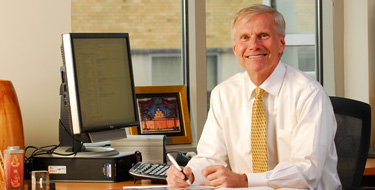 "The Cecil B. Day Program in Business Ethics supports initiatives and activities that instill in all a desire to act with honor, character, and integrity, as well as the skills to make good ethical decisions," says Professor Steve Salbu, also holder of the Stephen P. Zelnak Chair. "Our goal is to develop the highest ethical standards in our community, both through the curriculum and through various kinds of extracurricular offerings, which will be introduced in succession over the first couple of years of the program."
Cecil B. Day, for whom the new Program in Business Ethics is named, was founder of Days Inns of America. He died in 1978. Since then, his widow, Deen Day Sanders, has supported  numerous worthwhile causes via the Cecil B. Day Foundation and Cecil B. Day Investment Company. She was inspired to endow the Cecil B. Day Program because of her late husband's strong belief in ethical business behavior.
Cecil B. Day Program for Business Ethics sponsors top prize in
Ideas to Serve (I2S) Advanced Track competition
The  I2S is an annual student competition of ideas where creativity, imagination, and technology are applied to solving social and environmental problems. The competition fosters the development of organizations that are focused on the "triple bottom line," showing concern for social and environmental outcomes as well as for economic return on investment.
The 2014 $2,500 prize went to Flow MedTech, which plans to revolutionize the medical implant field by becoming a leader in the treatment of cardiac defects and vascular problems through our proprietary occlusal device technology.

In spring 2013, team members Arnab Chakraborty and Christine Hang were involved with a cardiac defect project for their biomedical engineering senior design course. However, after speaking with cardiologists in the southeast who urged them to reduce strokes by blocking the left atrial appendage of the heart, they decided to pivot to this market with a higher need.

The winning elevator pitch

2014 Winners, Flow MedTech



The Flow MedTech team was founded by Arnab Chakraborty (middle) and Christine Hang (right).