In 2013, the Cecil B. Day Program in Business Ethics was established at Georgia Tech Scheller College of Business.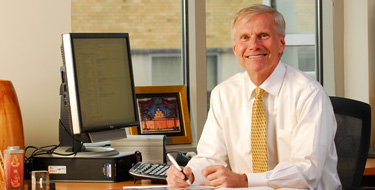 "The Cecil B. Day Program in Business Ethics supports initiatives and activities that instill in all a desire to act with honor, character, and integrity, as well as the skills to make good ethical decisions," says Professor Steve Salbu, also holder of the Stephen P. Zelnak Chair. "Our goal is to develop the highest ethical standards in our community, both through the curriculum and through various kinds of extracurricular offerings, which will be introduced in succession over the first couple of years of the program."
Cecil B. Day, for whom the new Program in Business Ethics is named, was founder of Days Inns of America. He died in 1978. Since then, his widow, Deen Day Sanders, has supported  numerous worthwhile causes via the Cecil B. Day Foundation and Cecil B. Day Investment Company. She was inspired to endow the Cecil B. Day Program because of her late husband's strong belief in ethical business behavior.
2015 Ideas to Serve Advanced Track Winner
Congratualtions to Jason Seagle and Joshua Wine for winning the $2,500 Cecil B. Day Prize at this past 2015 Ideas to Serve competition!
Congratulations to the following Professors for Enhancing Ethics 
Congratulations to the following Scheller College of Business Professors who have received a $2000 grant from the Cecil B. Day Program in  Business Ethics for integrating ethics into their curriculum.